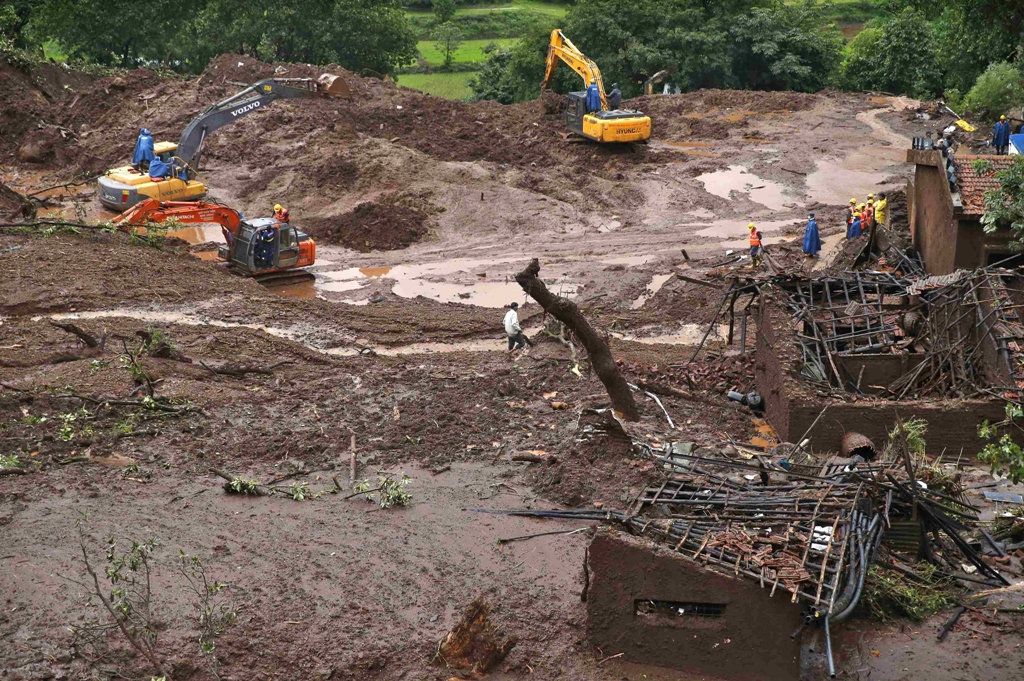 ---
NEW DELHI: Rescuers continued digging Saturday despite 'very slim chances' of finding any more people alive in the mud and debris from a major landslide in western India, where 73 have been killed.

Seventy-three bodies and eight survivors have now been pulled from the site where a village once stood in a remote part of western Maharashtra state, but incessant rains, marshy terrain and strong winds have hampered rescue efforts.

"Whole night the operation was on. We were able to recover 73 dead, eight alive," Alok Awasthi, commandant of the National Disaster Response Force (NDRF), told NDTV news channel adding half the work had been completed.

"Around 80 people are still feared trapped... chances of survival are very very slim."

The NDRF has said about 160 people were thought to have been living in the dozens of houses damaged when a hill gave way and cascaded onto their village of Malin.

The force, which mobilised 378 rescue workers to help with the search, worked into the night and entered its fourth day in a desperate hunt for any more survivors after lights powered by portable generators were set up.

The rescue operation could continue another two days due to difficult conditions, state relief and rehabilitation minister Patangrao Kadam said, according to the Press Trust of India news agency.

Grieving relatives have been rushing to identify bodies and attending mass cremations at their village after losing whole families as tonnes of earth and trees came crashing down onto the homes below on July 30.

"I'm shell-shocked... our roots (at Malin) have been wiped out in an instant," Vilas Jhanjre, a factory worker, told The Hindu newspaper after he failed to find his parents' bodies at the wiped-out village and nearby hospital.

"Life ceases to have meaning without one's parents."

Dramatic footage of the landslide showed a chunk of hillside giving way with a cascade of mud, rocks and trees, sending up clouds of dust below.

Disaster experts and Maharashtra Chief Minister Prithviraj Chavan have blamed the landslide on deforestation and construction work on the hills.

While India's annual rains are a lifeline for the economy, flooding and building collapses are frequent during the monsoon season.

A landslide in the eastern state of Odisha on Thursday cut off about a dozen villages, while another in the northern Himalayan state of Uttarakhand killed at least five people.

Uttarakhand was hit by a landslide and flooding disaster last year that is thought to have killed nearly 6,000 pilgrims, tourists and others.

A separate landslide struck a village in northeastern Nepal Saturday killing at least seven people with dozens missing.