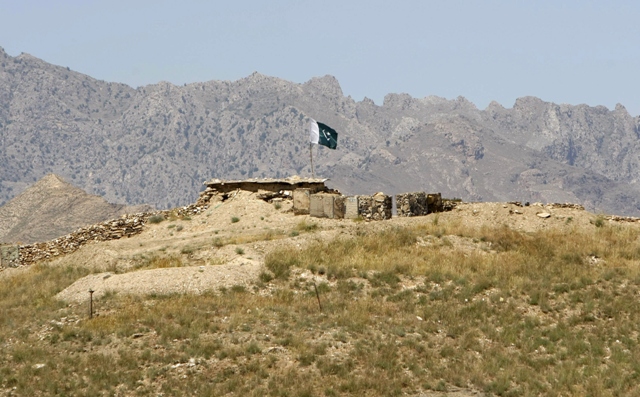 ---
ISLAMABAD:



Pakistan has conveyed to Afghanistan that it may explore other options including the use of force to stop cross-border attacks if Kabul does not take immediate steps against terrorists.




"All options, including military, are on the table… but our priority at this stage is to resolve the issue through diplomatic channels," cautioned a senior security official, shortly after an attack on Friday afternoon at a check-post in Bajaur Agency, bordering the Afghan province of Kunar, left an FC man Abdul Qayum Bangash dead.

The senior official strongly criticised Afghan authorities for what he called 'lack of action' to rein in 'terrorist sanctuaries' on their soil. The official, who asked to remain anonymous, told The Express Tribune that Pakistan had several times urged Afghanistan to destroy terrorist hideouts on its soil in order to ensure that operation 'Zarb-e-Azb' is successful. "Contrary to that we have now reports that Afghan authorities are facilitating terrorists to launch attacks on our side," he added.

Although, the official would not go into details about the military option, sources said Pakistan had warned Afghanistan that it might resort to 'hot pursuit' to destroy Tehreek-e-Taliban Pakistan (TTP) hideouts in Kunar and Nuristan provinces if Kabul failed to take appropriate steps against them.

However, a senior foreign office official insisted that Pakistan would try to resolve the issue at diplomatic levels.




FC official killed

On Friday, Pakistan launched a strong protest with Afghanistan for the second time in three days over the latest cross border attack in Bajaur. Security officials said that at around 3 pm on Friday afternoon, militants from Kunar province fired at the Ghakhai check-post and fled. Earlier, on July 30, 70 to 80 militants attacked a check-post in lower Dir, where military officials said seven militants were killed and nine injured in retaliatory fire.

"A strong protest has been lodged with the charge d'affaires of Afghanistan over another cross-border attack by terrorists on Friday. A Pakistani soldier embraced Shahadat due to sniper fire from the Afghan side of the border at a Pakistani military post near Ghakhai Pass in Bajaur Agency," said a statement issued by the foreign ministry.

It was stressed to the charge d'affaires that the Afghan authorities must take concrete action to stop such incidents and prevent the recurrence of cross-border fire and physical attacks by terrorists operating from Afghan territory, the statement added.

Sources said the government had also decided to take up the matter at the highest level in order to avoid further escalation in tensions.

Prime Minister Nawaz Sharif is likely to telephone President Hamid Karzai and convey Pakistan's concern over the increase in cross-border attacks.

In June, the prime minister sent Chief of the Pakhtoonkhwa Milli Awami Party Mahmood Khan Achakzai to Kabul after reports that terrorists from across the border were planning massive attacks on Pakistani posts.

Pakistan has sought Afghanistan's cooperation ever since it launched a military offensive in North Waziristan Agency. Both the civil and military leadership have publicly stated that the ongoing operation is targeting all groups including the Haqqani Network.

However, Afghan authorities are skeptical of Pakistan's claim and insisted that Operation Zarb-e-Azb has not targeted the Haqqani Network, which has launched some daring attacks in Afghanistan.

Some Pakistani officials feel the ongoing attacks from across the border might be linked with the current political impasse in Afghanistan. They suspect that President Karzai appears to cling to power by encouraging cross-border attacks that may jeopardise the transfer of power in Kabul.

Published in The Express Tribune, August 2nd, 2014.
COMMENTS (26)
Comments are moderated and generally will be posted if they are on-topic and not abusive.
For more information, please see our Comments FAQ