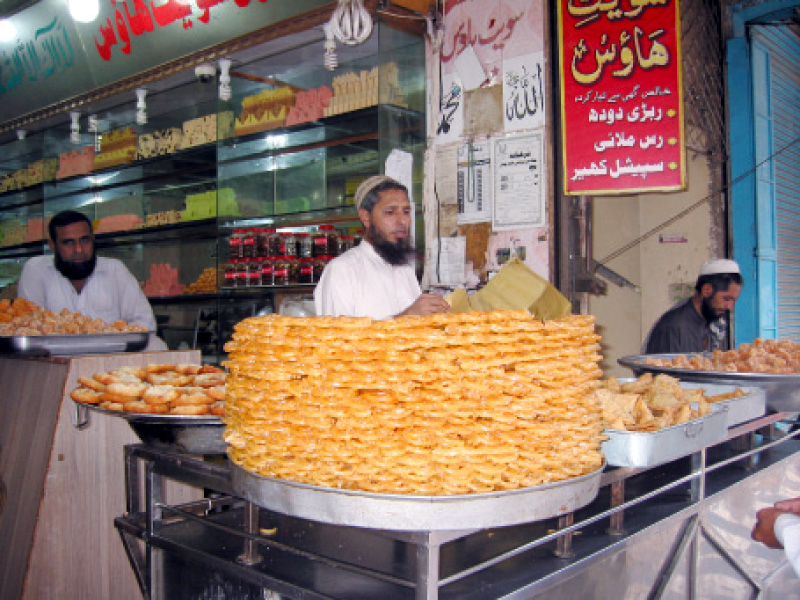 ---
PESHAWAR:



His real name is Fazal Mehmood but he is popularly known as Gamo Ustad. Today he works as a salesman in one of the oldest mithai establishments in Peshawar: Allah Dita Sweets in Namak Mandi. And it is from his mouth that the history of Peshawar's sweet tooth tumbles forth.




"I joined the sweet house when I was barely 10 years old and Haji Allah Dita named me Gamo which later become Gamo Ustad," Mehmood explains. The shop was set up around 60 years ago by Haji Allah Dita and is managed today by his grandson Haji Iqbal. Mehmood first worked with them as a halwai, the man who prepares the mithai, but with old age he gradually moved on to sales and supervision.

Mithai was a luxury in the 1960s when the only places that offered it were Allah Dita, Lahori Sweets in Qissa Khwani and Jalandar Sweets in Saddar. Now there are countless shops. "Back then, mithai was a luxury item, not the staple it is today," Mehmood adds. People would barely buy 100kg over the entire Eid break when it cost four rupees per kilogramme which was a considerable sum in those days.

Haji Iqbal remembers the 1970s when people would come with their children and order just half a kilogramme of sweets. "But these days people buy four kilogramme packs and we no longer even sell half kilogramme ones," he says. Today the price has gone up to Rs280 per kg and Allah Dita Sweets is barely able to keep up with orders.

The price of mithai is not the only change the business has seen over these decades. The very ingredients they use have drastically been altered, although more for logistical reasons. Today the mithai is not made of khoya, a grainy sweet curd-like substance that is left over after evaporating and cooking milk for hours. Peshawar just doesn't produce enough milk to meet khoya demand. "Milk in Peshawar costs me Rs80 per litre and if I prepare sweets from khoya as we did in the past [the mithai] would cost at least Rs650 per kg, which is simply not affordable," argues Mehmood.

Desi ghee is even more expensive which is why the Peshawar confectionary business relies on khoya supplies from Punjab but only for the production of the barfi mithai. "The khoya supplied from Lahore is substandard compared to the khoya made locally," says Mehmood. But it is Rs360 per kg, which is too expensive. This is why they have switched to using flour as a thickening agent to keep their prices under control.

When these businesses started out, milk was plentiful from the villages that ringed Peshawar.

Before Partition, mithai was considered a specialty of the Hindus and one shop in Kalabari Saddar had a monopoly in the city. "It was owned by a Hindu who was a millionaire in those times," says Hayat Khan, a retired dairy farmer from Landi Arbab village. "He used to buy all the milk from at least 30 to 36 surrounding villages and every dairy farmer had to turn to Lala, as he was known, for loans."

Even Hayat Khan used to sell his milk to him. "I had to go to Lala for all my expenses, whether it was a wedding or the birth of a child," he recalls. "We had lands but there was no concept of vegetable production and the land was used for two crops a year, leaving us hand to mouth." After Partition though, Lala was forced to leave the city, which was cause for rejoicing among the dairy farmers who were in debt.

"We were happy that we would not have to repay our loans," admits Hayat Khan. "But it was a severe blow because he was the economic lifeline of these dairy farmers and with Lala's departure, Peshawar lost its best sweet house."

Published in The Express Tribune, August 2nd, 2014.
COMMENTS (12)
Comments are moderated and generally will be posted if they are on-topic and not abusive.
For more information, please see our Comments FAQ