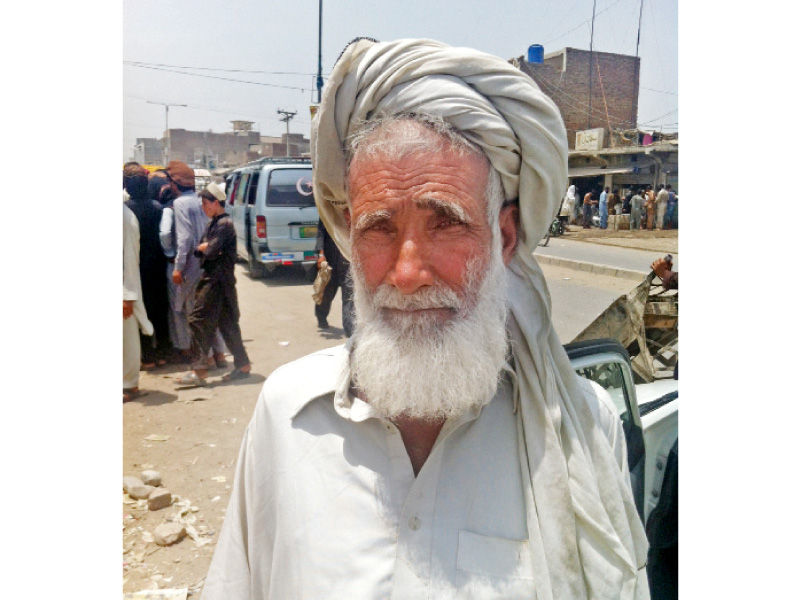 ---
DI KHAN:



Your hometown is being bombed by military jet planes. You are running out the door with sobbing children. The last thing on your mind is your identity papers. But as scores of people displaced from North Waziristan Agency (NWA)have discovered, this means that they cannot sign up for government aid.




"My wife and six children gathered whatever little we could and escaped to save our lives," says Wali Gul from Mirali, North Waziristan. "In the hurry, I forgot to check if I had my CNIC."

Wali Gul is among the thousands of tribesmen who have left their homes amid the military operation in Waziristan to flush out terrorists whose networks have spread throughout the country. The breaking point was perhaps the brazen attack on the country's largest airport in Karachi.

Ever since Operation Zarb-e-Azb began June 15, over 800,000 people have fled NWA. The majority of families have gone to Bannu, Peshawar and DI Khan where ration points have been set up. Wali Gul has been chasing government officers ever since he arrived in Bannu to register so he could receive a registration card and rations. The aid comes to at least Rs40,000 per family from the Prime Minister's package in addition to about Rs12,000 from the provincial government.

But after Wali Gul stood for hours under the burning sun in the long queue outside the Bannu Sports Complex, he was eventually turned away empty-handed. Visits to offices and pleading with NADRA officials met with little success. All one NADRA official could tell him is that perhaps the photocopy of his CNIC would work.

"How can I get a photocopy when I don't have the original card," he asked. No one else in Wali Gul's family has a CNIC either.

A resident of Fata acquires a CNIC through a slightly different process. According to Liaqat Ali of the Qaumi Committee Barai Mutaseeren (the committee for affectees) in North Waziristan, it is a lengthy and cumbersome one. "First, the tribesman has to get signatures [on a statement] from two of his local maliks or elders and then obtains verification from the North Waziristan Political Administration," he explained.

Key to this process is the naib tehsildar or tehsildar and then the assistant political agent. They will vouch that they know the applicant as belonging to a certain village and section of a tribe, explained Khalid Aziz, who was the Political Agent for North Waziristan in 1976-1977 and the chief secretary of Khyber-Pakhtunkhwa in 1996-1997. "The problem with the IDPs is that this whole structure has broken down [because of the spatial displacement]," he added. The people who were limited to boundaries and jurisdictions are now in camps. "The malik is now asking for money to do legal work."

However, Aziz felt that there could be easy solutions, possibly with SMS complaint redressal systems. "Since the population has shifted, I would assume it would be easier to administer," he said, "since the naib tehsildars are also in the camp." A letter from the political agent should also suffice.

"I would assume that the political agent and all his staff should be in the camps," he added. "They are not required in the hinterland."

The good news is that offices of the North Waziristan Agency political administration are going to soon be set up in Bannu, according to Liaqat Ali of the Qaumi Committee Barai Mutaseeren.

In the meantime, however, time is putting the squeeze on displaced people such as Wali Gul. "At present, we are living at the house of a distant relative but we can't stay there for long," he said. "Sooner or later we will have to get a rented house and I don't have money for that right now."

Published in The Express Tribune, August 2nd, 2014.