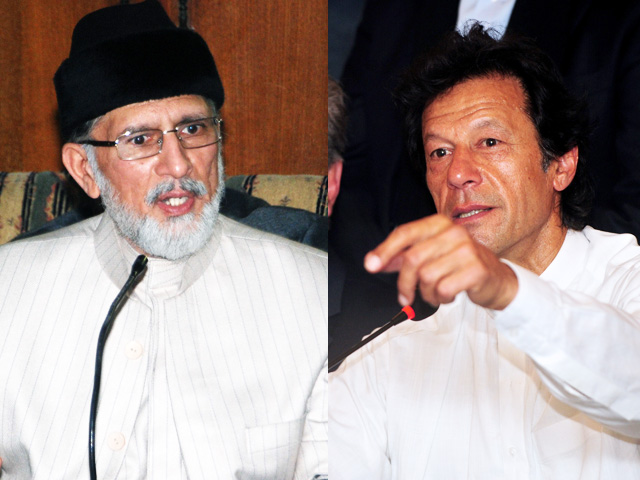 ---
ISLAMABAD/LAHORE:



A Pakistan Awami Tehreek (PAT) spokesperson has claimed that his party and the Pakistan Tehreek-e-Insaf (PTI) have agreed to mount a joint political campaign against the government, rallying round a proposed 'million-man march' in the capital on August 14.




"We have agreed that we will jointly launch the movement against the government on August 14," the PAT spokesperson, Umar Ayaz Abbasi, said on Thursday. The two parties will also stage a sit-in at D-Chowk on the same day. A formal announcement will be made within two days by PAT chief Tahirul Qadri, the party's spokesperson said.

While both parties had earlier announced separate anti-government protests, the proposal to band together was reportedly made by the PTI and later accepted by the PAT. Negotiations for such a united front had been under way for some time, according to Abbasi.

Shah Mehmood Qureshi, PTI's vice president, said that though he is unaware of any such development he hardly finds it strange in any way.

Sources said the two parties have agreed on a three-point agenda at the initial stage. Before he leaves Lahore for Islamabad, PTI chief Imran Khan will set a deadline for the federal government by which time it will announce a caretaker government and call a snap poll.

If the government doesn't bow to these demands, the protesters will continue their sit-in until the prime minister tenders his resignation, sources said.

"The PTI is determined to make some gains from the long march and will not leave Islamabad until this happens," said PTI senior leader Shafqat Mehmood, who is also a federal lawmaker.

The agenda also includes a 'ruthless accountability process' and 'extensive electoral reform'. PAT PRO Qazi Faiz said the agenda will be finalised as talks between the PTI and PAT continue. However, he said one thing is clear: we will remove the PML-N government, no matter what.

While the agenda was reportedly discussed in private meetings between Imran Khan and Dr Tahirul Qadri in Lahore, Faiz said 'there are some mediators' who are 'working hard to bring both parties on the same page'.

Sources said discussion is under way regarding whether Tahirul Qadri or Imran Khan would lead the long march. A third option would see both parties taking out their own marches and converging later at Lahore's Ravi Bridge.

PML-Q leaders Chaudhry Pervaiz Elahi and Chaudhry Shujaat Hussain will join the long march from Gujrat while Pakistan Awami Muslim League chief Sheikh Rashid will head out from Rawalpindi. PTI workers from K-P plan to meet their party's march in Rawalpindi.

Strength in numbers

The PTI has also constituted a committee of senior party leaders who will extend an invitation to all political parties to participate in the 'Azadi March' on the 14th.

The committee, headed by Shah Mehmood Qureshi, plans to visit the Jamaat-i-Islami leadership on August 4 to invite JI amir Sirajul Haq to join the two parties in their protest. Khyber-Pakhtunkhwa Chief Minister Pervaiz Khattak is likely to meet with Haq in Islamabad in this regard. "We will go to the leadership of every political party to formally invite them," said PTI Punjab president Ejaz Chaudhry. Committee members include Javed Hashmi, Mian Mehmoodur Rashid and Chaudhry. He said the process of approaching party leaders would be wound up within four or five days.

Published in The Express Tribune, August 1st, 2014.