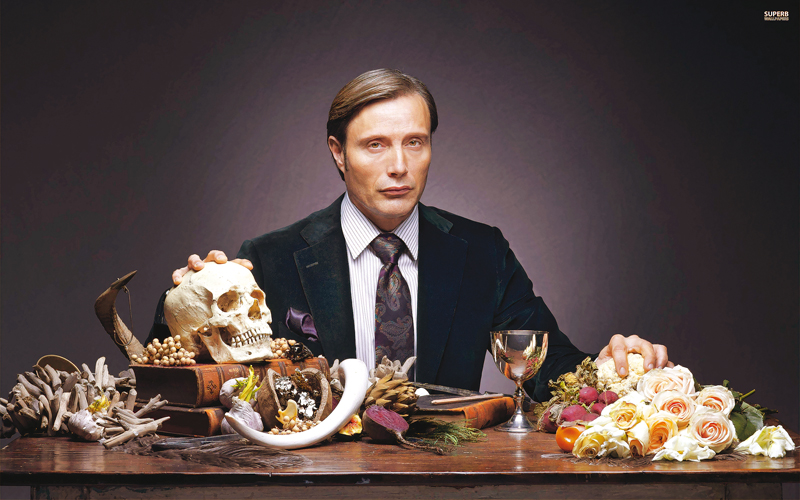 ---
'I need you to recommend me a new TV show' has become the new 'I need you to lend me some money'. In times of binge watching, where entire seasons are often completed in a single sitting, it has become essential to be hooked on to at least one good show. Of late, whenever people have asked me the aforementioned question, I have repeatedly found myself suggesting the delicious Hannibal.

Based on characters from writer Thomas Harris' novels, the show is a sort-of reboot, sort-of origin story of the Hannibal Lecter franchise. The titular role of a cannibalistic serial killer which in the past has been immortalised by actors Brian Cox (Manhunter) and Anthony Hopkins (The Silence of the Lambs), is played masterfully by Danish actor Mads Mikkelsen in this version — watch out for scenes in which he has a faint smile on his lips, evidently enjoying himself pretending to eat human flesh.

What works in Hannibal's favour is its novelty factor — out of all the high-quality series that have been produced and have aired lately, no other show has been able to blend drama and horror as efficiently. It's as much a police procedural drama as well as a chilling horror story. With these two aspects, creator Bryan Fuller has managed to pull off something special. The sombre portions of the narrative could have failed but luckily the creepy tone works big time.

Hannibal examines the relationship between FBI agent Will Graham (Hugh Dancy) and Dr Hannibal Lecter. While the former is a crime scene investigator who can vividly recreate or reimagine the crime acts (and thus sympathise with the perpetrator), the latter is a brilliant psychiatrist and closeted cannibal. These characterisations make it clear, that sooner or later, the two are destined to clash with each other. Even though Lecter's character gives the show its title, Graham is just as important to the proceedings. Oftentimes, he seems to be the protagonist of the story, which gives a nice twist about who the bad guy really is.

In the first season, the FBI calls upon Lecter's help regarding some gruesome murders, and he often knows more about the cases than he is letting on. This adds to Graham's psychological torment as he grows into a troubled soul. His graphic hallucinations — a permanent one is a black stag, which could signify everything from guilt to fear — which continue in season two, are terrifying and add to the shock value of the show.

One of Hannibal's strongest components is its fantastic ensemble cast. Apart from the main couple, Laurence Fishburne as FBI head Jack Crawford serves as the show's moral compass and Gillian Anderson shines in a short role as Hannibal's mysterious therapist Bedelia du Maurier. In season two, we are treated to Michael Pitt's demented pig trainer Mason Verger, who could have walked on to any Batman set — he looks and splendidly plays his character like a DC comic villain. Eddie Izzard plays an incarcerated surgeon, who killed his family, with aplomb. One highlight of the show is when Hannibal forces him to eat his own leg.

Scenes like these obviously sound horrible but don't be put off — they are shot with a certain aesthetic that is still 'tasteful'. The same goes for other shocking moments in the second season, when for example, a character gets a human ear shoved down his throat. There is no blood in either scene, which goes to show that the makers aren't interested in slasher elements and yet are able to provide true moments of body horror.

With Mikkelsen, the makers of Hannibal have landed a great coup. He's an established star of world cinema (credits include blockbuster Casino Royale, as well as art-house fare The Hunt) and his approach to the small screen is one of great understanding. Hannibal Lecter is not a role one would have associated Mikkelsen with prior to the start of the show, but after watching two seasons of him in this role, no other person could have possibly been a more convincing actor.

Early on in season two, Lecter, when serving Jack Crawford some cooked human meat, confesses, "I never feel guilty eating anything." It's a dark, dark line, because Crawford doesn't know what he's really being fed. The food looks rather appetising, both while it's being prepared by Lecter and while it's being eaten. It's not the first (and certainly not the last) time that someone has been invited over for dinner and has unknowingly partaken in his cannibalistic habit. And if he doesn't feel guilty about it, why should we? The show has us eating out of Lecter's hands.

Rating:  4/5 

Schayan Riaz is a writer based in Germany. He tweets @schayanriaz



Published in The Express Tribune, Sunday Magazine, August 3rd,  2014.
COMMENTS (2)
Comments are moderated and generally will be posted if they are on-topic and not abusive.
For more information, please see our Comments FAQ