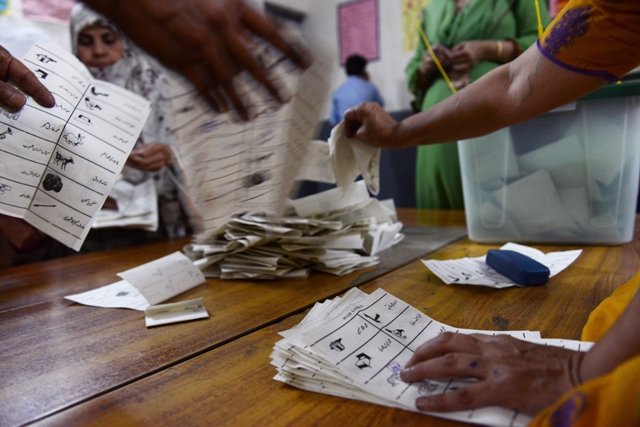 ---
ISLAMABAD:



The National Database and Registration Authority (NADRA) has finally conceded in its verification report that 259 out of the 325 polling bags of constituency NA-118, Lahore, contained bogus ballots, Express Investigation Cell (EIC) learnt on Wednesday. 




According to experts, NADRA had submitted its verification report to the election tribunal on June 9, which spoke of unprecedented rigging in NA-118 in last year's general elections.

Some officials of the database authority partook in adding bogus votes in the constituency's polling bags during the last week of May to change the result in Pakistan Muslim League-Nawaz's favour.

NADRA authorities allegedly switched off CCTV cameras of the office where they were carrying out the illegal activity.

After the incident was reported in the media, NADRA authorities reportedly forced officials responsible for security to give a back-dated written statement that CCTV cameras were out of order much before May 22, revealed officials.

Interior minister Chaudhary Nisar summoned Imtiaz Tajwar to his chamber in parliament last week to seek an explanation from him about why NADRA indulged in such dubious activities, they added.

Moreover, it was revealed that the body's networks director, Shehzad, and his team who were responsible for CCTV cameras were transferred from the headquarters to Nadra Technologies Limited (NTL) in the third week of June.

In response to an EIC questionnaire, NADRA's spokesperson Faik Ali denied the accusation that acting NADRA chairman had called the security chief and other officials concerned on June 7 (Saturday, a weekly holiday) to force them to give the desired statement of the cameras being out of order before May 22.

He maintained that NADRA has footage of the election material being handed over to officials in the presence of Justice (Retd) Munir Ahmed Mughal and there was no possibility of any change in the result of the constituency.

Officials claim that NADRA has submitted an ambiguous verification report to the election tribunal to intentionally add more confusion in the case. It confirmed that the database authority received election material of NA-118 consisting 325 polling bags from 251 polling stations of the constituency but still said, in the following paragraph, that NADRA needs the complete election material from the constituency for further verification.

CLARIFICATION: A NADRA spokesperson stated that NADRA did not mention anything about bogus voting in NA-118 in its report submitted in Election Tribunal on 9th June 2014. 

Published in The Express Tribune, June 26th, 2014.