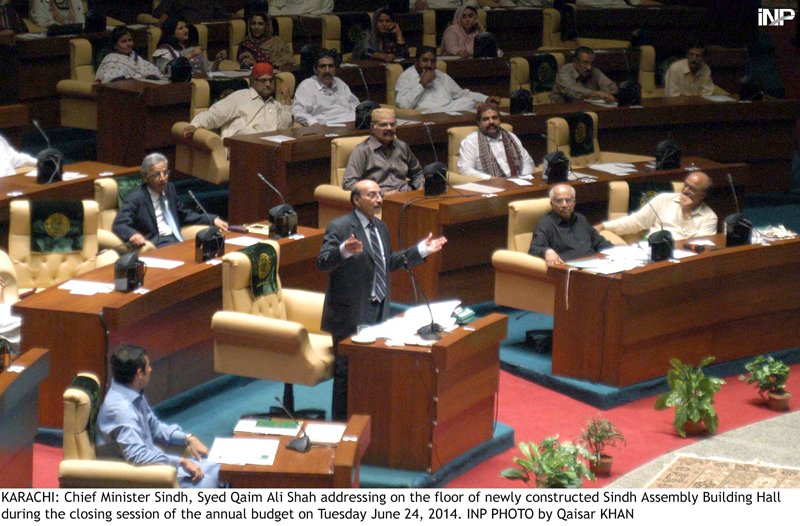 ---
KARACHI: As MQM's Iram Farooqi stepped into the new assembly hall, all she could think was wow.

She saw the speaker's grand seat, the portrait of Quaid-e-Azam, the large screen on top where journalists sitting in the media gallery could watch everything as it happens. There was only one thing she thought the new hall needed – the furniture from the old assembly building – the chair where the father of the nation once sat. While many MPAs agreed with her, few complained about the plush leather chairs, microphones, lighting, carpets or calligraphy that surrounded them.

As Sindh's prodigious lawmakers took up their seats in the new, larger, luxurious Sindh Assembly building, they expressed wonder and relief in unison.

The new building, which has cost over Rs4.64 billion, can accommodate 316 MPAs along with 200 guests and journalists in its expansive galleries unlike the old building which would burst at the seams when hosting just 168 members. The new building was commissioned to replace the old assembly building which has hosted sessions since before the Partition.

MPAs now have their own individual sofa chairs and microphones instead of the wooden benches on which they would sit cramped along with half a dozen other legislators.

Though construction on the new building started three and a half years ago, when senior minister Nisar Khuhro was the assembly speaker, the building is still not quite complete. Even as MPAs filed into the assembly hall to continue their debate on the budget for the first full session in the new building, workers struggled to complete construction work outside.

MPAs can access the assembly hall in the new building through the cafeteria. The media, though, has to go around the old building and up a set of escalators to the media gallery.

The new media gallery is larger and more comfortable. However, it is significantly further from where the legislators sit, making difficult to track proceedings. Journalists, thus, have to watch proceedings on a large screen placed above the speaker's seat and rely on the individual legislator's microphone to make out what is being said.

Old building to become museum

The old assembly building which, has been hosting sessions since before the Partition, will be awarded the status of a heritage building and turned into a museum.

The old building had initially been designed to accommodate 60 members, much less than the current 168 member strong assembly.

Watch a slideshow of pictures from the new building here.
COMMENTS (5)
Comments are moderated and generally will be posted if they are on-topic and not abusive.
For more information, please see our Comments FAQ