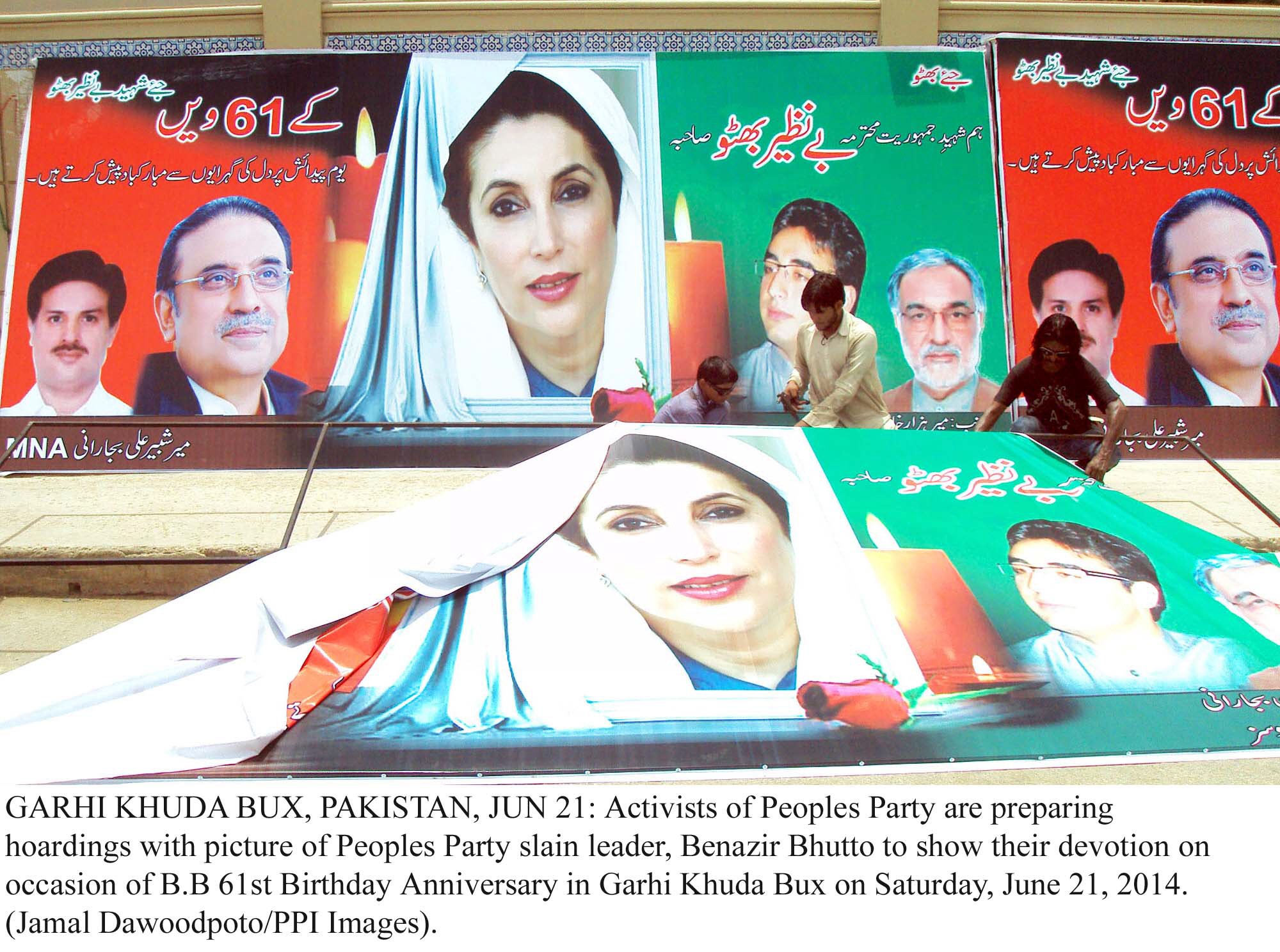 ---
KARACHI:



On June 21, the memories and spirit of Benazir Bhutto come alive but why is it that she is forgotten when the day ends, asked senator Aitzaz Ahsan.




The senior member of the Pakistan Peoples Party's (PPP) central executive committee was speaking at the 'Benazir Bhutto: A National Icon' conference jointly organised by the Institute of Business Administration (IBA) and the University of Karachi Benazir Bhutto Chair on Saturday.

IBA's auditorium was full, yet silent. The conference was divided into two sessions, the first on Benazir Bhutto the politician and the second on Benazir Bhutto the woman.

At the inaugural session, Ahsan spoke about the courage of the woman in facing the hardships and trials of her journey. "We as a nation, put people in stereotypical boxes and we do not venture beyond those set images," he said, adding that Benazir is simply known as a brave courageous lady but was much more. "We must explore her and look beyond what we are told and I hope this conference leads to setting up of a research group on her."

Former ambassador Hussain Haroon lauded Benazir's dedication towards her work. "She would work for up to 18 to 19 hours a day and would correspond with her party members via email at all times."




IBA dean and director Dr Ishrat Husain said that if she had been the prime minister of Pakistan today, the country would not have been going through such rough times as her economic policies would have helped improve the situation. "Benazir had a modern, progressive and pluralistic vision for the country."

Moderator Farhatullah Babar, former spokesperson for Benazir, started off with a sentence-long definition of her. "For her whole life, Pakistan was her identity, but on December 27, 2007, she became the identity of Pakistan."

Babar said she faced the judicial murder of her father, the assassination of her two brothers, an exile and the death of her mother to an illness; losses and hardships that left a mark on her but it led her to honours that no woman in Pakistan has ever received. "When I once asked her what decision she is most proud of, she responded instantly: 'I take pride in saying no at a time when saying no appeared difficult'," he said.

"Despite the fact that a fatwa was issued against women rulers by Sheikh Bin Maaz and Pakistan was threatened to be expelled from the Organisation of the Islamic Conference, she survived," said Babar. "Her most outstanding achievement was that she irreversibly changed the landscape of women in Pakistan and this remains as her most enduring legacy."

Her moment of glory was when she took the oath the first time; when she finished the hall rang with shouts of Jiye Bhutto and she whispered, 'Today I have avenged my father,' he said, tearing up as emotions got the better of him.

The next speaker, Prof ND Khan, said that Benazir was a woman who would go on a hunger strike at the death of a dove. "Her last book should be researched upon as she touched on topics such as the Palestinian issue and the Chechnya uprising," he said as his voice quivered with emotion. "I dream that one day, from among you, will emerge another Benazir."

Published in The Express Tribune, June 22nd, 2014.
COMMENTS (1)
Comments are moderated and generally will be posted if they are on-topic and not abusive.
For more information, please see our Comments FAQ