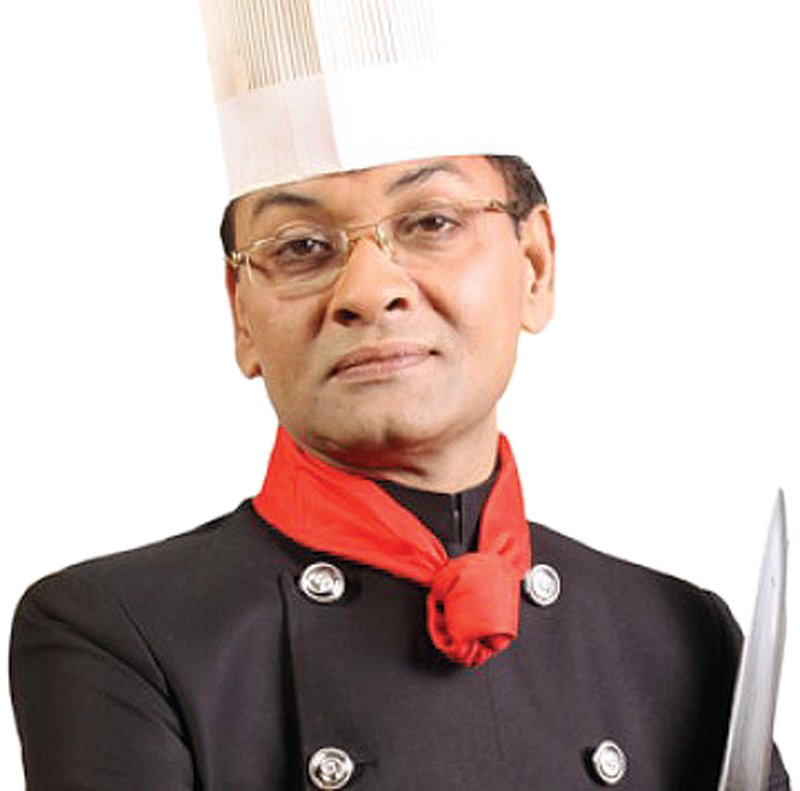 ---
KARACHI:


Muhammad Zakir Qureshi, popularly known as Chef Zakir, is the quintessential culinary personality in Pakistan. With over 20 years of experience, he has pioneered numerous culinary concepts and has prepared, both, Pakistani and international cuisines, designed to capture a delicious and exciting range of flavours, textures and aromas.


When asked what drew him to the kitchen, Zakir revealed that cooking wasn't his first career option; he always aspired to join the armed forces, but never got selected; hence, he let go of that dream and opted to become a chef. "Since I was in primary school, I wanted to work for the country and I wanted to die as a true Pakistani. However, once I became a chef, I grew passionate about this field. I wanted to outclass everyone in this field," says Zakir.



Although Zakir never had the opportunity to go to a culinary school, he plans on making his own institute one day. "I don't need anyone's support, especially not the government. I really want others to be good. I want at least six 'Zakirs' coming out from my institute one day," he says.




Taking up cooking as a profession has really picked up in Pakistan; people are more interested in cooking now than they were ever before. When asked why that is so, Zakir explained that 20 years ago, there was no respect for a cook or chef in Pakistan. Today, however, the situation is different. Mostly because of the popular international competitive cooking show franchise MasterChef; it has made people realise the profession's true potential. "You may replace a professional doctor or an engineer, but never a chef. He is the focal point of a respectable restaurant and if he is replaced the food doesn't taste the same as the food people are coming to eat. For a real chef, there is always an opening in a local restaurant or a hotel," he says.




Another thing that has changed over time is that the general public is now more aware and conscious about what they are eating. "Pakistanis can now differentiate between cheddar cheese and cottage cheese. You cannot make them eat anything and fool them anymore," says the chef.




Zakir's philosophy is to create fresh, beautifully cooked, rich in taste foods and he has a huge fan following for it. "Our Pakistani culture is such that we yearn for and get delighted by mirch and masala in food. If it is bland, it is a flop; completely," says Zakir. He reveals that the most frequently asked recipes by his fans are that of different kinds of lentils and vegetable dishes as well as rice dishes, such as biryani and pulao. In the upper strata, people are more interested in finding out recipes for qorma and tikkas.




Zakir, who is on the panel of judges for MasterChef Pakistan, based on the original British MasterChef, says that the experience so far has been great and there is a lot of talent here. "In just a matter of time, we will be producing top class chefs in town. From auditions to the actuals shows, I have witnessed that contestants have been putting in a lot of effort and that in itself is a sign of learning."


The chef advices that to learn cooking, attending culinary school is the best option, however, the next best option available in Pakistan is for aspiring chefs to earn a three year diploma degree from a local hotel.

Top five culinary schools for aspiring chefs

Although you don't need to attend culinary school to become a good chef, it definitely helps. Notable chefs around the world have studied the art of cooking from top universities and that is one of the factors why they have a certain edge over the others who haven't. The top five culinary schools listed below are all internationally renowned. Attending any one of these schools would prepare you fully to pursue your passion for cooking as a profession.


Lenôtre University is one of the best known and respected culinary schools in Europe. The University is proud of culinary traditions of classical education with new and modern techniques.
The Culinary Institute of America offers a vast range of programmes for aspiring chefs and restaurant owners including Bachelor and Associate degrees in Culinary Arts; Baking and Pastry Arts; Culinary Arts Management etc, suggests tex.org.
Le Cordon Bleu was established in 1895 and has quickly expanded to become the largest culinary school in the world with schools in Madrid, Spain; Sydney, Australia; and Kobe, Japan to name just a few of the many locations.
New England Culinary Institute offers courses in Culinary Arts, Baking and Pastry Arts and Hospitality and Restaurant Management. It offers a very unique experience as the school operates its own for-profit restaurant.
Published in The Express Tribune, June 21st, 2014.
Like 
Life & Style on Facebook, 
follow
@ETLifeandStyle
on Twitter for the latest in fashion, gossip and entertainment.