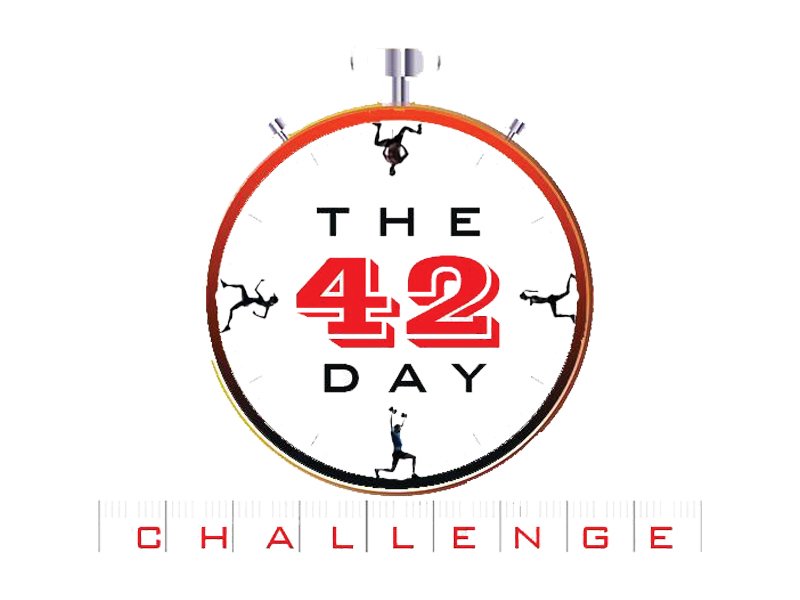 ---
When I returned to Pakistan after spending a semester in the US, I never imagined that the weight I had accidentally gained there would steal the limelight from the fancy academic credentials I had acquired. I knew I was at that age wherein maintaining the right dimensions is crucial for attracting potential suitors and so I needed a quick and effective solution.

For a while I had been hearing of a new fitness programme called the 42-Day Challenge that a couple of my friends had already benefitted from and decided to give it a try. Little did I know that the challenge was nothing less than an army boot camp. The brainchild of budding lawyer Nusrat Hidayatullah and aspiring doctor Torsam Tajik, the 42-Day Challenge is not for the faint-hearted.

The idea of the programme first arose when Torsam decided to conjure a quick and easy workout plan for himself, to fit around his hectic schedule. "Managing gym and school became really hard. I didn't want to invest in expensive exercise equipment," he says. "I designed my own hardcore workout and began exercising from home." This proved quite beneficial for Torsam as more and more people started noticing the difference and seeking his advice. "I shared my regime with a few friends and got a positive response. Since then, there has been no looking back."

What truly works in favour of this dynamic duo is that they each provide a unique insight into the programme ,thanks to their divergent educational backgrounds. As a third year medical student, Torsam focuses on the physical element of the class while Nusrat looks after diet and nutrition. And together, they work to sell a healthy lifestyle to others.

"Our challenge focuses on weight training one day and cardio and abs the other, alternating daily over the course of six weeks," says Torsam. "Each class is about 35 to 40 minutes long, based on high intensity interval training (HIIT), in accordance to an interval timer. The timer dictates how long each specific 'work' period and break lasts." Once the bell goes off, the class launches into a series of functional movements aimed at cutting fat. "We entertain clients that are underweight, overweight, injured and those looking to lead a healthier lifestyle," adds Torsam.

Of course, no exercise routine is complete without a stringent diet plan to supplement it. All meal plans are based on an individual's fat percentage and that's where the real magic kicks in. The plan, based on medical knowledge and the instructors' firsthand experiences, consists of six square meals daily, the first three of which include slow-release carbs which provide energy and regulate blood sugar levels. "The best part about our meal plan is that it makes even desi food healthy," says Torsam. To make life easier for the participants, a 23-page guide to easy desi and continental recipes is provided; the decision to eat chicken pulao or a beef burger is left to the individual.

A point to note is that even a bite out of place can render all your efforts futile. "No matter how healthy your meal is, if you eat more or less than your body requires, no exercise will work," advises Torsam. But whilefollowing the prescribed diet plan is imperative, the fitness Nazis do allow for one cheat day a week to keep the participants motivated. Participants are allowed to eat anything during the day just so long as they do not cheat during the rest of the week.

The stringent meal plan and strenuous exercise often causes participants to succumb to the pressures and drop out of class. Many like Adeel Ahsan* couldn't keep up with workout and never returned after the first couple of classes. "I practically passed out during my first session," says Adeel. "After three classes, I just couldn't do it anymore and stopped altogether."

A point to note is that the programme focuses less on n weight loss and more on overall health and fitness. "The challenge has made me a lot fitter," shares recent graduate Amna Ibrahim*. "My arms are much more toned and abs are well defined but unfortunately, my weight didn't go down much in numbers." Same was the case with Haneen Haider* who didn't end up losing too much weight either. "Honestly, I didn't follow the diet regularly," she confesses. "If I had, the end results would have been much better."

"The problem is that people don't understand the difference between weight loss and fat loss," explains Torsam. "Weight is muscle mass and retained water. What the challenge focuses on is maintaining that muscle mass and cutting fat. When that happens, one loses inches more than weight."

Both Amna and Haneen also complain about having to prepare six meals daily as it gets both tedious and difficult. "Sometimes, I had to wake up in the middle of the night and eat," says Amna. Haneen claims the meal plan is not conducive to anyone with a full-time job as it takes up too much time.

Nonetheless, I can personally vouch for the joy of being able to fit into an old pair of skinny jeans once the six-week programme is over. The challenge gave me the right push towards shedding my weight. The process is painful but well worth it, provided that the participant remains true to it. Going by word of mouth, the programme has successfully completed over 10 challenges and expanded to Lahore as well. Many participants fail but for those who persevere, the rigorous exercise and draconian diet culminate in a more tougher and toned body. Therefore, the 42-Day Challenge is highly recommended!

*Names have been changed for privacy.

Published in The Express Tribune, Ms T, June 22nd, 2014.