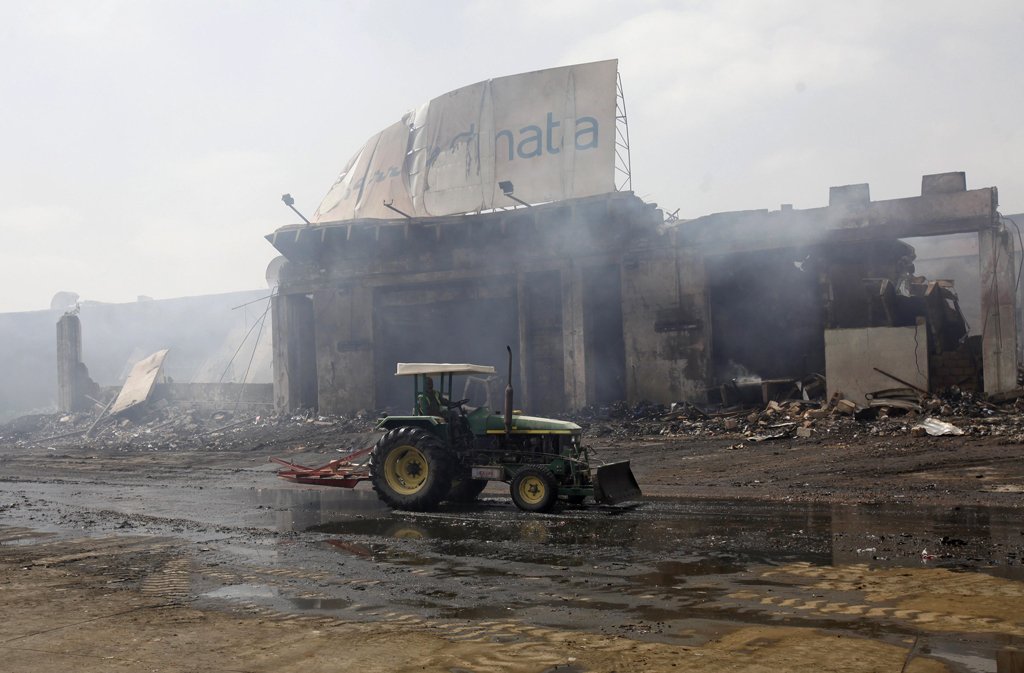 ---
KARACHI:



The deadly attack on the Karachi airport left in its wake between Rs8 billion and Rs10 billion in losses to multiple businesses, which were using the warehouse located in the vicinity that was completely gutted in a subsequent fire, officials said on Wednesday.




Hundreds of thousands of mobile phones and tons of medicines, chemicals, pharmaceutical raw material, fruits, electronic devices and other goods were stored in the warehouse of Gerry's Dnata when the attack occurred.

What has caught everyone by surprise is the fact that most of the consignments were not covered under the type of insurance policy, which would have paid compensation in case a terrorist attack damaged the cargo.




"This should have been the problem of insurance companies but now the importers and exporters would probably have to bear the loss," said a senior official of the Civil Aviation Authority (CAA).

"These businesses didn't take insurance cover against terror act because of high premiums."

Gerry's Dnata, which is a 50-50 joint venture between Pakistani group Gerry's and Dubai-based Dnata, was not immediately able to verify the extent of loss.

Officials say companies are in contact with their foreign suppliers to gather the documents, which will prove the worth of their stock.

QMobile, which has taken the market by storm with its smartphones, had around a million cellular phones in the warehouse, said Zeeshan Yousuf, a director at the company.

However, he said sales of the firm would not be affected by the incident. "Our monthly imports are around 1.5 million sets. There was a just a month's stock in the warehouse."

Yousuf said all the stock was insured. "It was still in possession of Emirates," he said referring to the group, which owns Dnata and Emirates.

QMobile has become the largest payer of customs duties. In the last fiscal year, it paid over Rs5 billion in import duties.

Advance Telecom and United Mobile also confirmed they had lost their stock in the inferno, which also killed seven employees at the warehouse. Usually shipments arrive at Gerry's Dnata from China almost daily. Once the importers pay all duties and file bank documents as evidence, the shipment is cleared and distributors dispatch them to the market.

However, the stock was piling up at the warehouse for few days because of a new import condition of Pakistan Telecommunication Authority (PTA), which requires importers to get approval for the type of phone in the consignment.

The Pakistan Pharmaceutical Manufacturers Association (PPMA) would be able to estimate the losses of its members in a day or two, said Medisure Labs CEO Dr Sheikh Kaiser Waheed and central member of the association. "Apparently, only Gerry's Dnata had a cold storage facility at the airport," he said. "My own company had just Rs1 million worth of raw material. But others who were exporting finished goods might be exposed to a bigger loss."

Another pharmaceutical firm's CEO said its insurer had asked them to not even bother filing a claim as the insurance policy didn't cover act of terrorism.

"I don't know what we are going to do. Maybe, we would have to lobby as an industry to do something."

A lot of the medicines and products also belonged to commercial exporters and importers who were not carrying any insurance cover at all.

At least one insurance company, IGI Insurance, said its customers were sufficiently protected. "Around 90% of the stock covered by us is also protected against terrorist acts," an official said.

These days banks do not accept letters of credit, which do not carry standard clauses providing terrorism cover to the shipments, he said. "I believe the real losses will be suffered by importers who were dependent on self-finance."

Published in The Express Tribune, June 12th, 2014.

Like Business on Facebook, follow @TribuneBiz on Twitter to stay informed and join in the conversation.
COMMENTS (6)
Comments are moderated and generally will be posted if they are on-topic and not abusive.
For more information, please see our Comments FAQ