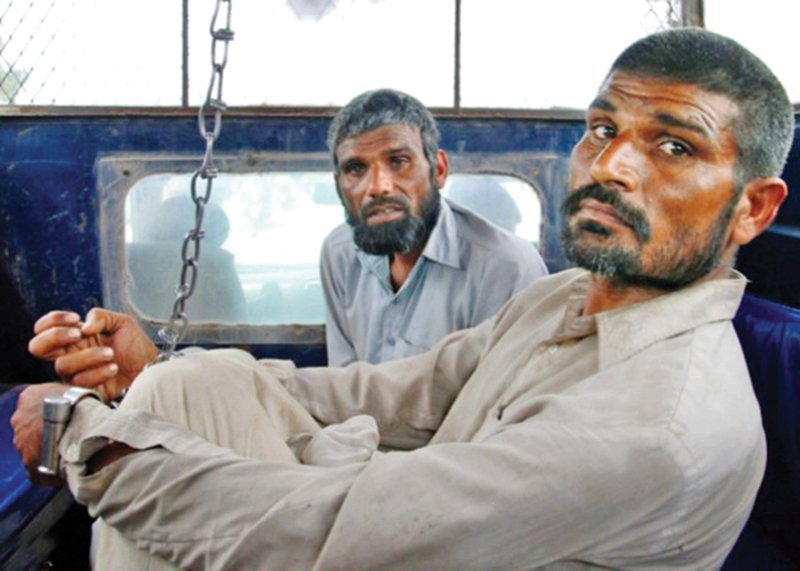 ---
SARGODHA:



An anti-terrorism court on Wednesday awarded 11 years and six years imprisonment to brothers convicted of cannibalism.




They were also fined Rs200,000. The judge said if they failed to pay the fine, they would undergo another four months imprisonment.

The court also ordered prison staff to keep them in separate cells.

Muhammad Arif and Muhammad Farman were arrested in April 2011 for cannibalism when a recently-buried body of a girl was found in their house in Darya Khan area of Bhakkar District. A few parts of the corpse had been cooked in a curry.

Police later said they confessed to eating more than 100 corpses after digging them up from a local graveyard.

They were imprisoned for two years and were released in 2013.

In April this year, their neighbours called the police complaining of a stench from their house. A police team raided the house and discovered the head of a young boy and other body parts.

Arif, at home at the time, was arrested. Farman, who had fled, was later captured.

Reactions

Most citizens of Bhakkar The Express Tribune talked to welcomed the judgement.

Muhammad Hanif, president of a traders association, told The Express Tribune that people were relieved that the brothers were being sent to jail.

He said the meat business in the area had suffered following news of cannibalism in the area.

He thanked the police and the district administration for ensuring security of citizens.

Zubair Ahmed Mughal, a civil society activist from Darya Khan, told The Express Tribune that many people in the area had suffered from psychological problems that needed to be understood. He said it was important to study such cases to understand the conditions of the society.

Naseer Ahmed Nasir, president of Anjuman-i-Falah-i-Awaam in Darya Khan said people felt safer now that the brothers were behind bars.

He said security of all graveyards had been enhanced. He said some of graveyards were being guarded by private security guards.

Published in The Express Tribune, June 12th, 2014. 
COMMENTS (10)
Comments are moderated and generally will be posted if they are on-topic and not abusive.
For more information, please see our Comments FAQ