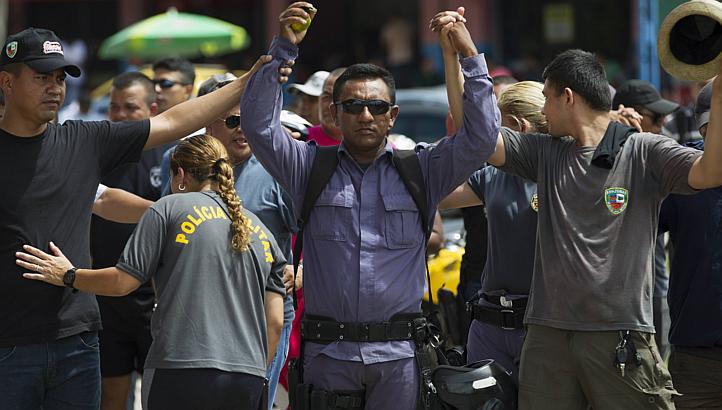 ---
SAO PAULO/ BRASILIA: Brazilian police fear street demonstrations will erupt in violence prior to the World Cup's opening game on Thursday in Sao Paulo, as intelligence indicates a few hundred protesters will try to block roads leading to the stadium.

Police have used phone wiretaps and social media to gather information on protesters' movements and plans before the opener between Brazil and Croatia, which will attract 60,000 fans, leaders of world soccer body FIFA and about a dozen heads of state, including Brazilian President Dilma Rousseff.

Demonstrations have raged on and off since last June as Brazilians vent their anger against what they see as government overspending on the month-long tournament, among other issues.

At their peak, the protests drew more than 1 million people into the streets. They have been significantly smaller in recent months but police are worried about what they describe as a hard core of radicals, mostly young men, who have vandalized buildings and clashed with police at previous events.

Several protest groups have called on Facebook for their followers to gather in downtown Sao Paulo on Thursday at 10 am (1300 GMT) and then head toward the Arena Corinthians, some 12 miles (20 km) east. The game is set to start at 5 pm

Surveillance indicates some protesters are planning to evade police barricades and cut off Radial Leste, a key thoroughfare that will be used by VIPs to get to the stadium, according to three officials informed of the intelligence.

Protesters or disgruntled subway workers who have taken strike action this month may also try to obstruct the train line that most fans will use to get to the game, the officials said.

Police have strict orders to keep roads and public transportation open.

"If the protesters try to keep fans from arriving, the situation could get ugly," one official said on condition of anonymity. "Police will keep the roads open, I guarantee."

Politicians ordered police to maintain a hands-off stance throughout much of last year, when protests were composed largely of the middle class.

But the tone has hardened as the Cup draws closer and polls show that only about half of Brazilians approve of the protests, down from 89 percent last June.

Rousseff and others have recently emphasized they expect police to maintain order and ensure fans can arrive at games. More than 150,000 police and soldiers have been deployed in the 12 cities hosting games.

"There's no problem with protests, but what is not possible is vandalism of public or private property. We can't have that," Sao Paulo Governor Geraldo Alckmin said on Tuesday.

PRE-CUP JITTERS

Rafael Alcadipani, a professor in Sao Paulo with close ties to both police and protest groups, said he had heard dire predictions of "war" for Thursday but that he expected cooler heads to prevail.

"I don't think it's going to be that bad," he said. "People are nervous but I think even the Black Blocs (a protest group) are realizing that people want the Cup to go forward."

Still, foreign delegations attending Thursday's game are "very concerned" and are evaluating alternate routes to the stadium if major violence erupts, a diplomat said.

Police in other cities were also preparing for trouble.

About 10 protest leaders in Rio de Janeiro were escorted to police stations on Wednesday to provide testimony, but were not arrested, a spokesperson at the state security office said.

A plan to preventively arrest some protest leaders in Sao Paulo did not go forward because police commanders concluded evidence was not strong enough to hold up in court, two officials said.

Protesters say the biggest risk comes not from themselves but from police, who have used rubber bullets and tear gas to break up previous demonstrations. A new web site set up by rights groups to collect evidence of police violence was being shared by protest leaders on social media on Wednesday.

Bus strike hits World Cup host city Natal

Bus drivers in Natal, one of Brazil's 12 World Cup host cities, have announced they will go on strike Thursday, the day the tournament opens.

Union leader Paulo Cesar Ferreira said the strike would affect both buses and mini-buses, the only form of public transport in the northeastern city, which is hosting four World Cup matches starting with Mexico versus Cameroon on June 13.

Workers decided to keep 30 percent of the fleet on the road to avoid paralysing the city completely, Ferreira said.

But the strike leaves organizers scrambling to find alternative transport to get fans to the 42,000-capacity Dunas Arena.

Ferreira denied the union was using the World Cup as leverage.

"Our negotiations take place at the same time every year. The Cup was a coincidence," he told AFP.

Workers are seeking a 16-percent raise and say management has not yet made a counter-offer.

It is the latest in a wave of strikes by public transport workers, police, security guards, teachers and other workers to sweep Brazil ahead of the World Cup.

Recent transport strikes have caused chaos in other World Cup host cities.

In Sao Paulo, subway workers suspended a damaging five-day strike Monday but are threatening to strike again Thursday, when the city hosts the opening match, if the government does not meet their demands.

In Rio de Janeiro, which will host the final on July 13, a bus drivers' strike caused traffic mayhem last month, and subway workers threatened to strike on the eve of the World Cup before reaching a last-minute deal with management.

In Brasilia, the capital, bus drivers decided not to go on strike after winning a 20-percent increase Sunday.

Natal doctors have also threatened to go on strike.
COMMENTS
Comments are moderated and generally will be posted if they are on-topic and not abusive.
For more information, please see our Comments FAQ