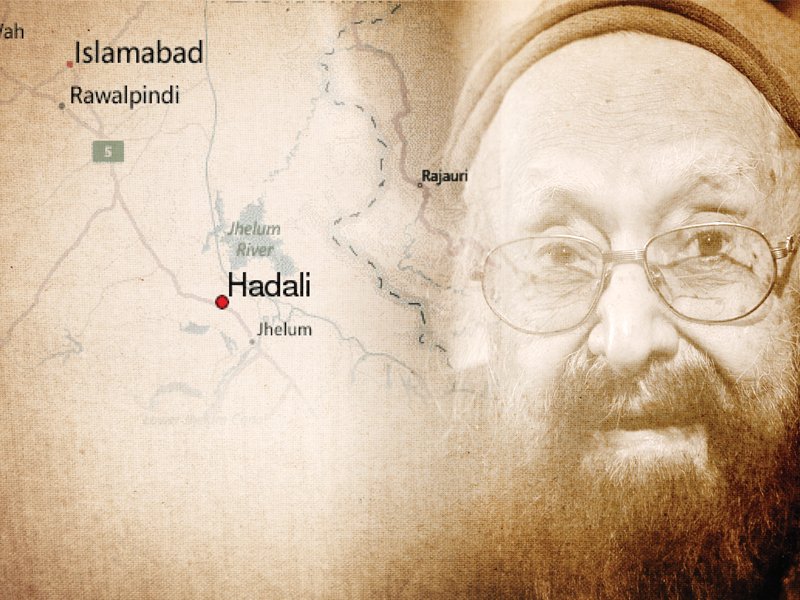 ---
It was in the "winter of 1987", as Khushwant Singh, the acclaimed Indian author, diplomat and journalist, recalled in his autobiography, that he last walked down the streets of his native village Hadali — located in the Thal desert some eight kilometres west of Jauharabad in the Khushab district in Punjab, Pakistan. But over a quarter of a century later, he did return when one of his friends, writer and art historian FS Aijazuddin, brought back a fistful of his remains to have them buried in the soil where he spent the formative years of his life.

"I used to be keen on a burial, because with a burial you give back to the earth what you have taken. I wanted to be buried in one corner with a peepul tree next to my grave," he wrote in his book Absolute Khushwant.





FS Aijazuddin in his last meeting with Singh on April 4, 2014 in New Dehli. PHOTO CREDIT: FS AIJAZUDDIN




Singh reportedly got his favourite tree beside his grave in Haveli Sujan Singh in India. And he was also able to "give back to the earth" when his remains reached Hadali in April this year and were placed in a wall niche at The Government Boys High School. A plaque there reads, "This is where my roots are. I have nourished them with tears of nostalgia."

It is remarkable that Singh, who died on March 20, 2014 at the age of 99 in Delhi, harboured a deep attachment for his birthplace and was a strong advocate of peace between India and Pakistan, despite fleeing Lahore at the time of the Partition and being witness to the terrible bloodshed and bitterness of the time. This harrowing experience, however, gave Singh the fodder for his most acclaimed novel, Train to Pakistan (1956). His affinity with Pakistan would often irk nationalist Hindus of India, who mockingly called him 'the last Pakistani living on Indian soil'.





The urn containing Singh's ashes at the Wagah border.PHOTO CREDIT: FS AIJAZUDDIN




In a chapter titled 'On Pakistan', he wrote, "Pakistan is the country of my roots, the land of my birth. Each time I visited my village I stood feeling overwhelmed, choked. Each time I was flooded with memories of my grandmother." Singh became increasingly reclusive in his old age and would meet no one without a prior appointment, but made an exception for visitors from Pakistan, shares Malik Habib Nawaz Tiwana, one of the many Hadali residents who received the celebrated writer during his 1987 visit to the village. In January 2008, when Zulfiqar Halepoto, a writer and researcher from Pakistan, landed outside Singh's abode in Delhi, he was greeted at the door by the writer himself. Singh immediately inquired how Pakistan was doing after the demise of Benazir Bhutto. He looked frail. "My health is not good, like South Asian health," Singh had said to his Pakistani visitor. "The famous wit was however still strong," recalls Halepoto.





The plaque where Singh's ashes are buried in a Hadali school. PHOTO CREDIT: FS AIJAZUDDIN




For people visiting from Hadali, however, the questions were more specific and revolved around the village landmarks such as wells, inns and buildings. "Every time someone would utter the word 'Hadali', it would bring tears to his eyes," says Tiwana.

In the first chapter of his autobiography, Singh wrote that he had "hazy recollection of his early years" in the village of "300 families", but was surprisingly able to give a detailed picture of what life was like there. He painted a lively picture, starting from the "large brick and mud structure with a spacious courtyard, a buffalo shed and a well" that was his house to the prevalent open-defecation practice to his grandmother milking the buffalo and churning butter to the dharamsal where he squatted every morning chanting multiplication tables to playing gilli danda with boys of his age to the evening which he describes as coming alive with the aroma of camel thorn and baking bread. "My memories of my grandmother are closely linked with the hum of spinning wheel and murmur of prayers," Singh wrote.





Singh addressing the gathering at the Government High School, Hadali. PHOTO CREDITS: MALIK HABIB NAWAZ TIWANA ADVOCATE




After spending the first four years of his life in the hamlet with his grandmother, who was affectionately called 'Bhabeejee', Singh's father, a prominent builder in Delhi, took him back to his city for education. According to his autobiography Truth, Love and Little Malice, he travelled to his hometown thrice after that, two times before Partition when he studied at Government College, Lahore and worked at the Lahore High Court, and only once after it. It was the third and last journey that he remembered the most and chose to mention in his autobiography.

Today, the locals have vivid memories of this visit and fondly reminisce about him. One afternoon, Singh drove from Lahore to Hadali where he received a warm welcome by the locals, including the notables. He did not know the people he shook hands with and the village had changed since his last visit. After walking through the streets and the gurdwara, he rushed to his haveli. Once inside the house, Singh caressed the mud walls and hugged the wooden pillars which were almost in the same condition as his family had left them in, except that the house was now divided into three parts for a family which migrated from Rohtak of the Haryana province. His damp eyes were frantic, as if searching for something, recalls Tiwana, but the house had been demolished a few years ago.





A local garlanding Khushwant Singh on his arrival in Hadali. PHOTO CREDITS: MALIK HABIB NAWAZ TIWANA ADVOCATE 




Singh's family traded in rock salt and dates and was the most prosperous one in the village. "If it weren't for Khushwant Singh, no one would have known Hadali," says Tiwana, who was a local administration official at the time. At the school, all the welcome speeches were made in "badly pronounced, florid Urdu," stated Singh. He himself spoke in the local dialect when he addressed the nearly 2,000 people gathered there, recalls Tiwana. "Moonlit nights and sand dunes are unforgettable," he said.

Sixty-four-year-old Maqsood Illahi, a school teacher back then, clearly remembers the Indian legend's visit. He recounts that in the early 1980s, Malik Ahmed Nawaz, a resident of Hadali village, was posted at the Bahrain Airport from where Singh was travelling. Upon spotting Hadali as the place of birth on his passport, Nawaz pulled him out of the queue. Singh was livid at the apparent discrimination and asked why he was singled out. When Ahmad told him that he was also from Hadali and wanted to serve him something, Singh cried. "Singh and Ahmad continued to write to each other after that," Illahi narrates.





Singh in a group photo taken at the Government High School, Hadali. PHOTO CREDITS: MALIK HABIB NAWAZ TIWANA ADVOCATE




In a visit that was as spiritually fulfilling as this, the acclaimed writer badly wished to be alone. "I would have liked nothing better than to be left alone to roam about the lanes of Hadali and rest my head on the threshold of the house in which I was born," he wrote.

After spending an emotional day at Hadali, Singh left a little before sunset, aware that he may never return. Little did he know that his family would indeed grant him his final wish and send a fistful of his remains to be buried in the soil where his soul rests eternally.

FAMOUS KHUSHWANT SINGH QUOTES

"Freedom is for the educated people who fought for it. We were slaves of the English, now we will be slaves of the educated Indians — or the Pakistanis." —Train to Pakistan.

"Your principle should be to see everything and say nothing. The world changes so rapidly that if you want to get on you cannot afford to align yourself with any person or point of view."

"Morality is a matter of money. Poor people cannot afford to have morals. So they have religion."

"Nature provides that a man who slaves all day should spend the hours of the night in a palace full of houris whereas a king who wields the sceptre by day should have his sleep disturbed by nightmares of rebellion and assassination." — Delhi: A Novel.

"Not forever does the bulbul sing

In balmy shades of bowers,

Not forever lasts the spring

Nor ever blossom the flowers.

Not forever reigneth joy,

Sets the sun on days of bliss,

Friendships not forever last,

They know not life, who know not this."

— Train to Pakistan.

Tariq Masood is a subeditor for the Islamabad city desk at The Express Tribune. He tweets @tariqmasudmalik 

Published in The Express Tribune, Sunday Magazine, June 15th, 2014.
COMMENTS (9)
Comments are moderated and generally will be posted if they are on-topic and not abusive.
For more information, please see our Comments FAQ