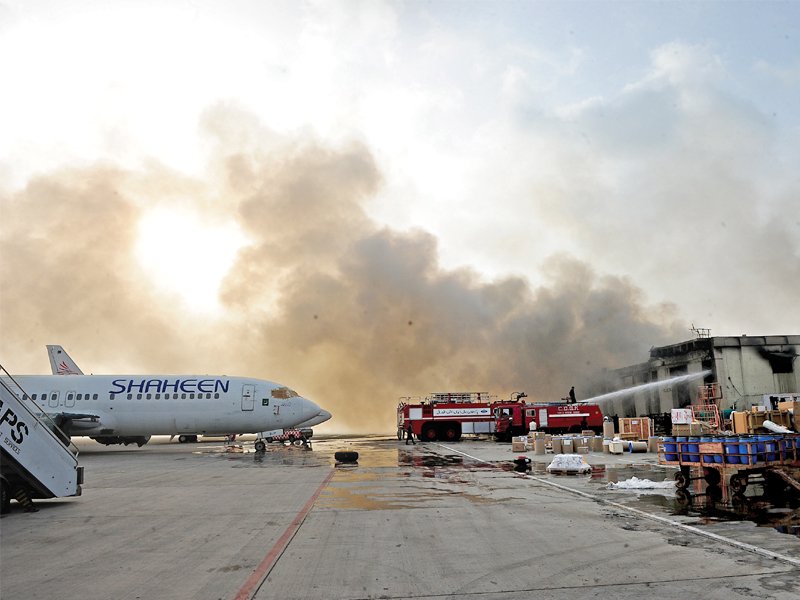 ---
ISLAMABAD:

Lawmakers on Monday condemned the previous day's terrorist attack on Karachi airport as well as the brutal hotel bombing in Taftan, Balochistan. At the same time, members of the lower house signalled the need for boosting the security of Parliament House.


The main opposition parties criticised the government over its approach towards militancy, citing its penchant for not taking elected representatives into confidence. They also asked the government to wage an 'all-out war' to dismantle terrorist networks in the country. It is time to adopt a clear policy towards terrorists, opposition MPs said. Leader of the Opposition Khursheed Shah declared, "Take a decision boldly. Live like a lion and then fight like lion."

He said the PM should disclose who was responsible for the security lapse that led to the attack, saying, "I want to ask this question from all state institutions as to why pilgrims have been eliminated inside Pakistan but have received safety in Iran."


Relatives mourn missing family members after the attack on the airport. PHOTO: AFP

"They (intelligence agencies) can hound us while tapping our telephone calls and make and break us in the political arena but why can they not pursue such nefarious elements and gather intelligence on who will target the GHQ and Karachi?" he asked. Shah questioned what action the government has taken after the All Parties Conference on September 9 last year, adding that the government had not informed the public about the process of dialogue with the Taliban.

Meanwhile, the JUI-F's Maulana Ameer Zaman and JI's MNA Sahibzada Tariqullah were prominent amongst those demanding enhanced security for Parliament House. MNAs Shaikh Rasheed and Ejazul Haq were unanimous in their assertion that India's involvement in the attack on the airport cannot be ruled out.

The opposition parties also demanded that the government form a unanimous strategy to protect Shia pilgrims who have been routinely targeted in Balochistan while travelling to Iran.




'The federation is burning'

At Monday's Senate session, senators argued that there could be no discussion on the budget 'when the federation is burning'. Senators from the opposition in the Upper House of Parliament demanded an operation against militants in the wake of the two attacks on Sunday.

The debate on the Karachi attack opened with Senator Haji Adeel of the Awami National Party, with the leader of the house PML-N Senator Raja Zafarul Haq's consent.  Adeel said he had no confidence left in the government  or its policies while Parliamentary leader of the house PPP Senator Raza Rabbani demanded the resignation of Interior Minister Chaudhry Nisar Ali Khan as well as the prime minister's special assistant on aviation, Shujaat Azeem, in what he termed 'a full collapse of the government's security policy'.

Published in The Express Tribune, June 10th, 2014.