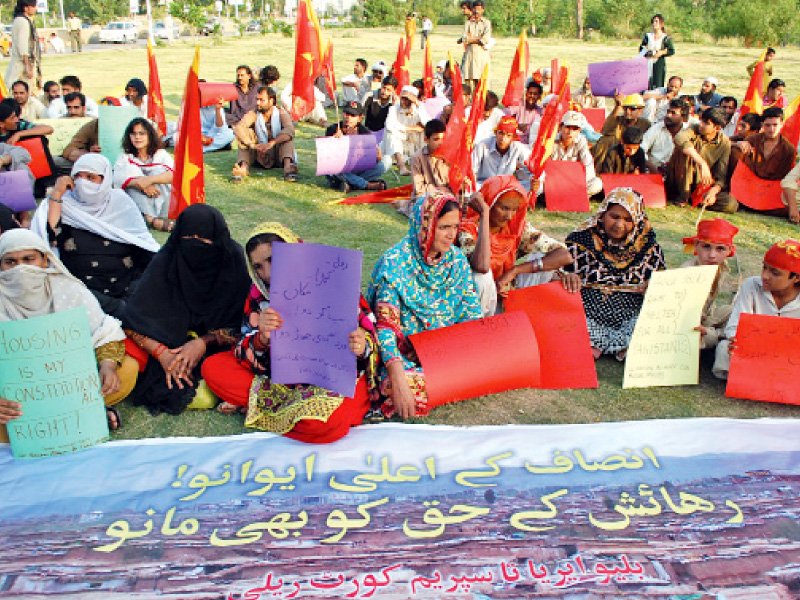 ---
ISLAMABAD:



Shahnaz, 45, a resident of a kachi abadi in Sector F-6 was holding a placard upside down at a protest against the ongoing drive to evict slum dwellers. A message written in English was calling on the Supreme Court to uphold Article 38d, which recognises housing as a fundamental right for every citizen. She could not read the message, but she hoped to register her concern.




She woke up early in the morning to coordinate with her neighbours for the protest. She was informed that today was a big day and by marching miles from Saudi-Pak Tower to the gates of the Supreme Court, her prayers to secure shelter of her children may be answered.

An attempt to gather hundreds today outside the Supreme Court to demand a halt to the operation against illegal slums was thwarted by the administration. Approximately 1,500 residents of kachi abadis in sectors I-11, I-10, H-11, H-9 were stopped from reaching the protest site at Saudi-Pak Tower. The police blocked their way and threatened to arrest anyone who went against the law, while 25 to 30 cars with water and medical supplies for the protesters were taken into custody.

Some 300 police officials armed with guns, batons and shields encircled the ground outside the National Press Club awaiting the rally. Those who managed to slip past the security cordon, approximately 500 residents including women and children, participated in the protest and chanted slogans against the government and the administration.

"The SHO was receiving messages on his wireless to not to let the protesters go beyond a certain point," said Awami Workers Party (AWP) Punjab President Asim Sajjad Akhtar, while addressing the crowd. "We were told to take a different route because clerks were holding a protest at D Chowk. Why the discrimination?"

According to All Pakistan Alliance for Kachi Abadis and AWP, Rs20 billion allocation for a housing scheme for the poor in the budget was a sham. With 40 million people in slums, the budget allocates merely Rs500 per slum dweller.

Kachi abadi residents have been holding demonstrations every now and then outside the National Press Club for the past four months. Akhtar said protests would continue till permanent arrangements for housing are made as the right to shelter is guaranteed in the Constitution.

Published in The Express Tribune, June 5th, 2014.