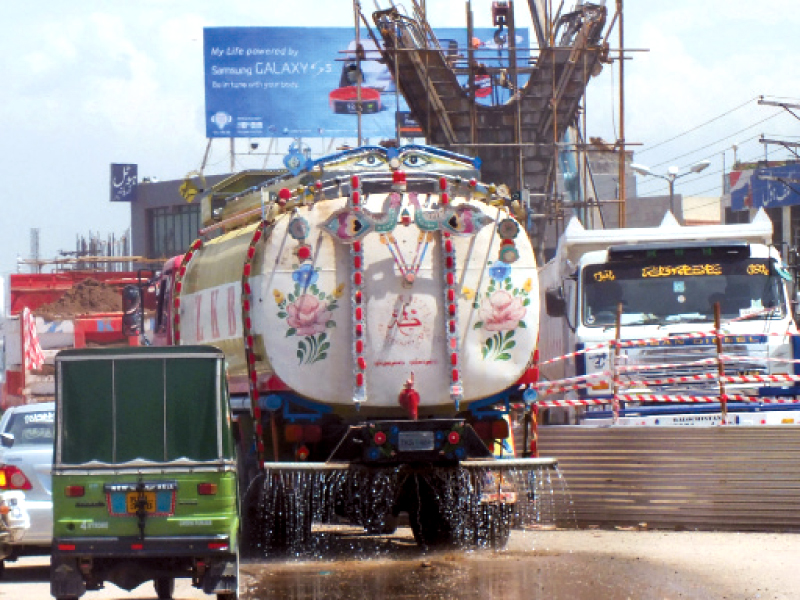 ---
ISLAMABAD:



Health experts have expressed concern over the rising dust pollution due to the ongoing construction work on various roads in the twin cities.




Pakistan Institute of Medical Sciences (Pims) senior chest physician Dr Asadullah Nemati said that on average, he receives 30 patients with nose and eye allergies and frequent asthma attacks.

"Even asthma patients, who usually get better by this time of the year, have not recovered and the condition of some of asthma and bronchitis patients is getting worse instead of improving," he said while addressing dust-related health problems.

He said that he was also regularly treating patients from areas of Rawalpindi, where roadwork is underway. "They are suffering from severe coughs, flu and eye irritation," he said.

Dr Nemati said that although people cannot outright-avoid dust and air pollution due to the ongoing work, they should use alternate routes where possible and wear masks and glasses while passing through areas where work is in progress.

Polyclinic Hospital spokesperson and head of the hospital's emergency department Dr Tanveer Malik said that over 100 people suffering asthma attacks, eye and flu allergies visited the hospital during the last 24 hours.

He said the number is unusually high for this time of the year, while adding that many are of the patients are labourers working on the road projects.

A senior pulmonologist at Holy Family Hospital in Rawalpindi who wished not to be named said due to the rising dust in the air, an increase of 20 to 25 per cent in the number of asthma and allergy patients has been witnessed.

He was of the few that due to high temperature, motorists without air-conditioned cars roll down windows and get exposed to the dust in the air.

"Even masks cannot help them avoid inhaling dust particles," he said.

He said that labourers engaged in the construction work were highly vulnerable to dust particles and allergies as they rarely wear face masks.

Ayesha Fiaz, an asthmatic resident of Satellite Town, said it has become "terribly difficult" for her to breathe.

"Every day it is a challenge for me to go out of my house to pick-and-drop my children at school because of this dust. In the last month I have had three severe asthma attacks," she said.

Former Pak-EPA director-general Asif Shuja said that the metro bus project is one example of a project being started without prior approval from the Pak-EPA.

"The moment they submitted the Environmental Impact Assessment (EIA) report, they started construction work without waiting for the standard 90-day period to get feedback from Pak-EPA," he said.

Shuja said air pollution in Islamabad was 72 micrograms per cubic metre against the national standard level of 40 micrograms per cubic metre.

"After this construction work, it is estimated that it has increased from 72 to around 100 micrograms, which is worrisome for the capital's residents," he said.

He said that the wind coming from Rawalpindi was further accentuating air pollution in Islamabad, as dust particles coming from that direction begin hovering over the capital due to the catchment area created by the Margalla hills.

On reducing dust levels, Shuja said rains would provide temporary respite, but also suggested increasing watering of areas where construction work is ongoing so that fewer dust particles rise and the airborne levels do not get to the point where they create problems for residents.

Published in The Express Tribune, May 25th, 2014.