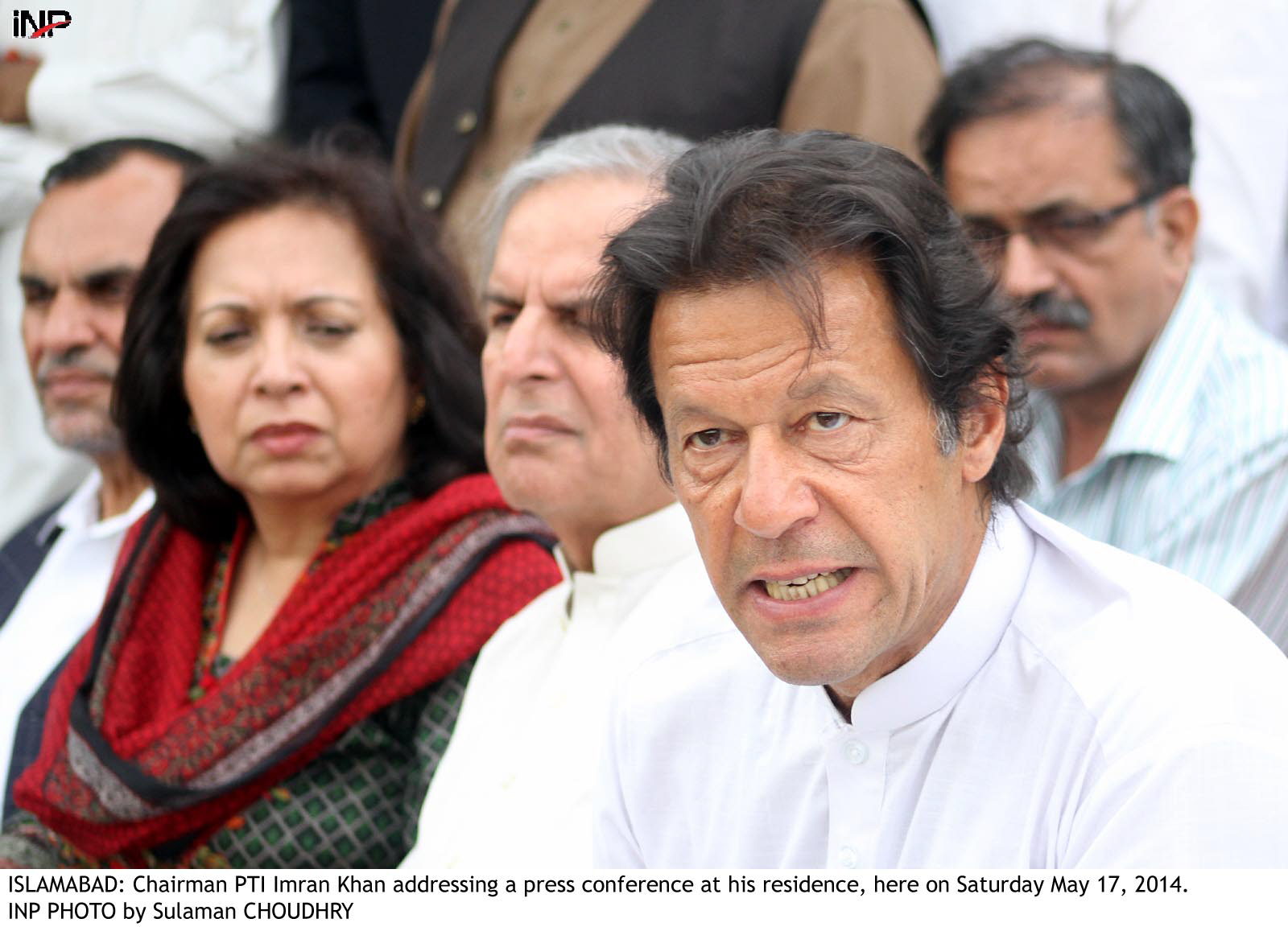 ---
ABBOTABAD:



Dismayed with results of the general elections, Pakistan Tehreek-e-Insaf (PTI) Chairman Imran Khan said those found involved in rigging during the June 5 by-polls in Abbottabad's PK-45 constituecy would be dealt with severely.




The PTI chief was speaking to participants of election meetings in Pattan Kalan and Beerot villages on Saturday, to campaign for his party candidate, Ali Asghar Khan.

"I promise that anyone caught casting more than one vote during the by-polls in this constituency would be sent to jail," said Imran, adding his party suffered from massive rigging by the Pakistan Muslim League-Nawaz (PML-N) last year.

Accusing PML-N of committing "historic" rigging during the May 11 general elections, Imran said that a party which bagged 6.8 million votes during the 2008 elections polled 14.5 million votes from Punjab alone in 2013. "Could somebody tell me how PML-N was able to win by such a huge margin," he questioned, explaining that bogus votes were cast in high numbers.

"I will prove one day that PML-N committed history's biggest voter fraud," he said.

Speaking about the political culture of the country, Imran said political dynasties had been imposed on the people of Pakistan for the last three decades.

The PTI chief said family politics and "family limited companies" have been ruling turn by turn, destroying the very fabric of the country and harming democracy. "The rule of a few families has proved detrimental to the development and prosperity of Pakistan," he said. Lashing out at the Sharifs, Imran said they have also brought their women into politics after already giving coveted posts to their sons and son-in-laws. He vowed to resist the politics of dynasty at all costs.




Talking about PK-45, Imran said a single family has been ruling the constituency for thirty years but has failed to improve living conditions of the people. Imran expressed PTI's resolve to improve the lives of people by bringing the area at par with the developed towns of the country. He announced the opening of three degree colleges in the constituency, tourism promoting schemes to provide jobs for locals and giving the status of Tehsil Headquarters to Beerot.

PK-45 was vacated after Sardar Mehtab Khan Abbasi was appointed as the Khyber-Pakhtunkhwa governor. A tough contest is expected for the provincial assembly seat as the Abbasis have won every election from it since 1988. Denting PTI's chances is the fact that its candidate, Ali, is a non-local whereas the PML-N candidate is a relative of the governor.

Published in The Express Tribune, May 25th, 2014.