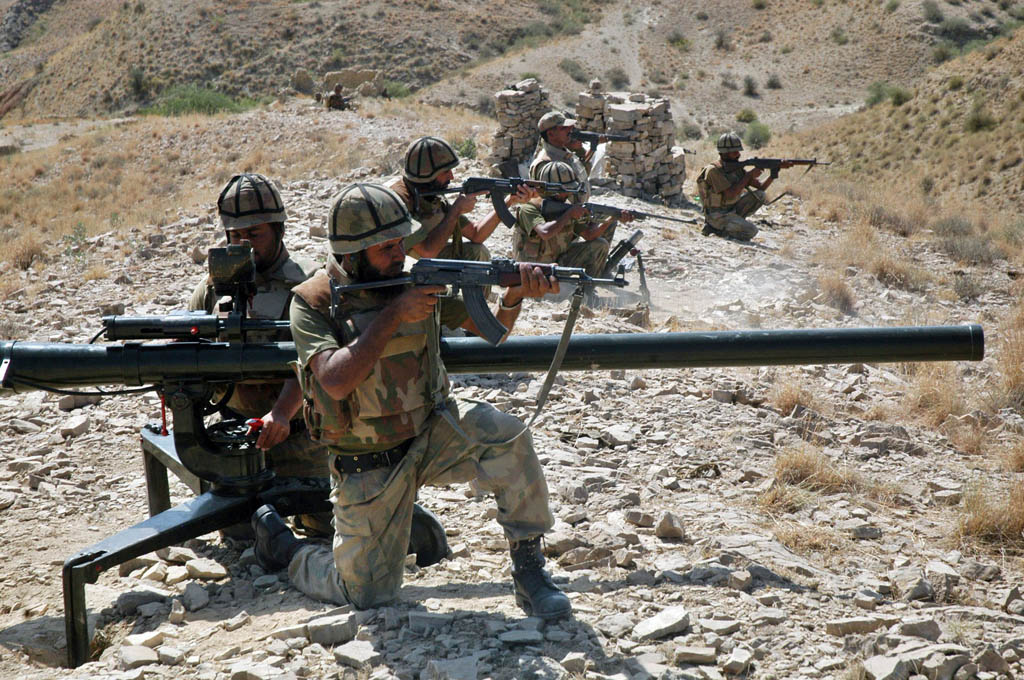 ---
MIRAMSHAH/ PESHAWAR:



Scores of suspected militant hideouts were flattened in North Waziristan on Thursday as troops, backed by artillery and helicopter gunships, resumed their retaliatory action against Taliban insurgents for the second consecutive day, security and local government officials said.




The latest action came a day after air strikes and ground fighting killed at least 71 suspected militants and four security officials in the same area.

Thousands of people have started fleeing towards Bannu in the wake of the attack, local residents and officials said. However, it was not clear how many people were killed in Thursday's assaults.

The offensive is seen as another blow to the faltering dialogue process between the government and the Tehreek-e-Taliban Pakistan (TTP).

A spokesman for Hafiz Gul Bahadur, the chief of the North Waziristan Mujahideen, said the group was reviewing the 2007 peace deal with the government following the offensive.

For the first time, security forces used reconnaissance drones in their operation which suspected militant hideouts in North Waziristan Agency's Machis Camp, Kharwani and Mirali areas.

"Dozens of militant hideouts were destroyed in the Machis and Kharwani areas on the outskirts of North Waziristan Agency's headquarters Miramshah," a security forces official told The Express Tribune. The bodies of two suspected militants were also recovered from a compound in Machis Camp, he said, adding that a security official was injured during the search operation when a mortar shell fired from an unknown location landed near him.




"Troops used explosives to blow up more than a hundred houses belonging to militants in Machis Camp," an intelligence official in Miramshah said. He added that artillery and helicopter gunships were targeting militant hideouts while troops on the ground had begun a door to door search operation for militants.

The military also targeted suspected militant hideouts in the nearby town of Mirali. "The troops have destroyed about 300 shops in the main Mir Ali bazaar," a local official told AFP.

A spokesman for Inter Services Public Relations insisted the security forces were carrying out a 'sanitisation' operation in response to heavy shelling from militants on security installations in Miramshah following Wednesday's air strikes in North Waziristan.

He clarified, however, that no actual air strikes were carried out in North Waziristan on Thursday and said militant raids on a security forces' camp in Miramshah were dealt with by local commanders.

Local tribesmen, meanwhile, continued to evacuate Miramshah and Mirali, and complained that their shops and houses had been destroyed in both Wednesday and Thursday's military action.

Ilyas Khan, a tribesman from Mirali, said he and his family left their house when the security forces carried out airstrikes on Wednesday. Several shops in Mirali Bazaar were destroyed in the bombing, he said.

Another tribesman from Mirali, Sher Gul said his shop was among those that were destroyed during shelling by security forces on Thursday. "Why was my shop destroyed? I'm not a militant," he complained.

Siraj Ahmed, the highest ranking government official in the region, said locals had been warned and asked to evacuate the area before the military action began.

"We announced yesterday [Wednesday] that people should leave the area," Ahmed said. "This morning, tanks moved in and helicopter gunships began demolishing houses in the Machis camp area."

Tribesman Muhammad Asghar, however, said many locals had been left stranded due to the curfew that was imposed in several parts of the North Waziristan Agency.

N Waziristan Mujahideen review 2007 peace agreement

A meeting of the higher council of the North Waziristan Mujahideen to review the group's peace agreement with the government was under way on Thursday, a spokesman for the group's chief Hafiz Gul Bahadur said.

Talking to journalists, Ahmadullah Ahmadi said the move was prompted by the recent military action in North Waziristan. The spokesman claimed mostly civilians had been targeted in the offensive.

The government signed an unofficial non-aggression pact with pro-government militants in the area in 2007 and there had been no ground offensive in the area since.

Ahmadi said that the recent air strikes in the agency clearly violated the peace deal.


Published in The Express Tribune, May 23rd, 2014.
COMMENTS (9)
Comments are moderated and generally will be posted if they are on-topic and not abusive.
For more information, please see our Comments FAQ