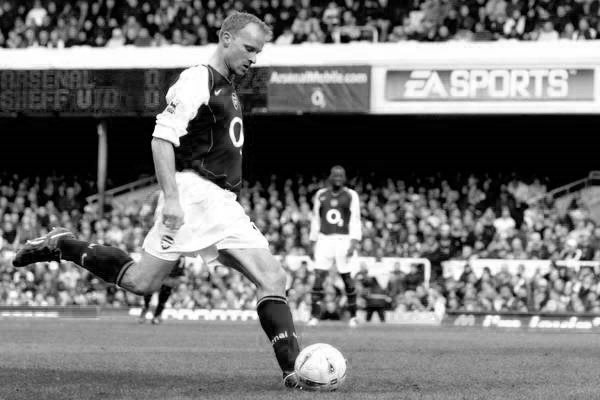 ---


Perhaps the biggest ode to Dennis Bergkamp is that throughout his 11-year stay at Arsenal, the most oft-sung song for him was just a simple chant of 'We've got Dennis Bergkamp'. As if even after a decade, the fans could not believe that he was Arsenal's, as if they still pinched themselves whenever they saw him play, as if witnessing him in the red and white (and maroon in his final season) was still as romantic as it was the day he was signed.




When Arsenal tripled their previous transfer record to sign Bergkamp from Inter Milan for £7.5 million, it was a statement of intent by Bruce Rioch's side. The 'boring boring Arsenal' under George Graham, which had failed spectacularly towards the twilight of his reign, was to come to an end. Bergkamp was brought in to herald a change and along with his large signing fee and reputation, came the hype.

His start to England was slow as he failed to score in the first six games and the unforgiving and impatient English media promptly started with their criticism. A brace against Southampton in the seventh match of the game, showing stunning technique to volley home from a tight angle for his first ever goal and following it up with a long range effort into the top corner, gave a glimpse of what was to follow and Bergkamp never looked back.

Ian Wright recalls making fun of Bergkamp in his first year, calling him 'The Messiah' due to the hype that he generated in the media, who were more than happy to call him Arsenal's saviour. "Show us a sign oh messiah, show us a sign," Wright often mockingly said to Bergkamp and Bergkamp would just smile rather than reply.

In the last game of the season, Arsenal needed a win against Bolton Wanderers to secure fifth position and hence a spot in the UEFA Cup. It was 1-1 in the 84th minute when Bergkamp received the ball from David Platt. He turned with his first touch and then smashed the ball into the top right corner from nearly 25 yards out and with one thunderbolt of a right-footed shot, he took Arsenal to Europe. After the match, Wright says Bergkamp came up to him, smiled, and said, "There's your sign," and then walked off.

However, it wasn't until the next year when Arsenal appointed Arsene Wenger as their manager that Bergkamp truly shined, forging a deadly partnership in attack, first with Wright and later with Thierry Henry. The French forward famously named Bergkamp as the best player he has ever played with, over compatriot Zinedine Zidane.

It was also in this year that Bergkamp won over perhaps his biggest critic; teammate Lee Dixon. Dixon could never understand the hype and excitement surrounding one player. However, Bergkamp's goal against Sunderland — when he did a pirouette on the ball to beat two defenders and then scored from an angle that he had no right to even shoot from — convinced Dixon of the quality of his teammate. "It was then that I realised what champions could do; they can take any match by the scruff of the neck and turn it around," he said later, recalling the goal.




Bergkamp's importance to Arsenal was perfectly highlighted during Arsenal's double winning season of 1997-98, when he either scored or assisted a third of all goals scored by Arsenal that season.

Bergkamp had a happy knack of scoring some outrageous goals, including what is widely considered as the best hat-trick in football against Leicester. That month, all three goal-of-the-month goals were Bergkamp's; the only time that has happened in Premier League history.

His goal against Newcastle, where he calmly slotted the ball past Shay Given after rounding Nikos Dabizas with an outrageous flick, has been voted the best goal ever scored in the Premier League.

Nicknamed 'The Dutch with a Touch', Bergkamp's ball control and first touch is paralleled only by Johan Cruyff's; the man who handed Bergkamp his debut in 1986. "My first touch, or anyone's first touch; that is the most important thing in the game," he used to say. And he highlighted this with his late quarter-final winner against Argentina. His first touch got the ball perfectly under his control from a long ball from former Ajax teammate Frank De Boer. His second touch took the ball past one of the world's best defender of the time; Roberto Ayala. And with his third, he used the outside of his foot to curl the ball into the corner from a tight angle, sending all of Holland into raptures.

Bergkamp is considered the greatest Dutch footballer by many and was their leading all-time goal scorer at one point, a considerable achievement considering that he stands alongside the likes of Marco van Basten and Cruyff, and his position as a second striker. In April 2006, Simon Kuper wrote in the Financial Times, "One night last year some legends of Dutch football gathered for dinner in an Amsterdam house. Around midnight, conversation turned to an old question: who was the best Dutch footballer ever? Dutchmen have been voted European Footballer of the Year seven times, more than any other nationality except Germans. Yet Jan Mulder, a great centre-forward turned writer, chose a player who had never even threatened to win the award nor, at the time, a Champions League: Bergkamp. He had the finest technique,' said Mulder. Guus Hiddink, the great Dutch manager, nodded, and so the matter was settled."

Despite his fear of flying, which caused him to miss many important matches for club and country, he is also considered by many as the best player to have played in the Premier League, helping Wenger take Arsenal to new heights.

Arsenal's results have dipped considerably since Bergkamp's retirement and it is fitting that the first game at Arsenal's new stadium was his testimonial as they bid a collective farewell to their home ground and the man that made it such a daunting place for away defences.

For the complete Hall of Fame series, log on to here.

Published in The Express Tribune, May 21st, 2014.

Like Sports on Facebook, follow @ETribuneSports on Twitter to stay informed and join in the conversation.