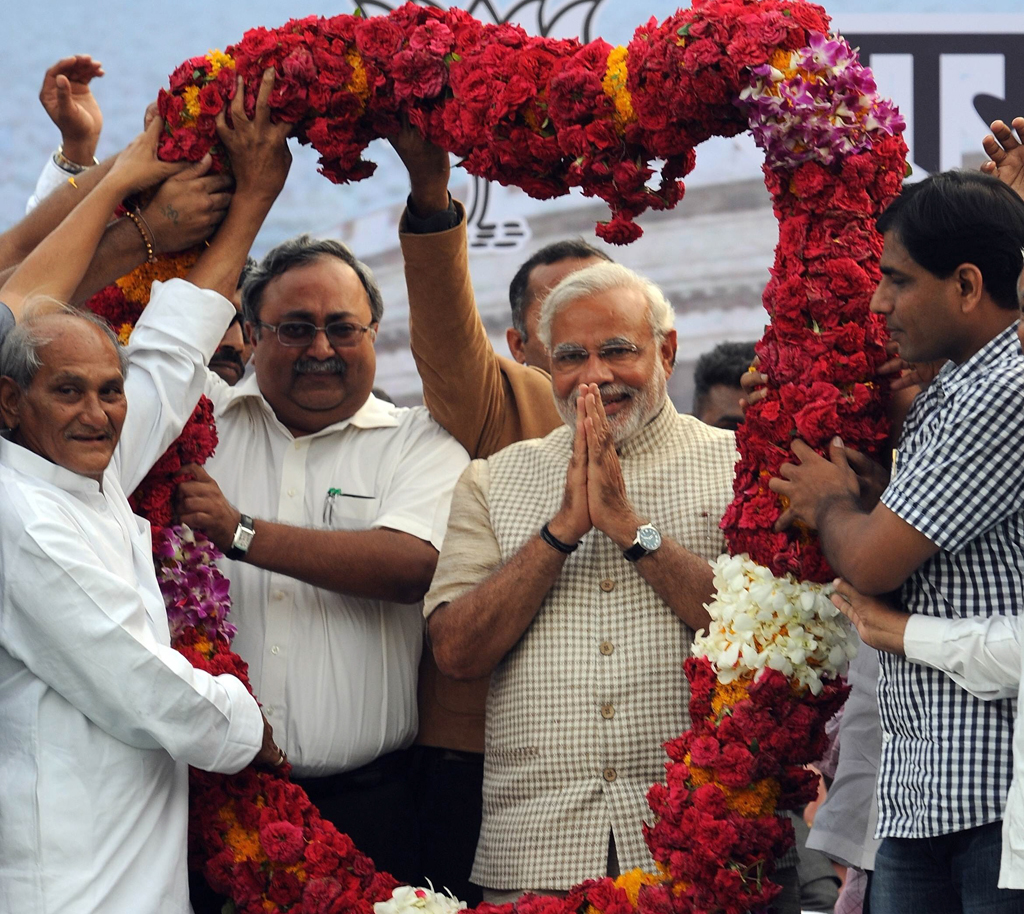 ---
NEW DELHI:



While political pundits attribute Narendra Modi's win to Congress' failure, one cannot discredit the man for creating a new record in Indian democracy. Here is a quick examination of.




Urban voters and youth

Modi pledged to chart a separate policy for the neo-middle class; his manifesto talked on the issues of development. The youth was mobilised by his chants of brining employment into the country.

Corporate banking

Undoubtedly, BJP is the most preferred political lot among traders of the country and big corporate honchos that see its leader and incumbent Gujarat's chief minister as a wave of development. Their confidence stems from Modi's credit-worthy performance in Gujarat during the last three terms in the state.

His closeness to some corporate houses is openly known, and they have been enjoying a great success in Gujarat. Shares are expected to jump further when he takes over.

Polarised elections

It would be no exaggeration to say that votes have been polled on communal lines this time, and hence the saffron party reaped maximum dividends in a nation where one religion constitutes the majority of the population.

This was true especially in the state of Uttar Pradesh and Bihar, where elections are fought on the fore-ground of communal lines. Here BJP gained in-roads with some controversial speeches from Modi's lieutenant Amit Shah.

No real threat

The ruling United Progressive Alliance or Congress-led UPA never had a figure as grand and imposing as Modi to counter him. Aam Aadmi Party's Arvind Kejriwal fought against him, but was too new into the fray to pose any real threat in the constituency of Varanasi from where he lost against Modi.

Even Rahul Gandhi, who was said to be the face of Congress leadership never troubled the BJP, as a majority was disillusioned by Congress and its rule over the 10 years.

Upbeat after wins in assembly elections

The real booster for BJP was winning assembly elections concluded only a few months ago in Rajasthan, Madhya Pradesh, Chhatisgarh and getting the maximum seats in Delhi. The saffron brigade was upbeat about carrying the confidence to the national level as well.

Modi came, he saw and he conquered – the phrase perfectly describes the rise of who went from being a tea-seller to proposed prime minister of the largest democracy in the world.

His critics would often blame him for using excessive money and publicity agencies to perfectly strategise his popularity, but the rigorous campaigning paid off and the so-called Modi-wave turned into a tsunami during the final counting as BJP engulfed India and won two-thirds majority.

The writer is a journalism student at AJK Mass Communication Research Centre, Jamia Millia Islamia, New Delhi, India. He tweets @rizviuzair

Published in The Express Tribune, May 18th, 2014.
COMMENTS (24)
Comments are moderated and generally will be posted if they are on-topic and not abusive.
For more information, please see our Comments FAQ