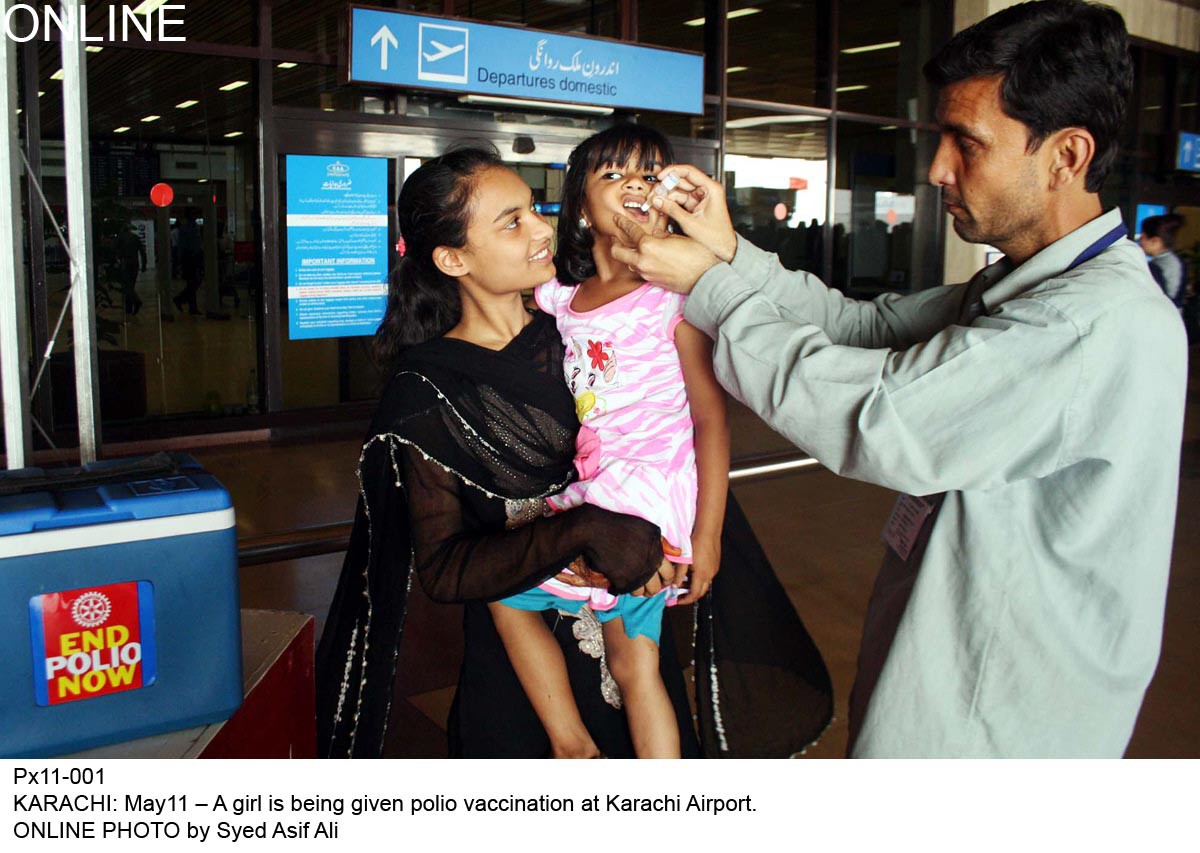 ---
ISLAMABAD: All Pakistani travellers embarking on international visits will be required to carry a valid polio vaccination certificate from June 1, 2014, a joint statement from the Ministry of Health Services and the World Health Organisation read on Tuesday.

Earlier in May, the WHO's International Health Regulatory Emergency Committee had recommended pre-travel condition on Pakistanis to curb the transmission of polio virus across the globe.

Pakistan takes seriously its responsibilities as a signatory to the international Health Regulations, 2005 (IHR) and is fully committed to their implementation in letter and spirit, the statement read.

The ministry of National Health Services Regulation and Coordination (NHSR&C) said it has already taken several measures to implement the IHR temporary recommendations made by the WHO relating to the public health emergency of international  concern caused by the spread of poliovirus from Pakistan.

The statement added that the plan had been initiated and health facilities across Pakistan are now vaccinating prospective travelers and issuing the required vaccination certificate. Preparations for fully implementing the measures are expected to be completed in two weeks, adding that the government was collaborating closely with WHO, UNICEF and health development partners to mobilise all available resources.

Additionally, a template for the required vaccination certificate has been prepared in compliance with IHR Annex VII.

Are you polio certified?

With Pakistani travellers required to carry polio certification, here is how you can get yours before you board your flight.

• People traveling out of Pakistan can get vaccinated against polio from major public hospital at city, district and provincial level as well as from DHO offices, airports, seaports, cross-boarder check points of neighboring countries.

• They can get their polio certificate signed by any designated senior official (BPS-19) at these hospitals, airport and departments.

• The polio certificate issued to any one and vaccination done will be valid for one year.

• A person who has planned his foreign trip earlier can get vaccinated four week before to the actual date of traveling or incase of urgency, can get it done at the airport.

Till the printing of the template that is compliant with IHR Annex VII, the certificate can be issued on plain paper with the required stamps from health officials.
COMMENTS (29)
Comments are moderated and generally will be posted if they are on-topic and not abusive.
For more information, please see our Comments FAQ