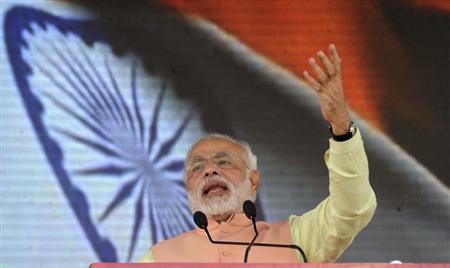 ---
NEW DELHI: India's right-wing opposition on Friday voiced growing confidence of a decisive victory in a marathon election, as potential partners distanced themselves from the favourite to become prime minister, Narendra Modi.

"There's no need to wait until the 16th as the people have already decided," a bullish Modi told supporters a week ahead of the announcement of results from the world's biggest general election.

"It will be a Modi government this time. Good days are ahead of you," he added in a rally in the northern Uttar Pradesh state, which will on Monday host part of the final round of voting and where he is up against anti-graft hero Arvind Kejriwal.

Modi's Bharatiya Janata Party (BJP) is widely expected to win the most seats, but is unlikely to gain a majority on its own in the 543-seat parliament. Some analysts are predicting the party will have to find new allies in order to form a government.

Several potential allies have been distancing themselves from Modi during the final days of the election contest.

But Modi's top aide Amit Shah quashed any suggestion on Friday that his boss might step aside after the elections for a compromise candidate that would be acceptable to other parties that have cool relations with Modi.

"The NDA will get more than 300 seats in these elections," Shah said in reference to an existing BJP-led opposition grouping in parliament known as the National Democratic Alliance.

"We will get a clear majority and our prime ministerial candidate Narendra Modi will be the prime minister," Shah added in comments carried by the CNN-IBN network.

Meanwhile anti-corruption champion Kejriwal, whose Friday road rally in the holy city of Varanasi in Uttar Pradesh saw scores of supporters pour onto the streets, predicted a victory for his Aam Aadmi (common man) Party (AAP).

"The AAP is winning with a huge majority in Varanasi. Narendra Modi is going to lose," said Kejriwal, a former tax official turned politician.

"The people of Varanasi are asking how a person who comes in a helicopter for only two hours to campaign can serve them," he added.

Although opinion polls forecast that the AAP will bag no more than ten seats, Kejriwal proved political pundits wrong in December when his party prevented the BJP from taking charge of Delhi's state assembly in a stunning electoral debut.

'Doors shut for Modi'

The ruling Congress party is expected to be ousted after a decade in power, but Modi's hopes of becoming premier could still be thwarted if leaders of powerful regional parties refuse to do business with him.

One potential partner, Bahujan Samaj Party (BSP) leader Mayawati, told reporters on Friday that she would not consider any deal with Modi.

"I want to make it clear that BSP will not extend any kind of support to NDA at any cost," said Mayawati, a champion of India's lower-caste dalits, whose party currently has 21 MPs with its power base in Uttar Pradesh.

The West Bengal-based Trinamool Congress, another party that has been named as a potential BJP partner, also kept up its cold war against Modi -- saying the "doors are shut" to a government led by him.

The 63-year-old, who is chief minister of the thriving state of Gujarat, is popular among business leaders and middle-class voters frustrated by India's economic slowdown and corruption scandals.

But Modi remains a polarising figure due to his Hindu nationalist past and allegations that he failed to swiftly curb deadly 2002 anti-Muslim riots.

The riots swept Gujarat during Modi's early years as chief minister there, leaving at least 1,000 people dead, most of them Muslims.

The BJP leader was investigated but never charged with any wrongdoing. However, many people believe he did too little to stop the violence.
COMMENTS (2)
Comments are moderated and generally will be posted if they are on-topic and not abusive.
For more information, please see our Comments FAQ