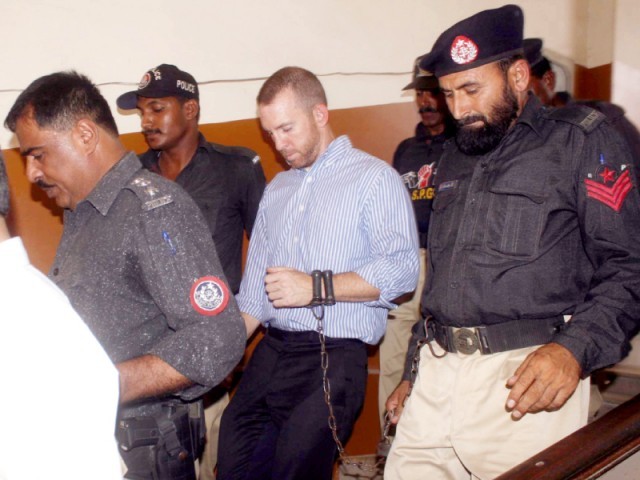 ---
KARACHI: The district and sessions court Malir on Thursday released a Federal Bureau of Investigations (FBI) agent after he posted Rs1 million as bail. 

FBI agent Joel Cox was travelling from Karachi to Islamabad by PK-308 on the evening of May 5 when a routine search by Airport Security Force (ASF) staff at the Jinnah International Airport found 15 bullets and a magazine in his bags.

He was detained before being handed over to the airport police station. A case was lodged against him under Section 23 1(a) of the Sindh Arms Act, 2013. When he was presented before the district Malir court the following day, the court sent him into judicial remanded till May 10.

However, on Thursday, the court heard a bail application from the Cox and approved it. His bail was subject to a surety bond worth Rs1 million. However, the agent would be required to appear before the court once the police presented a charge sheet.

After his bail was posted, Cox was released on Thursday evening.

In his bail application, court sources said, the suspect through his counsel claimed that he was being framed and that the ammunition was not recovered from him, rather a bag. The accused further claimed that without a gun, the bullets and magazine were useless.

Another source claimed said the court was pressured by the government and the US embassy into granting the bail. The chief and home secretaries reportedly visited the jail to ensure the FBI agent was released.

US Consulate

"We are happy that he has received bail from the court and we are still coordinating with the Pakistani authorities to resolve the matter," said US Consulate spokesperson Andrew Armstrong in Karachi. He clarified that he was not in a position to reveal all details but would certainly disclose as much as possible.

Armstrong said that the consulate was aware of Cox's visit, however, details of when he came to Pakistan and for what purpose were confidential and could not be disclosed. "All I can say is that he was not an employee of the embassy and consulate and was temporarily in Pakistan."

He denied that Cox belonged to any spy or intelligence agency, adding that the FBI is a law enforcement agency and it cooperates with law enforcement agencies in Pakistan.

Investigation

Even after hours of arrest, investigators have failed to decode information from the devices belonging to the agent, Express News reported.

According to the latest details, the police officers at the Artillery Maidan police station are finding it difficult to interrogate the FBI agent as he only speaks English. Also, Cox has been insisting that his embassy should be contacted for all the queries.

The detained FBI agent has been reportedly afforded VIP protocol and provided with fast food meals.

The devices seized from Cox's possession include pen cameras and locator gadget. The bullets he was carrying are also said to be different than those found in Pakistan.

Malir SSP Rao Anwar told Express News that no criminal record was found against the agent. He said Cox had come to Pakistan with a 90-day long visit visa on a passport made five months ago.

Anwar said people Cox had met during his stay in the country were also being interrogated.

Pakistan-US coordination  

During the daily press briefing, spokesperson for the US State Department Jen Psaki said on Wednesday that US officials were coordinating with the Pakistani authorities to resolve this matter.

"This individual detained is an employee of the FBI who was on a temporary duty assignment to provide routine assistance to the legal attache at the US mission. But we are coordinating closely to resolve this manner with authorities, and we are hopeful in that regard," she said.

During a press briefing by the Pakistan Ministry of Foreign Affairs on Thursday, spokesperson Tasnim Aslam Khan said that Cox was not a diplomat and therefore had no immunity, adding that he was in Pakistan on a short term visit visa and that his visa was valid.

She confirmed that US authorities were in contact with the foreign office both in Washington and in Islamabad and that consular access had been requested, and it was subsequently granted.

She added that Cox was not in the country under any agreement, rather he was on temporary duty at the US Embassy.