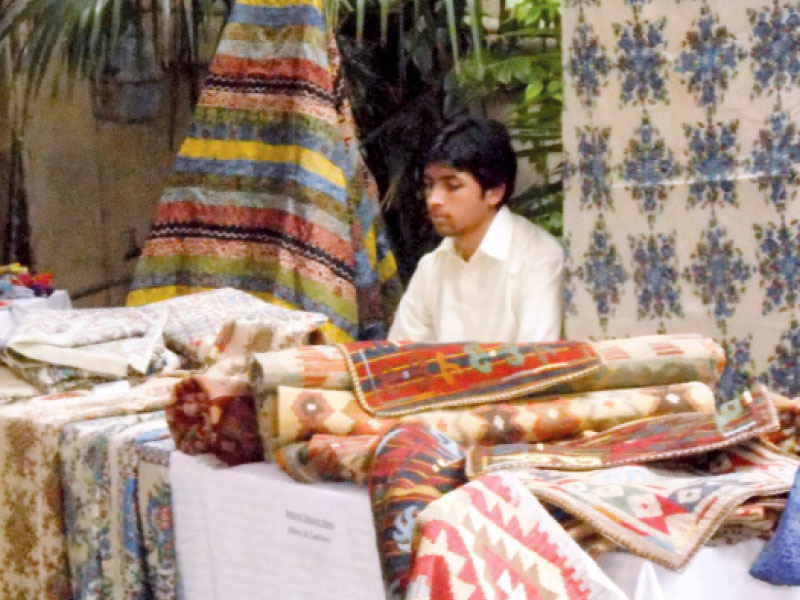 ---
ISLAMABAD:



Despite the mercury rising, the capital has its ways to treat citizens' visual senses to indigenous arts and crafts. Translating this idea into a two-day cultural display, the Nomad Art Gallery showcased an activities and crafts bazaar on Saturday.




"We believe in celebrating the best of Pakistan, which is why we are exhibiting items from all over the place (and beyond)," said the gallery curator and owner Nageen Hyat, who hosts the activity thrice a year in coordination with over 80 partners, each adding a unique touch.

Hyat emphasised their preference for organic materials, including natural dyes. The display of art pieces at the bazaar is elaborate. Ranging from stoneware in ethnic prints to decoration pieces, Ajrak linen, wall hangings, paintings and buntings, silver and gold-plated jewellery, rugs from Afghanistan, bangles, beads and fine-quality saris from India, and Gandhara-esque rock carvings, there is a wealth of arts and crafts pieces to browse through and marvel over.

The showcase also features some recent souvenirs from the eminent photographer Azhar Hafeez's series comprising coasters, mouse pads and mugs among others, adapted from his photography collection.

Another exciting addition is the young fashion designer Mahin Hussain's line of trendy scarves, bags and t-shirts that pay homage to the late poet Parveen Shakir.

People from various walks of life thronged the gallery and art centre through the day. Children from two community schools participated in a papermaking workshop which employed a Japanese technique, while renowned artists such as Riffat Khattak painted on the spot, keeping the atmosphere interactive and lively.

The visitors breezed in and out of the gallery space, sampling lemonade and snacks from the in-house Aman café. The space exuded a homely feeling of community.

The gallery is also offering training courses for all age groups in the months of June and July. The subject matters will include filmmaking, acting, photography, and scriptwriting for television and documentary.

Moreover, vocational courses in handmade paper and products, recycled paper and art relief, puppetry, drawing and painting, basic printmaking and eco-friendly textiles will also be conducted.

Published in The Express Tribune, May 4th, 2014.