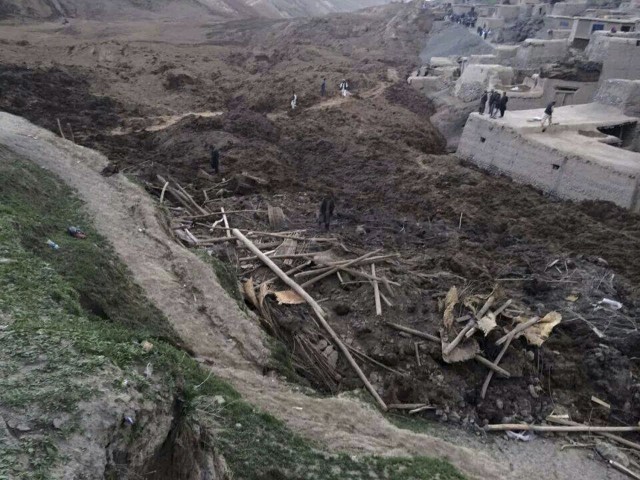 ---


Landslides buried a village in northern Afghanistan on Friday, killing at least 350 people and leaving thousands of others feared dead, as rescuers searched desperately for survivors trapped under the mud.




Villagers at the disaster site in Badakhshan province used shovels to dig through rocks and dirt, with local authorities, the United Nations and the Nato military force all racing to assess the damage and provide help.

"Two successive landslides within one hour hit Aab Bareek village today," Gul Mohammad Baidaar, deputy governor of Badakhshan, told AFP.

"A hill collapsed on the village. Most of those missing had gathered in two mosques to offer Friday prayers. The second landslide hit locals who came to help."

Badakhshan governor Shah Waliullah Adeeb told AFP that the death toll be as high as 2,500. "Our initial findings based on local people's reports show around 2,500 people including women and children might be dead," he said. "It is difficult to get confirmed information from the scene and we are seeking to determine the facts."

Badakhshan is a remote, mountainous province in northeast Afghanistan bordering Tajikistan, China and Pakistan.

"The number of deceased has increased to 350," the UN mission in Afghanistan said in a statement. "A response is being mobilised for those who survived but were displaced, with some partners already on the ground. (Nato's) Regional Command in the north (is) in contact with the Afghan National Army in regards to search and rescue efforts."

President Hamid Karzai said immediate action was being taken, with rescuing survivors the priority for emergency efforts, which continued as darkness fell. Local officials claim that around 350 to 400 houses have been destroyed.

Published in The Express Tribune, May 3rd, 2014.
COMMENTS
Comments are moderated and generally will be posted if they are on-topic and not abusive.
For more information, please see our Comments FAQ