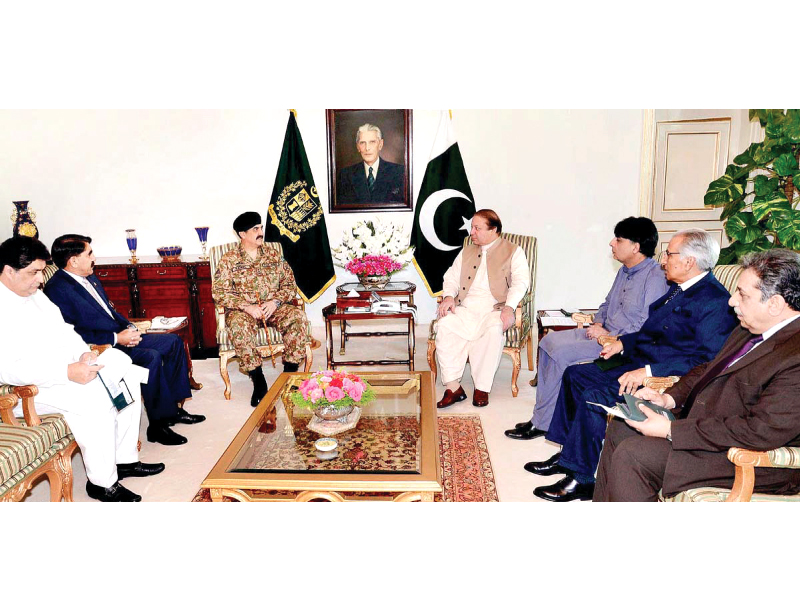 ---
ISLAMABAD:
Nawaz Sharif praised the role of the Inter-Services Intelligence (ISI) in ensuring the "protection and defence of the country", said an official statement issued after a high-level meeting chaired by the prime minister.

Attendees at the huddle included army chief General Raheel Sharif, ISI Director General Lt Gen Zaheerul Islam, Interior Minister Chaudhry Nisar Ali Khan and other senior officials.

This was the first formal meeting between the prime minister and ISI chief since the agency was accused of being behind the attack on Mir in Karachi.

According to the official statement, Nawaz lauded the role and efforts of the ISI in ensuring the protection and defence of the country. This was the first public statement issued by the prime minister in defence of the ISI in the face of serious allegations leveled by Hamid Mir and his family.

Sources privy to the meeting told The Express Tribune that the military leadership conveyed its serious concern to the prime minister over the civilian authorities' reluctance to respond to the 'baseless allegations' against the security establishment.

They added that there was a feeling within the army that the civilian government should have issued a clarification immediately after Mir's brother accused the ISI of involvement in the attack.

According to the official statement, the ISI chief briefed the prime minister about the measures taken after the recent terrorist attacks and about the overall security situation in the country. He assured the meeting that the perpetrators of the recent terrorist incidents would be brought to justice and their identity revealed to the public.

The interior minister also briefed the meeting about the progress so far achieved in the fragile peace talks with the Tehreek-e-Taliban Pakistan (TTP). He said the government and the Taliban committees agreed that all-encompassing talks would be conducted with the Taliban Shura and it was high time the dialogue process achieved tangible results.

The statement said that there was a consensus among all participants that the dialogue process with the Taliban should have a 'concise agenda' and dialogue should take place under well defined parameters.

The civil and military leadership voiced 'serious apprehensions' over the recent terrorism incidents and reiterated their commitment to take effective action against the perpetrators behind such incidents.

Published in The Express Tribune, April 29th, 2014.