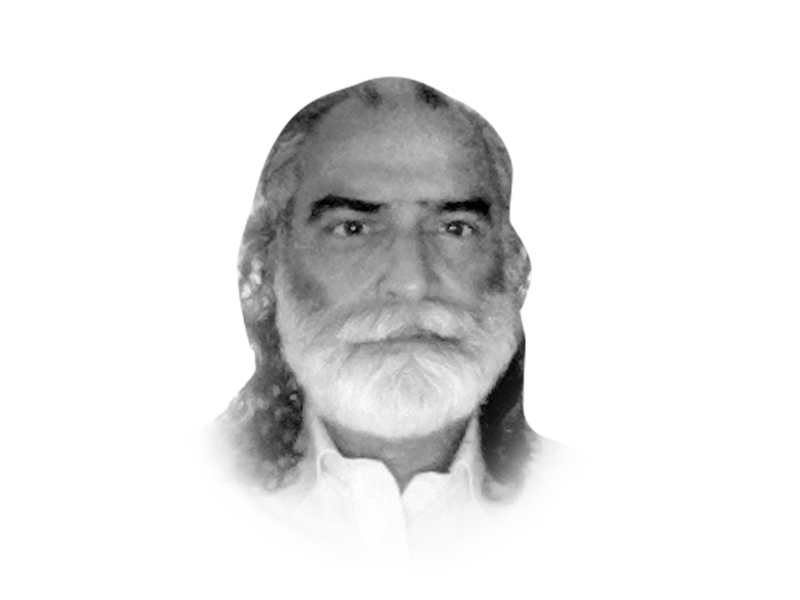 ---
On March 24, The Express Tribune published a photo with this caption — "Hands that build empires — Sughra Bibi, a brick kiln worker makes 1,000 bricks in 14 hours in a day and earns just Rs 500 to feed her family of four". It depicts the gap between prolonged hard work and the meagre wage that a large majority of our working people suffers from. This causes a huge gap between consumption and income.




As reported in newspapers on April 15, the Supreme Court observed how could 'families survive on (the) minimum wage'? The problem is that a large majority of workers don't even get the minimum wage. In spite of repeated orders of the Supreme Court, bonded labour persists and the ruling parties are not serious enough to implement their own laws, including the minimum wage and orders of the apex court.

Because of this shameless negligence, it is highly likely that the Punjab government would fail to achieve its much-touted target of 100 per cent school enrolment. Think this. As mentioned above, due to a gap between consumption needs and wages, working parents have no option but to force their children to work. This subsequently keeps their children away from school. No wonder, currently, in Punjab alone about four million children are out of school. Those who go, drop out. Some donors are generously providing funds for primary education, but they seem to be addressing the issue from a wrong angle.

Moreover, since most factories are not registered and their workers don't get social security and Employees Old-age Benefits Institution (EOBI) cards, they are deprived of all kinds of financial support from the Workers Welfare Fund, i.e., free medical treatment, death, marriage, education grants, etc. As most employers have not registered their workers with the EOBI, they are deprived of receiving pension and unemployment benefits too. Because of low calorie intake, poor hygienic and hazardous conditions the working people are extremely vulnerable to diseases, death and injuries. In order to cope with these shocks and stresses, they are forced to borrow money and very often, the employers would lend money to them. These loans virtually transform workers into slaves. In order to pay back these loans, the burden of work increases and working hours prolong. The children have to share this additional burden too. This further reduces the likelihood of their enrolment in school.

According to one estimate, there are about two million such families in Punjab alone. Almost all the families who work for brick kilns, carpet and power loom factories and on agriculture farms suffer some form of slavery. Sadly, the majority of non-school going children come from these families in Punjab.

Three questions arise from the above discussion. Firstly, why do the employers violate labour laws with full impunity? Why don't the employers pay the minimum wage and not issue social security and EOBI cards? And thirdly, why does the Punjab government let its writ wither? Let's take the last question, first. Generally speaking, most employers appear to be pro-PMN-N — the incumbent. Taking any action against employers will erode its support base as they control a large number of voters through kinship networking, jobs and favours. And they financed election campaigns of the nominees of the party, too. In return, the ruling party does not take any action against them. The visible manifestation of this occurred in Faisalabad when most MPs, including some ministers, came out openly in support of brick kilns owners. The ruling party is determined to sacrifices rule of law to keep its support base intact.

In this context, the holding of an international labour conference in Lahore this past week looks like the need of the hour. One hopes that the government took concrete measures prior to the conference in order to establish its sincerity about labour rights.

Immediate measures: Appoint judges for the National Industrial Relations Commission.

Implementing the minimum wage in all 51 unskilled trades and punishing all those employers who are violating the labour laws, i.e., depriving workers of social security and EOBI cards, practising child and bonded labour, not providing safety and hygiene standards and failing to form anti-sexual harassment committees, etc. A long-term measure could be to replace the labour department by establishing a labour commission, which is independent of government influence and has district level offices.

Punjab government is holding the labour conferenceA large majority of workers, their associations and civil society organisations seriously feel that the in order to gain tariff-free access to markets of the rich countries and to hide oppression of the working people. The government must ensure adequate wages and working conditions as prescribed in our constitution and law, if it is really serious about benefiting from the GSP Plus status. As reported recently in some newspapers, the civil society has formed a Labour Action Committee in this regard, which has articulated the above-mentioned demands.

The implementation of labour laws in letter and in spirit will not only liberate Sughra Bibi from torturous labour but also millions of children from forced labour and help achieve 100 per cent school enrolment in Punjab. Will Shahbaz Sharif listen?

Published in The Express Tribune, April 28th, 2014.

Like Opinion & Editorial on Facebook, follow @ETOpEd on Twitter to receive all updates on all our daily pieces.
COMMENTS (3)
Comments are moderated and generally will be posted if they are on-topic and not abusive.
For more information, please see our Comments FAQ