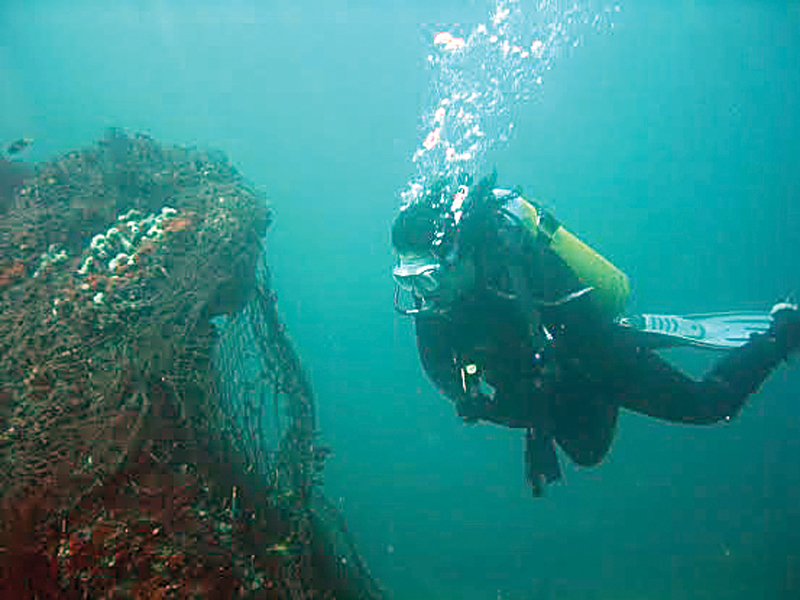 ---
KARACHI:



They aren't photographs from National Geographic but ones that engineer Pervez Sadiq has taken since 1978 while scuba diving along Karachi's coast. They are archival material now. That kind of sea life doesn't really exist anymore around Karachi harbour.




Sadiq has been diving in these waters for 35 years but he and other divers have been slowly pushed further and further out. "Clifton beach had different sand," he told a room full of engineers who had gathered on Tuesday for Earth Day at the Institution of Engineers of Pakistan. "Boys used to dive into the waters of Native Jetty and retrieve coins." So clear was the water.




Divers have slowly moved West — from Karachi harbour to French beach to Churna Island and now the pristine Astola Island off Balochistan, 52km from Pasni. Astola is uninhabited but has breath-taking views and 200ft high cliffs.

The 1.5km-by-1km Churna Island is a popular choice but because it is precisely of this that Sadiq says it is at risk. "Coral is sensitive and starts dying," he said. He has no idea what will happen with the 5,000MW power park they are planning to build and if there has been an environmental impact assessment. "All the coral may be destroyed," he warns.

Sadiq showed fantastic photographs of diving into wrecks. There were several along the coastline: the Regal Sun, the Abasin, Nanda Devi, Aquamarine, a Korean trawler and the Issabani. Some of them have been partially and others completely salvaged. "All over the rest of the world they sink ships to form artificial reefs but in Karachi we have done the opposite," he said.

There are stunning underwater photographs of him going into the engine room of the Regal Sun which was sunk by a missile. Divers can swim through the hole left by it.

These photos are old though. You aren't likely to see the puffer fish, moray eel, white coral, the poisonous lion fish, the sea fan today. "It used to be like a garden down there," he said. Places like Churna are suffering because of overfishing, a lot of trash and nets. In fact the proposed coal jetty at Gadani is an alarming development.




Sadiq showed photographs of a wreck which is about 54km south from the Karachi harbour. Here you can find giant groupers that weigh over 200kg. You can still find large shoals of fish like the barracuda and red snapper. "In fact, marine life is flourishing here because it is not easy to find for most fishermen," he said.

Basically, Karachi dumps most of its liquid waste into the sea and this is destroying its marine life. The non-biodegradable plastic is perhaps the worst offender but marine life is also affected by untreated sewage. The toxic chemicals and heavy metals from industry should be treated before discharge. (Researchers found in 2000 that children living near Baba Island had highly elevated blood lead levels). Most of our sewage plants are closed or don't work to full capacity. Treatment Plant 1 on Manghopir Road has a capacity of 51 MGD, TP-2 of 46 MGD at Mehmoodabad which has been encroached on and is now just a pumping station. TP-3 of 54 MGD at Mauripur and TP-4 of 100 MGD at Ibrahim Hyderi are under development.

Karachi receives about 600 million gallons a day of water of which 30% roughly is waste but we don't treat it so we dump 300MGD of raw sewage into the sea. Sadiq showed painful photos of fish with sores, dying coral, nets, trash and plastic. Once, when diving by the Regal Sun wreck they saw a stretch of silver. When they went up close they found it was thousands of dead fish.

Sadiq recommends we fix up our existing sewage plants, set up marine parks around Churna and Astola with a 4x4km and 10kmx5km exclusion zone. "Within two years the marine growth spill over from these areas will increase the fish catch for the local population," he said in a slide from his presentation. He also recommends trash screening near Native Jetty.

It is not as if the authorities aren't aware of the problem. After the presentation, engineer Roland deSouza spoke of how the armed forces went to the Senate to complain that the submarines were corroding because of the rubbish in the sea. A committee was set up. Nothing happened. In another example of bad decision-making, the city government gave land from the Mehmoodabad sewage treatment plant to the people it had to relocate when it was making the Preedy Street extension. But the Asian Development Bank seemed to take the cake.

When it made sewage treatment plants, no sewage flowed into them because they were planned on trunks that received none. It didn't properly study the natural drainage system of Karachi, which has incidentally only been properly documented by the Orangi Pilot Project. In fact, if you look at the Karachi Water and Sewage Board website or presentations, you'll notice they rely on OPP maps. We don't even know the nature of the problem. It's time to wake up and smell the sewage.

Published in The Express Tribune, April 25th, 2014.