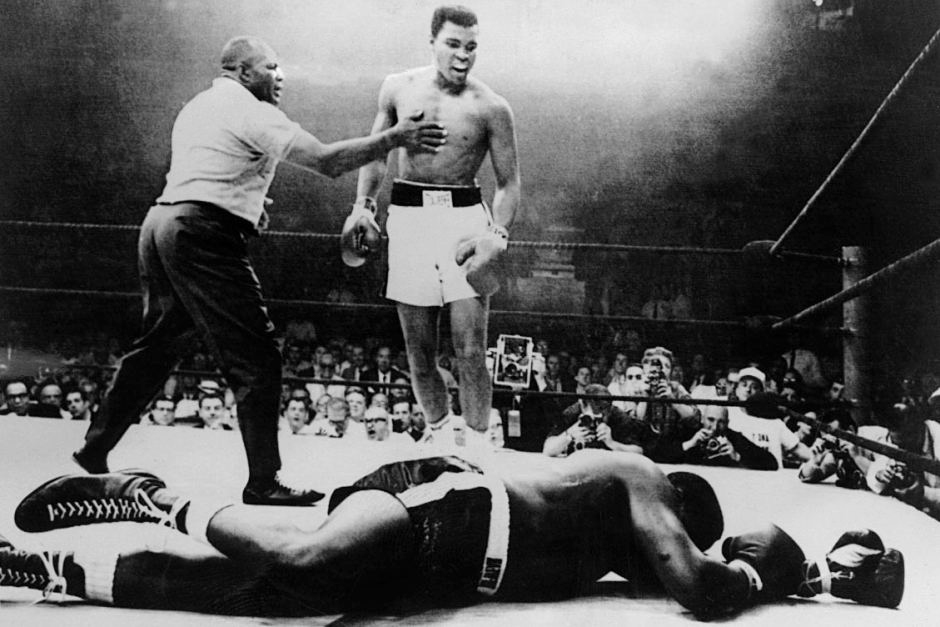 ---


"Float like a butterfly, sting like a bee."




Muhammad Ali – 'The Greatest', as his diehard hard fans call him – used this quote twice in his 21-year career. The first instance came in 1964, when the 22-year-old was taking up another boxing legend Sonny Liston for his first World Heavyweight Championship fight.

He used the same phrase at 33 for his comeback fight in 1974, to take his second World Boxing Championship title against George Foreman — a 25-year-old then, known for knocking-out opponents with his mighty punch.




The phrase adequately sums up how he single-handedly redefined boxing and almost became bigger than the sport itself.

Any viewer watching his recorded comeback fight – better known as 'Rumble in the Jungle' – even after almost 40 years will be forced to watch it, whether they like boxing or not.

The 33-year-old Ali's movement and tact seem mesmerising. Such is the quality of his game that it undoubtedly makes him more of a legend than a regular champion.

Ali's win in the 'Rumble in the Jungle' can easily be categorised among the biggest sporting events of the 20th century. The Louisville boxer was an underdog, 3-1 at odds with Foreman, who had already beaten Joe Frazier and Ken Norton in his earlier fights.

Both Frazier and Norton had outshone Ali — therefore, in many ways, Foreman was odds-on to win it.

However, what hit him in the contest would go down as one of the greatest fights in boxing history.

Ali, who was lacking his famed speed and his typical prancing and dancing ability by 1974, dragged the fight for eight rounds in the sweltering heat in Zaire. He adopted the 'Rope-a-Dope' strategy, which was not looked upon with a favourable eye by the critics at the time.

Foreman, who was expecting the fight to be over in less than three rounds, seemed more tired with each round until he was knocked out in the eighth.

Ali threw his lightning punches as he waited for the right moment to strike, leaving Foreman on the ground with just 10 seconds left for the round to finish.

Consequently, the boxing legend won his second World Boxing Championship title, which he went on to retain till 1977.

Paying tribute to Ali, Foreman once wrote about the fight, "I was over-confident when I fought him. I'd gone through fighters who'd beaten him, such as Frazier and Norton. All I thought was, 'Should I be merciful or not?' I thought he was just one more knockout victim until, about the seventh round, I hit him hard to the jaw and he held me and whispered in my ear, 'That all you got, George?' I realised that this wasn't what I thought it was."

Ali may be the best thing that happened to boxing. He brought his own set of techniques to the ring. Instead of relying on heavy punches, he brought agility to the sport and introduced speed in boxing with his unorthodox style. His lightning-fast punches were a novelty that brought down his opponents more effectively than hard ones.

Moreover, he pranced and danced in the ring to keep his opponents off-balance; a signature move that was later dubbed the 'Ali Shuffle'. Another unique innovation was his technique that became known as the 'headhunter' where Ali would aim attacks on the head of his opponent instead of throwing body-shots.

The repressible boxer possessed another asset: his mouth. He was notorious for taunting his opponents in the ring and even outside it, earning the nickname 'The Louisville Lip'. Before him, none of the boxers would talk to the media, nor to their opponents. However, getting under the skin of his adversary was something that Ali believed would give him a mental edge.

To date, it remains the most effective strategy, started by a high-school graduate who began boxing at 12 years of age; just to get back at a thief who stole his bicycle in 1954.

Ali began his boxing training with Joe Martin, the cop who told Ali – then known as Cassius Clay – to learn to box first in order to get back at the thief.




He won 108 amateur bouts as a teenager and took six Kentucky Golden Gloves championships, two National Golden Gloves championships and two National Amateur Athletic Union titles before representing the US in the 1960 Rome Olympics in the lightweight category.

In the next four years, Ali became a force to be reckoned with. He took up Liston the first time in 1964 for the world heavyweight championship fight, with 7-1 odds against him. He achieved the upset, winning the match via a knock-out in Miami and shouted the infamous words, "I shook up the world! I talk to God every day....I must be the greatest!"

The win came about the same time that he officially changed his name to Muhammad Ali from Cassius Clay Jr.

The legend witnessed great highs and extreme lows throughout his career. He won his third world boxing heavyweight title in 1980 against Larry Holmes. But this was also the time he began to show signs of Parkinson's disease.

Ali hung up his boxing gloves at the age of 39 after losing to Trevor Berbick in 1981.

For the complete Hall of Fame series, log on to www.tribune.com.pk/halloffame/ (http://www.tribune.com.pk/halloffame/)

Published in The Express Tribune, April 25th, 2014.

Like Sports on Facebook, follow @ETribuneSports on Twitter to stay informed and join in the conversation.
COMMENTS
Comments are moderated and generally will be posted if they are on-topic and not abusive.
For more information, please see our Comments FAQ