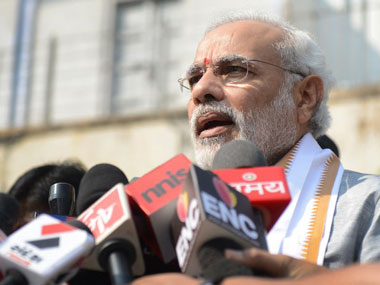 ---
NEW DELHI:

In an attempt to lure Muslim voters, Bharatiya Janata Party (BJP) frontrunner Narendra Modi on Tuesday condemned virulent anti-Muslim remarks by a one-time associate as he sought to keep attention on his core message of development and corruption-free administration.


Praveen Togadia, head of the right-wing Vishwa Hindu Parishad (World Hindu Council), faces a police investigation after a video appeared to show him urging Hindus to evict Muslims from their neighbourhoods in western Gujarat state.

Speaking in Gujarat on Saturday, Togadia is heard saying: "We (Hindus) are in a majority - we should have the courage to intimidate (Muslims) by taking the law in our own hands."

A lawyer for Togadia said the clip was 'false, malafide and mischievous'.

Modi, a hardliner from the Hindu nationalist BJP, said he 'disapproved' of the statement from Togadia, an associate when both men were in grassroots Hindu political groups in the 1980s.

"Petty statements by those claiming to be BJP's well-wishers are deviating the campaign from the issues of development and good governance," Modi tweeted.

"I disapprove (of) any such irresponsible statement and appeal to those making them to kindly refrain from doing so," he added.

Religious tensions, an undercurrent for much of India's election campaign due to Modi's polarising past, have been the subject of discussion in recent weeks following reported comments from hardliners.

Last week, Giriraj Singh, a BJP leader in eastern Bihar state, said critics of the 63-year-old leader 'will have to go to Pakistan'.

Modi's closest aide, Amit Shah, was temporarily banned from campaigning after he made inflammatory remarks in a constituency torn apart by anti-Muslim riots last September, urging supporters to seek 'revenge' at the ballot box.

On Tuesday, another BJP ally, Shiv Sena leader Ramdas Kadam said Modi would avenge the attacks on Indian soldiers by Pakistan once he became prime minister.

"Within six months of becoming the PM, Modi will take action against those Pakistanis who beheaded our soldiers," he said.  However, Kadam later backtracked from the statement. "I said Modi would teach a lesson to Pakistan, not destroy Pakistan," he explained.

Members of the BJP camp fear that Kadam's barb will send a wrong signal among its supporters in Muslim community and minorities.

Published in The Express Tribune, April 23rd, 2014.
COMMENTS (33)
Comments are moderated and generally will be posted if they are on-topic and not abusive.
For more information, please see our Comments FAQ