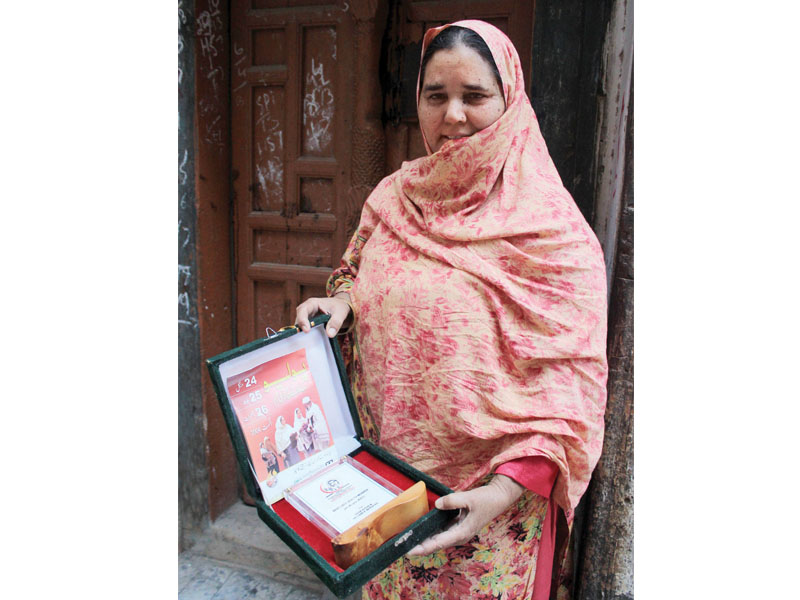 ---
PESHAWAR: There is a woman in the mohallah of Jogan Shah who has dedicated more than 20 years of her life trying to eradicate polio.

After the death of her husband, Farzana Begum decided it was time to toughen up and earn a living to keep meat on the table for her daughters and son. She trained as a lady health worker and one of her duties was to go door to door to administer polio drops to children. She started working for Rs1,200 and is now earning a salary of Rs8,000.




These days, she spends her Sundays working with the Sehat ka Insaf campaign and has so far inoculated more than a thousand children.

Her services and efforts were recognised during the Musharraf government where she received an award from the then first lady, Sehba Musharraf.  She became the face of polio campaigns in the early 2000s. Her pictures were used in many posters, and can still be seen around the city.

Originally from Punjab, Farzana, moved to Peshawar after she got married. She is currently residing in a pre-Partition house that belonged to her in-laws. The structure is deteriorating but Farzana stands strong. She understands that she needs money to fix the ceilings and drainage, but says she wants to solve a bigger problem that has been plaguing the province  – polio.

Since the start of the year, around 40 cases have been reported from Khyber-Paktunkhwa (K-P) and the Federally Administered Tribal Areas (FATA). Currently, the total number of detected polio cases in Pakistan is 44: two in Sindh, six in K-P and a whopping 36 in FATA.

"It is very difficult to go around and vaccinate children. It's just a few drops but things have changed so much that we have to have security guards or the police with us," she said. "Sometimes people don't let us step inside their house. Sometimes they are rude and kick us out. But we still continue to work."

Typically during campaign days, Farzana starts working from home. "We all have our own areas to cover. In my zone, I have about 400 houses," she said. "We are asked to meet at a centre point where the vaccination is distributed. Then two women, a lady health worker and a volunteer, who usually work together, leave to do the necessary rounds." She added that in the beginning, security guards used to follow them around but now extra precaution is being taken and the men usually cordon off the area where they are conducting the polio drive.

In the Sehat ka Insaf campaign, she said, they first knock and say salam. "In my area it's not that difficult as the people recognise me," said Farzana. "There are many families here where I have vaccinated the mother and her children and sometimes even the grandchildren."

Explaining how the anti-polio drive works, Farzana said that once they have the vaccine they have to keep it at a certain temperature in a cooler. There are some awkward questions that they have to ask such as how many married couples are living in the house, when were they married, is there any domestic staff, do you have guests etc. These help calculate the number and ages of children in the household. If the women of the family agree then Farzana vaccinates the children. "A lot of people refuse. They just say no but we don't give up," she said. "There is a bigger threat of the virus in Peshawar because everyone comes and goes from here, especially from places like Bajaur and Swat and other areas where the children are not even allowed to get vaccinated because of the militants." She added that some mothers get their children vaccinated without informing their husbands or mother-in-laws and don't want anything go on record.

According to Farzana, there are times when the responsibilities of being a lady health worker scare her. There are times she has come home to find that one of her colleagues was threatened, or worse attacked and in the hospital.  "It is scary but what can we do?" she said. "You have to gather some strength and start all over again because you know your work is still not done."

The lady saviours

Currently Pakistan has more than 100,000 trained lady health workers delivering basic health services door-to-door in Pakistan. After attending a six-month training course, the lady health workers serve as a liaison between the formal health system and the community. Not only do they immunise children against diseases like polio and pneumonia but also spread awareness among women and children about hygiene, pre- and post-natal care, healthy nutrition and family planning. The programme is strongly rooted in the primary health care concept and it aims to achieve universal health coverage. Each lady health worker serves around 1,000 individuals.

Published in The Express Tribune, April 21st, 2014.
COMMENTS (1)
Comments are moderated and generally will be posted if they are on-topic and not abusive.
For more information, please see our Comments FAQ