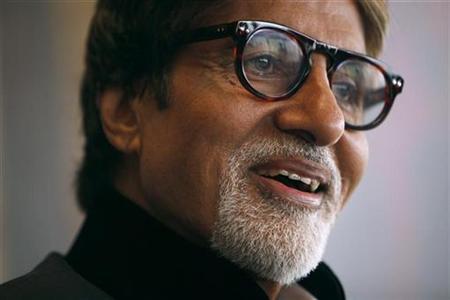 ---
Movie legend Amitabh Bachchan said on Monday that he hoped there was greater exchange of artists between Pakistan and India, and hoped that one day he would be able to visit Pakistan, Express News reported.

In an exclusive skype based video interview with Express News on Monday, Asia's biggest movie star hoped that there was freer exchange of artists where Pakistanis can learn from their Indian counterparts and Indians can learn from their Pakistani counterparts.

The legendary Bollywood actor, who has hundreds of thousands of fans in Pakistan, said his connection to Pakistan is of a personal nature.

"My mother was born in Lyallpur, she studied in Lahore at the Government College Lahore and most of her family lived in Karachi. So I have a history with Pakistan." He added that he had visited Pakistan along with his mother to Lahore and Karachi when he was two-years-old. However, he has not had a chance to return to Pakistan since.

To a question about when he was intending to visit Pakistan next, Bachchan senior said that he would visit Pakistan whenever he gets an opportunity, but remained non-committal over a timeline. The actor told Express News that he had many friends in Pakistan and that it seemed that they all belonged to the same land.

Asked about what things in Pakistan he liked, the senior actor said he was a cricket fan who admired the Pakistani cricket team and never missed a cricket match between India and Pakistan, adding that veteran Pakistani cricketers Fazl Mehmood and Mushtaq Ali were among his favourites.

When asked who his favourite Pakistani actor was, Bachchan said he admired Mohammad Ali. "However, Pakistani television serials those days were outstanding and all the actors in those serials were my favourites," he added.

"I would love to see an exchange of artists between India and Pakistan. You (Pakistan) could learn some from us (India) and we could learn some from you. This would benefit everyone," he added.

Speaking about his upcoming film Bhoothnath Returns, the actor said that the film is about the common man and touches upon topics like corruption, inefficiency, which would appeal to everyone. "Everywhere there is a political system, there are issues like that," he added.

To a question about his foray into politics, Amitabh said that he had left politics for good and had no intention of returning to that field again.