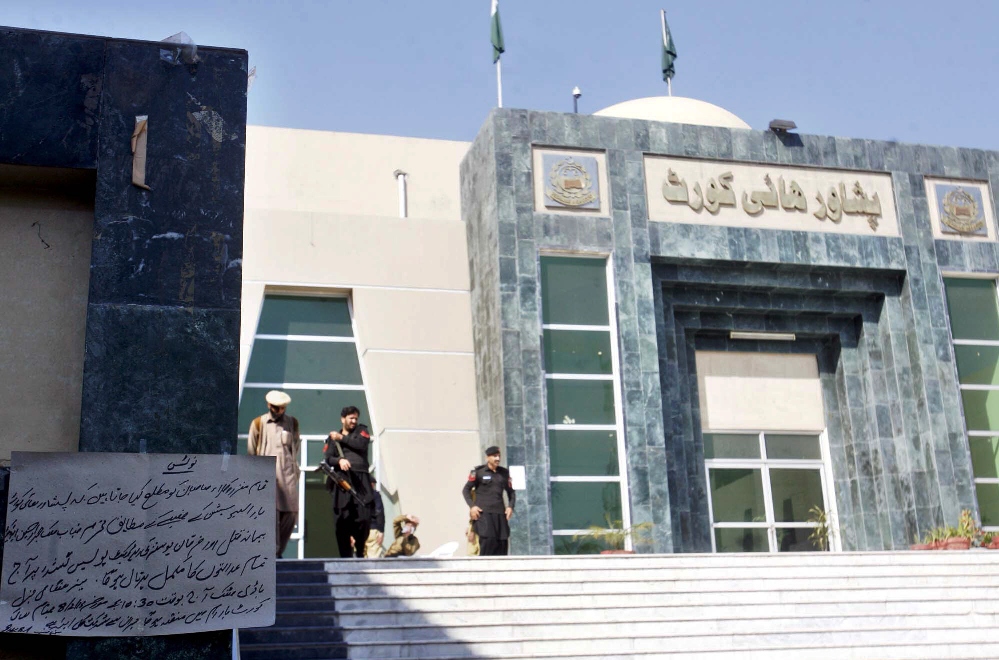 ---
PESHAWAR: Mian Fasihul Mulk retired as chief justice (CJ) of the Peshawar High Court on Monday after spending two months and seven days on the top position while the court's most senior judge Justice Mazhar Alam Miankhel will take oath as the new CJ today (Tuesday).

A full-court reference attended by all high court judges paid homage to the outgoing CJ and welcomed his replacement. The reference was held at courtroom number one and also attended by the advocates general of Khyber-Pakhtunkhwa, deputy attorneys general, additional and deputy advocate generals and judges of lower courts, among other officials.

Addressing the conference, Justice Miankhel said that in a very short span of time, Justice Mulk brought tremendous changes on the district judiciary level as well as in the administration of the high court.

"He also introduced reforms on the judicial side by constituting special benches for the disposal of cases pertaining to various subjects and thus has taken a step towards clearing the backlog of cases to a remarkable point," said the designate CJ.

The outgoing chief said a judge has to ensure the equality of citizens and safeguard their liberty while keeping in view the peace, tranquility and security of the state.

"Though the outgoing CJ had a short tenure, he changed court timings and constituted special benches to remove the backlog of cases, said Babar Khan Yousafzai, an advocate.

He added the larger bench constituted to determine PHC's jurisdiction in cases related to the tribal areas and the judgment delivered today is remarkable.

Exit Mulk

Mulk hails from Mian Kakakhel, Charsadda and started practicing at the lower courts in 1980 as an advocate and later as a high court lawyer in 1983. He was elevated as a Supreme Court advocate in 1996.

Mulk later joined PHC as an additional judge on September 7, 2009 and was confirmed as a permanent judge two years later. He remained the monitoring and administrative judge of the anti-terrorism court in Peshawar and also served as  chairman of the provincial bar council enrollment committee as well as the member of an election tribunal after the May 2013 general elections.

Enter Miankhel

Justice Miankhel hails from DI Khan and obtained his law degree from Gomal University in 1982. He enrolled as a lawyer in the lower courts in 1982 and became a high court advocate two years later. In 2003, he was elevated as a Supreme Court advocate.

The new chief justice also served as the vice president and secretary of the DI Khan district bar association.


He was elevated to the PHC bench as an additional judge in 2009 and was made permanent in 2011 and has also served at various judicial and administrative committees throughout his career.


Published in The Express Tribune, April 8th, 2014.
COMMENTS
Comments are moderated and generally will be posted if they are on-topic and not abusive.
For more information, please see our Comments FAQ