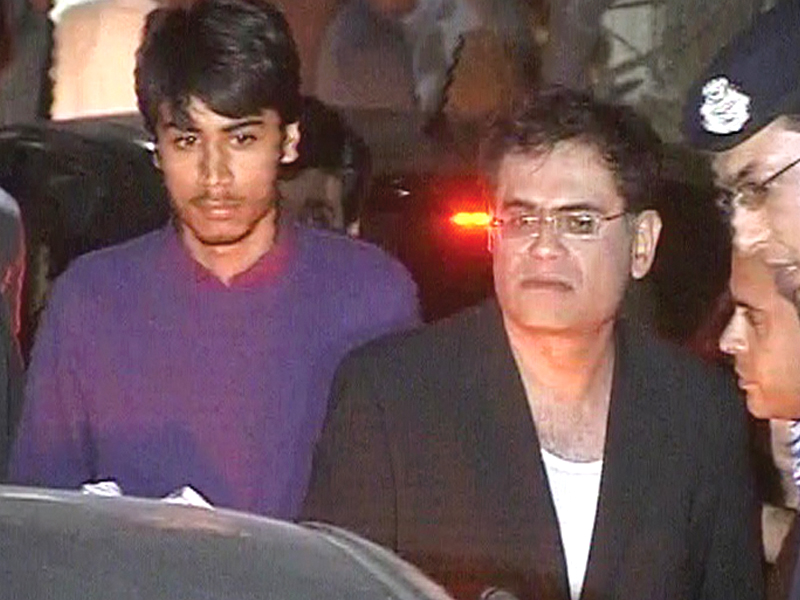 ---
LAHORE:
These repeated attacks have raised serious questions about the government's ability to provide security to media houses in Pakistan and ensure that the media operate freely in the country.

Unidentified gunmen opened fire on the car of Express News anchor and analyst Raza Rumi in Lahore, injuring him and killing his driver. The attack took place just a few hundred yards away from the Express News office in Raja Market, which Rumi had just left after hosting his programme 'Khabar Se Agay'.

Express News showed a visibly shaken Rumi being escorted by police officials immediately after the incident.

Talking to Express News after the attack, Rumi said that doctors had termed his driver Mustafa's condition critical. Mustafa succumbed to his injuries later. Rumi himself received minor injuries from glass shards which flew at him when the windscreen of the car shattered.

When asked, he said that although he had not received any direct threats, he was reportedly on the hit-list of some extremist groups. "Was fired at near Raja Market… I was dreading this day," Rumi tweeted soon after the attack.

Eleven bullet casings were recovered from the crime scene, the capital city police officer (CCPO) told the media. Although the incident appears to be an attempted target killing, a clear situation will emerge after investigation, he added. Two investigation teams have been constituted to probe into the attack.

Punjab Chief Minister Shahbaz Sharif has taken notice of the attack.

Meanwhile, the Punjab Union of Journalists announced that it would hold a protest in front of the Punjab Assembly on Saturday.

This is the fifth attack on Express Media group.

Last week, a bomb was found outside the residence of Express News bureau chief in Peshawar Jamshed Baghwan in the Murshadabad area of the city.

In January, three Express News staffers were killed by unidentified gunmen who opened fire on an Express News DSNG van in Karachi. The attack followed two gun and bomb attacks on the Express Media office in Karachi last year which left at least four people injured.

Rumi remains defiant

"We [journalists] will continue to speak the truth and not back down," Rumi said in an interview with Express News after the attack.

"Politicians will not benefit from remaining quiet while journalists are muzzled… these bullets will target them tomorrow if they do not take notice today," he said. "There will be no security or governance left in Pakistan."

Rumi said the relationship between citizens and the government would be irrevocably damaged if there is no sense of security in the country.

"The first thought I had after the attack was how we have no security, no protection or guarantee," he told Express News. "I thought of the thousands who don't have any protection or contacts in the police and don't get any media attention," he said.

"I appeal to the government and security agencies to ensure my driver gets justice and many more poor unprivileged citizens are saved from being martyred."

TARGETED: Previous attacks on Express Media Group




August 16, 2013

Four armed men fired indiscriminately outside the entrance of the Express Media Group office in Karachi, injuring two members of staff, including a guard who is paralysed.

December 2, 2013

Three people were injured when the Karachi office came under attack. Two hand grenades were hurled at the office building, while unknown assailants opened indiscriminate fire.




January 17, 2014

Three Express News staffers – technician Waqas , driver Khalid, and guard Ashraf – were killed when the DSNG van of the channel came under attack in Nazimabad, Karachi. TTP took responsibility for the attack.

March 19, 2014

A bomb was defused outside Express News Peshawar bureau chief Jamshed Baghwan's house in Murshadabad area of Peshawar.

Published in The Express Tribune, March 29th, 2014.
COMMENTS (9)
Comments are moderated and generally will be posted if they are on-topic and not abusive.
For more information, please see our Comments FAQ