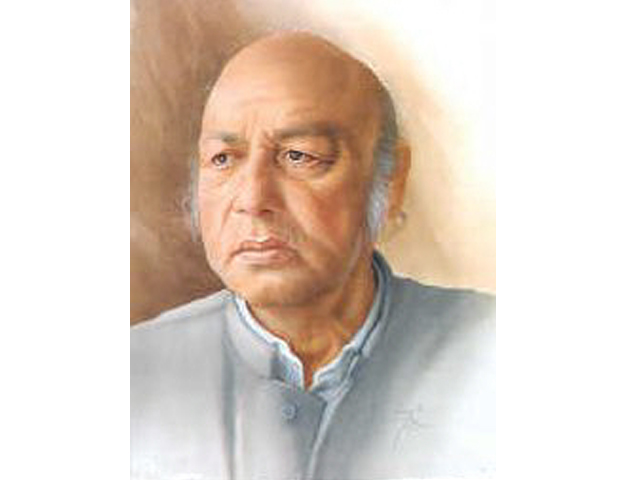 ---
LAHORE: At the backend of a modest house in Mustafa Town is a small room of 7x8. The walls are covered with large frames with frozen memories; some pictures are coloured, others are black and white. One person is prominent in all of them. In a few pictures he can be seen being beaten up by police. Others show him alongside prominent personalities including Benazir Bhutto, Dilip Kumar and Noor Jehan.

The man who looks larger than life in all these pictures is the revolutionary poet Habib Jalib, and the room is a small tribute to him by his family in their home.

"That's all we could do. He was termed the poet of the masses but there is no single museum or archive which has in its possessions any belongings of Jalib. We celebrate his birthday by cutting a small cake here and reciting his poetry among ourselves," said Tahira Habib Jalib, daughter of the poet, while talking to The Express Tribune at the family house.

Tahira who is the eldest of eight siblings runs a small driving school to meet the household expenses. One of Jalib's daughters passed away a few years back. Four sisters live together in the same house. The eldest brother Nasir Jalib had developed differences with the family and lives separately. Yasir Jalib, the youngest son, had a small poultry shop. He migrated to Saudi Arabia for a job a few days ago. "I was earning Rs400 a day here. I had to decide to go abroad to support my family. My father never cut a deal with anyone and we have to live on the principles he set. I remember one couplet of my father which he read to me and my mother. Wo jis ki roshni kachay gharon tak bhi pohonchti hai. . . Na woh sooraj nikalta hai na apnay din badaltay hain (Neither does a sun rise, the light of which reaches the mud-houses, nor do our circumstances change)," Yasir said in a brief chat with The Express Tribune before he went abroad.

Of hopes and grievances

Tahira expressed that Jalib's family wish they could build a small museum where some belongings of Jalib could be displayed for millions of his fans. "But our financial position doesn't allow us to do that. The government and establishment still don't recognize Jalib so it is futile to expect them to build something in Jalib's name."

The disgruntled daughter aired the family's grievances. "We feel as if Jalib was not a Pakistani poet. There's not a single road, library or hospital in his name in Punjab, although the Chief Minister of Punjab is known for reciting Jalib. The establishment has tried to crush Jalib's memory because of his revolutionary ideas. Shahbaz Sharif should at least include that poem of Jalib which he is so fond of reciting in public meetings in the curriculum," Tahira said.

Tahira claims to have written countless letters to many concerned people, requesting them that a library or a small museum be established to honour Jalib. "I have his Shirwani, glasses, passport, letters and watch. They belong to his fans but we don't have means to showcase them for public," she said, suggesting that if a separate museum like Faiz Ghar could not be built to commemorate Jalib, these belongings should at least be displayed at some museum. So far nobody has responded to her letters. "It would be a great birthday gift for Jalib if the government announces to honour him."

In order to appreciate his literary services, Pakistan Post Office issued a commemorative stamp of Rs15 as part of the Men of Letters series on the 20th death anniversary of this revolutionary poet. The stamp was designed by Adil Salahuddin and has been printed by Pakistan Security Printing Press, Karachi. The commemorative stamp is available for sale in all General Post Offices of the country, said a statement by Director General Pakistan Post. Several functions are being organized by literary circles in Lahore to mark Jalib's birthday. However no official ceremony has been planned to honour the poet.

Published in The Express Tribune, March 24th, 2014.