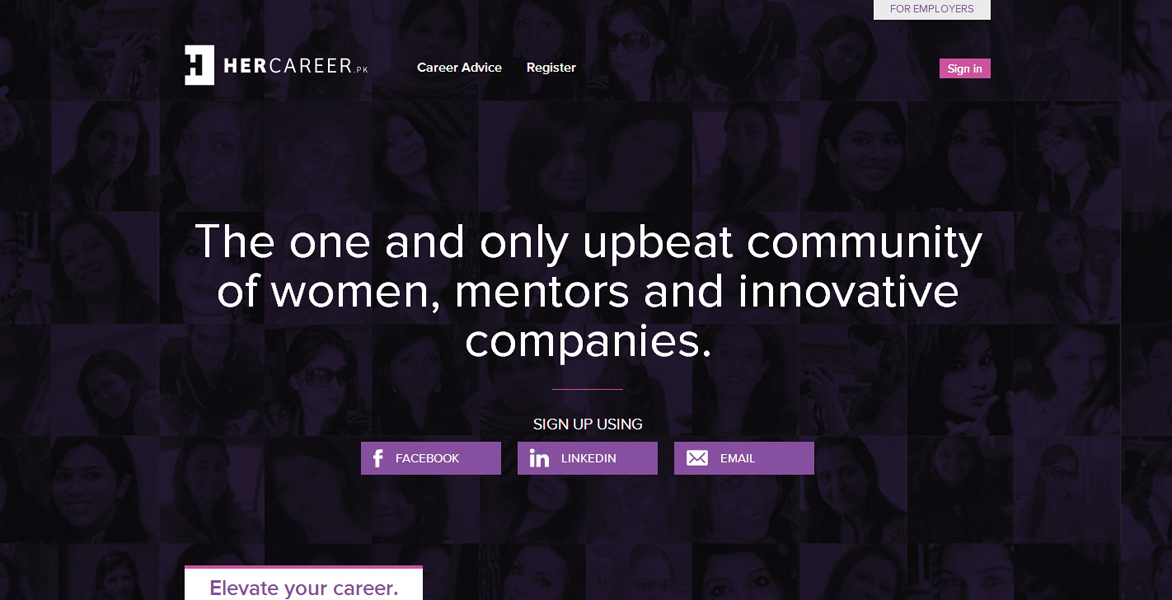 ---
KARACHI:



It is unfortunate when a talented mind is lost. It is, however, worse when a talented mind is not even discovered.




In what may be described as an answer to the growing demand of the women's workforce, an entrepreneur has launched an online portal exclusively for the female gender.

Abdul Muizz Khatri, founder of HerCareer.pk, said the struggle for women to find a suitable job was his motivation behind launching the portal.

"I saw capable women losing constant battles, struggling to be a part of the corporate world," said Khatri. "This became my motivation to boost female participation and create a more balanced workplace."

Associated with the US-Pakistan Women's Council, HerCareer.pk is Pakistan's first online community for women and has close to 18,000 women profiles [registered members]. Members mostly include women who want to work part-time or on flexible terms and in many cases from home.

The 29-year-old entrepreneur, who started developing websites at the age of 13, says he has seen women in his family struggling to utilise their education and talent. "There should be a way for them to capitalise."

The portal is not just meant for women but managed by them – all content creators, program managers and other staffers at HerCareer.pk are women. In fact, the official launch date Khatri chose was March 8, 2014 – International Women's day.

"We created an online community on Facebook. After considerable success and encouragement, we decided to launch our very own platform."

The portal has already received a good initial response, according to Khatri.

"The portal has a monthly reach of 245,000 on its Facebook page with a fan count of 16,860. Almost 94% of our fans are women.  We have received 15,788 unique visits on our website in such a short period," Khatri said.

According to details shared with The Express Tribune, the website received membership requests from MBAs, PhDs, software developers and women seeking job opportunities to work from home. Many included educated women who could not pursue a corporate job due to their personal commitments. Some were looking for part-time jobs or with flexible hours so they could take care of their children and work at the same time.

The portal has got the backing of what they call corporate partners and endorsers.

One of the agencies supporting them is the US-Pakistan Women's Council, which promotes employment opportunities and entrepreneurship for the country's females.

The British Council – the cultural arm of the British diplomatic mission in the country – is another company onboard. Indumenti, a franchise holder of Eton Shirts in Sweden, is also a partner and HerCareer.pk is engaged in providing them with content marketing support.

The portal mainly targets urban educated women by connecting the latter to work opportunities, such as on-site, full-time jobs and work-from-home jobs.

Another feature of the portal is the number of opportunities available to a diverse range of skill set among prospective candidates.

In case of women from less privileged areas or those with low literacy, their skills are utilised through manufacturing products in line with their skill set, according to Khatri.

"This way we are able to generate income for them," he said. One of the most popular skill set is handmade crochet and embroidery, he said. HerCareer.pk also plans to set up an online shop to sell their products, he said.

On HerCareer, many women have shared their stories about how they benefited from the platform. In addition, there is a career advice section as well.

Published in The Express Tribune, March 19th, 2014.

Like Business on Facebook, follow @TribuneBiz on Twitter to stay informed and join in the conversation.