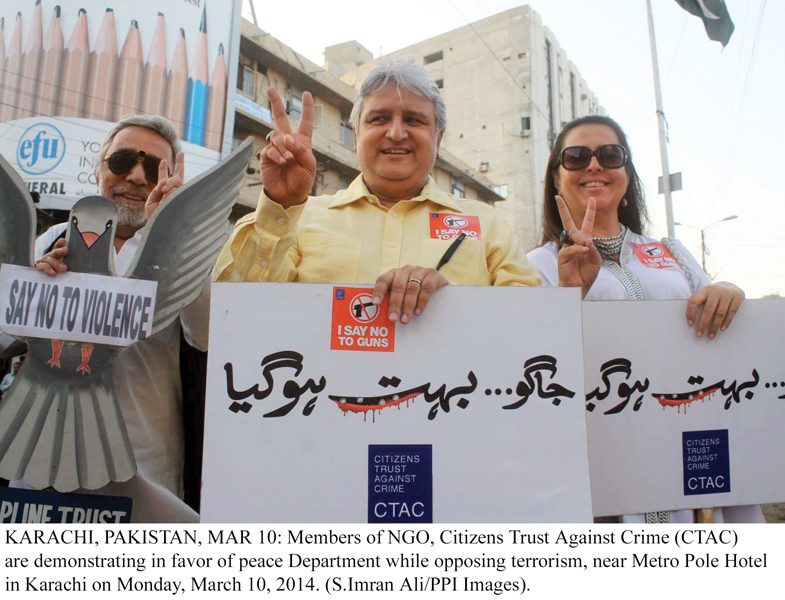 ---
KARACHI: As crime in the city increases and the use of weapons becomes all the more rampant, concerned citizens took to the streets on Monday demanding deweaponisation and the depoliticising of the police.

The protest was organised by the Citizens Trust Against Crime (CTAC) in which members of varying segments of society, including retired army officials, members of human rights organisations, politicians and students urged action against the deteriorating law and order situation.




Volunteers distributed pamphlets to drivers of passing by vehicles at the main roundabout near the Metropole Hotel and asked them to support their campaign. Interestingly, most of the drivers stopped their vehicles on their own and asked for a pamphlet, thoroughly agreeing with the protesters to abolish the weapon culture which is flourishing in the country.

"The previous government issued 70,000 licences of prohibited weapons, they should at least cancel these licences as an initial step" said Nazim Haji, a CTAC volunteer.

Meanwhile, a retired navy officer, Ijaz Chaudhry, said the influence of politics in the police, rather than weaponisation, is the main cause of the increased crime rate in the city. "Politicians are always interfering in police investigations and try to station their own people in prominent positions."

An activist of the Pakistan Tehrik-Insaaf said no citizen, regardless of his rank or status, should be allowed to posses, carry or display a weapon."A massive programme to withdraw all weapons, to strike down the discretionary armed ordinance and to cancel all gun licences must be the first step in the fight against violence and militancy."

Human rights activist Nighat Mir said that every citizen should join hands with the CTAC in this difficult hour in order to counter the problems. "Let every citizen stand up and raise his voice to put an end to crime, violence and militancy in the country."

Published in The Express Tribune, March 11th, 2014.
COMMENTS (28)
Comments are moderated and generally will be posted if they are on-topic and not abusive.
For more information, please see our Comments FAQ