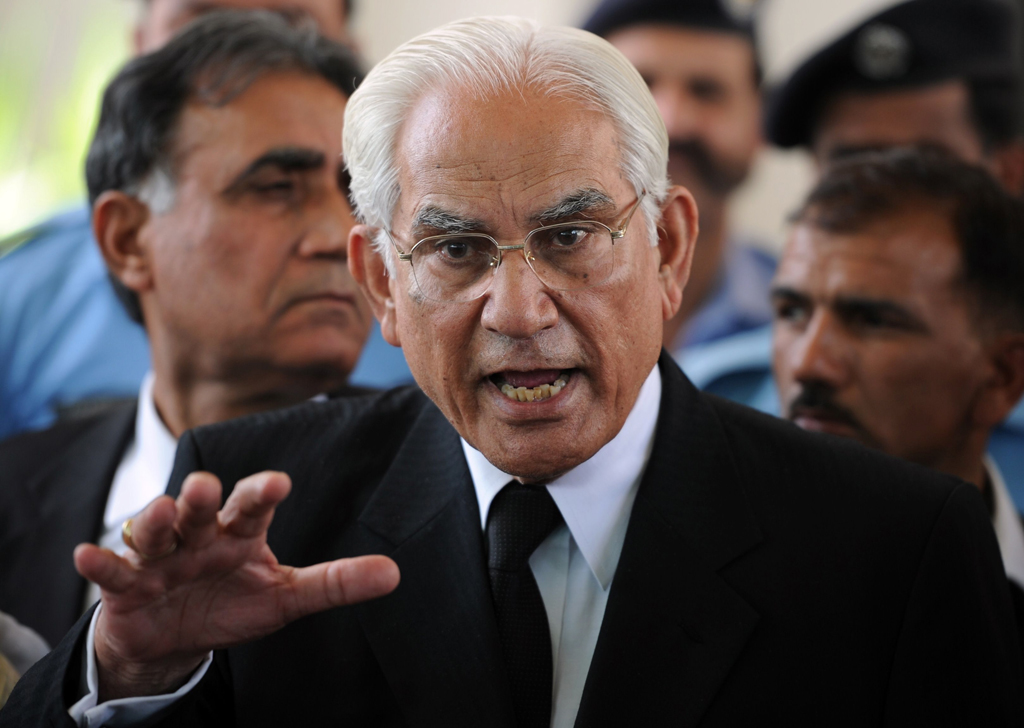 ---
ISLAMABAD:



Lawyers representing former military ruler Pervez Musharraf in the high-treason case have claimed that they have been threatened with beheading and have called for a new venue for the trial.




Presenting the threatening letter, allegedly sent by the Taliban, before the special court on Wednesday, Musharraf's counsel Ahmed Raza Kasuri said the defence team feared for its safety and wanted the trial to be shifted to another location.

"We cannot go ahead with this case in these conditions," he said, before reading out aloud from the letter.

The two-page handwritten letter, addressed to lawyers Kasuri, Sharifuddin Pirzada and Anwar Mansoor Khan, read: "Dear Sirs, we request that the three of you stop representing Musharraf otherwise we will destroy your children and behead all of you."




It accused Musharraf of handing over hundreds of Muslims to the United States, "earning billions of dollars and becoming the richest person in the world".

"You should stop representing him or be prepared for war… He is an infidel, hypocrite, and… he must be hanged," the letter added.

It was signed by the 'people of South and North Waziristan' but its authenticity could not be verified.

Another member of Musharraf's legal team, Rana Ijaz Ahmed Khan said that he also had 'concrete information' that militants plan to kill all three members of the special court, the head of prosecution Akram Sheikh and two members of the defence team.

Anwar Mansoor Khan, meanwhile, said Monday's attack on the district courts complex in Islamabad had 'further complicated matters' and made it unsafe for the defendant and his lawyers to appear before the court.

Presiding judge Justice Faisal Arab, however, made it clear that the bench would continue to hear the case regardless of any threats. As judges of high courts, we are bound by oath to act without any fear or favour, he said, adding that they could not just pack up their files and adjourn proceedings indefinitely.

Justice Arab added that he had discussed the matter with the Islamabad police chief and commissioner, who had assured him that the court is secure.

The special court, meanwhile, issued notice to the prosecution team over Musharraf's application, seeking permission to travel abroad for his own treatment as well as to attend to his ailing mother for March 11.

"It is requested that I may be allowed to travel abroad for my own treatment as also to attend to my seriously ailing mother," says the petition personally submitted by the former military ruler.

The special court did not rule on either matter and will resume hearing the case on Friday.

Separately, Musharraf's legal team challenged the Supreme Court registrar's decision to not allow their petition against the special court's order which stated that the Code of Criminal Procedure is applicable in the high treason case.

Published in The Express Tribune, March 6th, 2014.
COMMENTS
Comments are moderated and generally will be posted if they are on-topic and not abusive.
For more information, please see our Comments FAQ