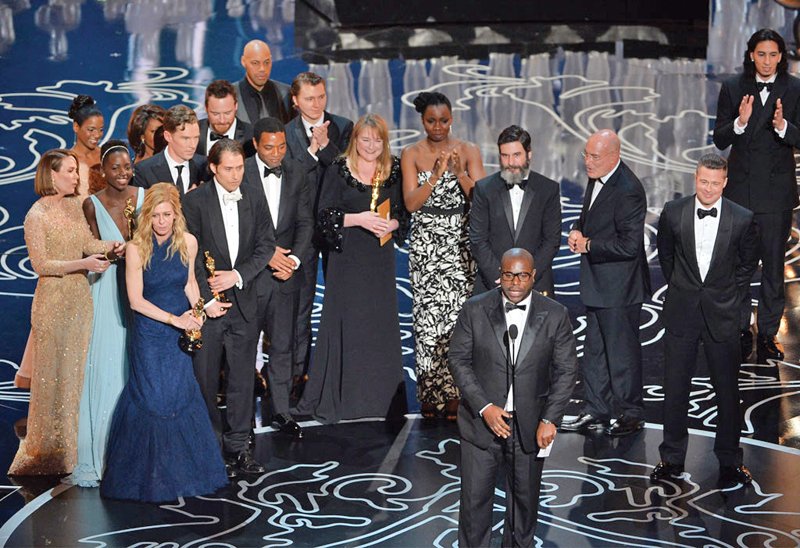 ---

Ellen Degeneres took a break from her Oscar hosting duties to take a picture with the entire A-List of Hollywood. A picture which then turned into what is being described as the 'best selfie ever', according to Daily Mail. Celebrities stepped into the frame, and the picture soon expanded to include Julia Roberts, Brad Pitt, Jennifer Lawrence and Kevin Spacey, and was taken by Bradley Cooper. Ellen tweeted the picture, where it broke the record for most retweets, with 1,076,971 in less than an hour. Social networking website Twitter crashed temporarily due to the influx of retweets. 2014 will forever be the year that Ellen actually broke Twitter.

Red carpet shenanigans




The Oscars are universally known to be a glamorous, and serious, event. Benedict Cumberbatch clearly didn't get the message. In what can only be described as epicness of Cumberbatch proportions, the Sherlock actor took it upon himself to photobomb not just anyone, but photobomb U2. The result? See for yourself. We can't stop laughing.

Jennifer Lawrence also treated audience to an encore performance of her Oscar fall.  Everyone was waiting for it, and it happened. She tripped, but on the red carpet this time, grabbing onto a woman standing infront of her in order to break her fall. Of course, in true Jennifer Lawrence fashion, the American Hustle star cracked up. We love her!

The directors who made history




British director Steve McQueen's unflinching portrayal of pre-Civil War American slavery won the Academy Award for Best Picture, reports Reuters, making history as the first movie from an African-American director to win the film industry's highest honour in 86 years of the Oscars. Mexican filmmaker Alfonso Cuaron won the Best Director statuette for his space thriller Gravity, also an Oscar first as the first win for a Latin-American director.

The biggest winner




Alfonso Cuaron's Gravity took home the most Oscars, with seven in total. The movie won seven out of the 10 categories it was nominated for, including Best Director and Best Visual Effects. It was a great night for the cast and crew of the space thriller.

Emma Watson and Joseph Gordon-Levitt: Our new dream couple




The pair took the stage at the Oscars on Sunday to present the award for Best Visual Effects, and the internet has decided that they should become an on-screen couple, an off-screen couple, or even both, and we completely agree.

When Pharrell made the ladies happy to groove




The infectious hit Happy from Despicable Me 2 is one that will get anyone dancing, and Pharrell proved it at the Oscars. During his live performance of the song, he managed to shake a leg with not only Lupita Nyong'o and Amy Adams, but even the iconic Meryl Streep! It was a blast to watch, but we must say, Lupita's got the best dance moves.

Everyone loves pizza




Ellen Degeneres is definitely a gracious host, and she ensured her guests at the Oscars didn't go hungry by ordering pizza for the audience! Not only that, she got Brad Pitt to help her pass out paper plates. We now know what an A-list pizza party looks like, and we're happy to see that the stars really are just regular people, who enjoy a good pizza, especially our girl J Law.

The acceptance speeches




Lupita Nyong'o had us in tears when giving her Oscar acceptance, and we weren't the only ones. Her co-star Benedict Cumberbatch was moved to tears during her speech. Our favourite part? Nyong'o said, "When I look down at this golden statue, may it remind me and every little child that no matter where you're from, your dreams are valid. Thank you."




Jared Leto did something nobody else did. He mentioned the dreamers, the fighters and the protestors.  "To all the dreamers out there around the world watching this tonight in places like the Ukraine and Venezuela, I want to say we are here and as you struggle to… to make your dreams happen, to live the impossible… We're thinking of you tonight." This part of Leto's speech was in response to Venezuelans launched a campaign on Twitter urging Oscar participants to speak out in support of anti-government demonstrators at the ceremony. The Oscars weren't broadcast in Venezuela, reports Fox News, as a result of Leto's show of solidarity.

In memorium




Both Paul Walker and Philip Seymour Hoffman, who passed away in a car accident and due to a drug overdose respectively, were honoured by their peers at the Academy Awards this year. Former Glee star Cory Monteith however, was one of the celebrities not mentioned during the service.

Singing her speech!




Darlene Love received a standing ovation after her speech. Why though? Because she sang the whole thing! Love's film 20 Feet From Stardom took the stage to accept the Academy Award for Best Documentary and she couldn't help but sing her happiness!

Find more pictures from the Oscars here.

Published in The Express Tribune, March 4th, 2014.

Like Life & Style on Facebook, follow @ETLifeandStyle on Twitter for the latest in fashion, gossip and entertainment.
COMMENTS
Comments are moderated and generally will be posted if they are on-topic and not abusive.
For more information, please see our Comments FAQ