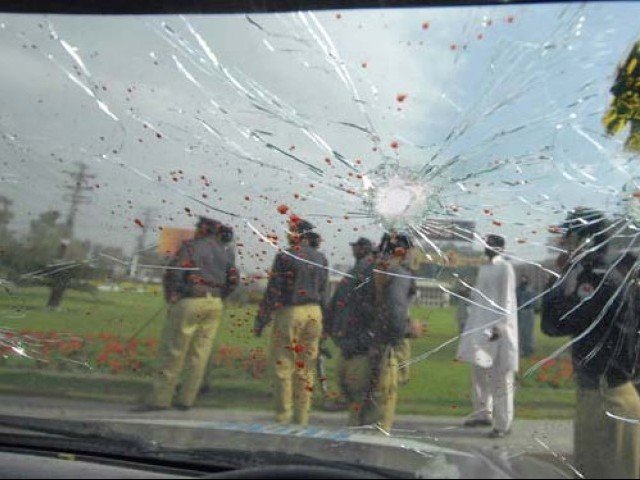 ---
LAHORE: Even five year after the attack on Sri Lankan team, and in spite of all governmental claims, the revival of international cricket in Pakistan is still a far cry.

Five years back on this day (March 3, 2009) terrorists attacked Sri Lanka's cricket team in a posh locality of Lahore as they were visiting Pakistan on an international tour.

The attack took place in the morning of March 3, when the Sri Lankan team was heading towards Qaddafi Stadium under the protection of the Elite Force.

The attackers targeted the team between Gulburg City and Gulburg Plaza from all four directions and used Kalashnikovs, hand grenades and rocket launchers.

As a result of the attack, eight people including 7 policemen lost their lives while five members of the Sri Lankan team as well as their coach sustained injuries.

This attacked not only wiped out international cricket from Pakistan but also caused irreparable damage to the image of the country and its cricketing revenues.

Following the incident, the law enforcing agencies made tall claims about their success; however, a decision on the case is still awaited.

After registering a case under Anti-Terrorism Act, the law enforcing organisations rounded up nine activists of banned Lashkar-e-Janghvi – including its chief Malik Ishaq as well as Zubair alias Naik Muhammad and Aqeel alias Dr Usman.

These accused were shown as culprits in challans presented in the courts. However, they continued to secure bails due to insufficient or weak evidences. Some of the accused were later put on house arrest.

In view of the situation, the Anti-Terrorism Act was amended and now video footage can also be presented as evidence against accused.

But whatever might be the legal difficulties, Pakistan, during the past 5 years, has suffered both in terms of cricket and its image. No one knows when international cricket would resume in the country as during the past 5 years all the efforts in this regard have proved fruitless.

Published in The Express Tribune, March 3rd, 2014.