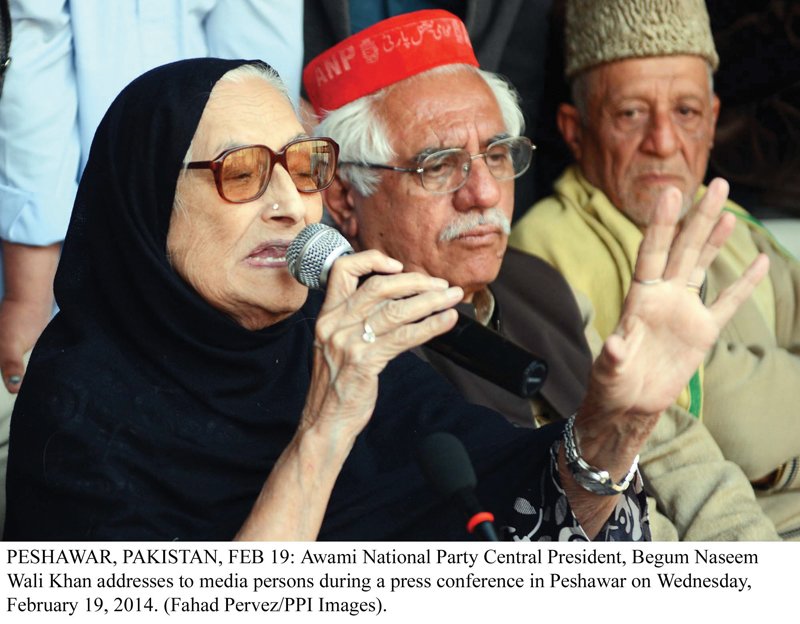 ---
PESHAWAR:



Former provincial president of the Awami National Party (ANP) Begum Nasim Wali Khan has formally announced the name of her own faction Awami National Party-Wali (ANP-W) and declared Farid Toofan its general secretary.




Addressing a news conference at the residence of former ANP MPA Atifur Rahman on Wednesday, Nasim demanded Asfandyar Wali Khan vacate the current ANP headquarters at Bacha Khan Markaz. She said the premises should be handed over to the real followers of the non-violent philosophers and political leaders Khan Abdul Ghaffar Khan and Khan Abdul Wali Khan.

"The organisation process of the party will be completed by April," said Nasim. "We will have the same manifesto as Bacha Khan and Wali Khan. Our flag will also be in red, bearing Wali Khan's name."

At the occasion, Pakistan Muslim League-Nawaz (PML-N) leader Farid Toofan announced he was joining ANP-W and vowed to continue to follow the founding leaders' non-violent philosophy. Toofan said, prior to PML-N, he had been serving the ANP for the past 48 years, adding he was only forced to leave because of the corrupt leadership of ANP.

Toofan vowed the ANP-W would have no place for corrupt leaders and the party would represent the Pukhtuns of Khyber-Pakhtunkhwa (K-P) and the Federally Administered Tribal Areas.

He said they would prove that ANP-W is the party of the real workers of Bacha Khan and Wali Khan.

"The doors of our party are open to anyone who sincerely wishes to serve the Pukhtun nation," declared the general secretary. "I have no differences with Prime Minister Nawaz Sharif and he has always given me due respect, but I have told him that our real party has now been restored and I am leaving to rejoin it," Toofan added.

Rejecting the claims made by Asfandyar Wali Khan of registering 500,000 people in their party, Toofan stated ANP leaders cannot even prove the membership of 100,000.

"We have no differences with them; we are simply demanding they hand over the party to the real heirs of Bacha Khan and Wali Khan, as the incumbent self-centred leadership is unable to run the party's affairs," he explained.

Toofan added Bacha Khan Markaz was founded in the name of Begum Nasim Wali Khan, and that a committee for the purpose was also chaired by her at the time. He added that was why they have the right to demand it back.

Regarding talks with the Taliban, Farid Toofan said they want peace in the country which is why they are supporting the government's decision to negotiate.

"We do not want to see any more bodies of Pukhtuns and our other countrymen," he added.

Published in The Express Tribune, February 20th, 2014.
COMMENTS (2)
Comments are moderated and generally will be posted if they are on-topic and not abusive.
For more information, please see our Comments FAQ