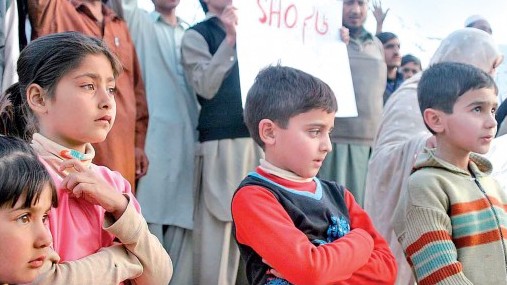 ---
ISLAMABAD: Ever since the media has proliferated and strengthened as an institution, it has come to be perceived as a supernatural entity.

A belief has spread through the nation that unanswered prayers and complex problems will somehow be resolved if they can just be projected in the media. Right from its opening ceremony in December 2008, Islamabad's new National Press Club has been at the heart of it all.

Dejected souls that would once turn to sacred shrines now make their way to the press club.

Every month an average of 50 to 60 protests are held outside the club. Issues – public and private, reasonable and unreasonable – are voiced here. Much like prayers, not all the demands written on placards are answered and many families return home emptyhanded. However, the shift in faith is accounted for by the fact that a significant number of pleas actually are answered.

Many protests do seem to get results.

It would be interesting to compare the demand-to-result ratio at the press club with a religious congregation. There seems to be no fixed rationale or formula for the success of a demonstration. While the case of incarcerated neuroscientist Aafia Siddique in the US has come to symbolise "Pakistan's daughter" and "Pakistan's honour", protests for the thousands of missing people appear to have become a mundane and futile exercise. A non-government organisation "Voice for Baloch Missing Persons" claims that more than 8,000 people have gone missing post-9/11. The NGO chairman Nasrullah Baloch says he has complete proof and documentation for 1100 of such cases, including 141 women.

Are none of these representative of our 'daughters' and our 'honour'? Or are we just an emotional nation with arbitrary demands?

The silence is deafening.

The Express Tribune asked some 'successful' protestors and the press club administration as to what type of protests turn out to be a ticket to success? Bilal Dar from the NPC administration said, "We have allocated a specific place for the protests and made it clear that no-one on the streets will get coverage." Another source, on condition of anonymity, said: "The only protests that really get resolved quickly are ones that either reflect badly on politicians or become violent." The source felt that the government responded fastest when votes were at stake.

Majid Niazi, who participated in demonstrations last year on Islamabad Expressway, said: "When you block the Expressway and Murree Road, its effects are felt all the way down to Army General Headquarters on one side and up to the President House on the other.

That is when you are really heard." He explained that when the CDA had expanded the expressway to five lanes they had removed overhead bridges and made it difficult for pedestrians to cross the road. He claims that a few peaceful protests had been held, but to no avail. "A maid, who was the single mother supporting two daughters, died in an accident while trying to cross Kuri road," Niazi recalls. "That sparked outrage and we blocked the Expressways," he said. Niazi claims that this protest made the government listen.

The recent Barah Koh provided proof that violent protest, despite the collateral damage they cause, do get issues solved. "We protested three times in front of the press club about high transport fares," said Naveed Khan, a Rawalpindi student who daily travelled to his college on public transport. "Nobody remembers those three peaceful protests but when things got ugly and we blocked roads, the fare hikes were revoked," he added.

Whatever the key to a successful protest, the general principle seems to be that if you make yourself enough of a nuisance, you will be heard. In this, you will find the National Press Club a crucial ally.
COMMENTS (6)
Comments are moderated and generally will be posted if they are on-topic and not abusive.
For more information, please see our Comments FAQ