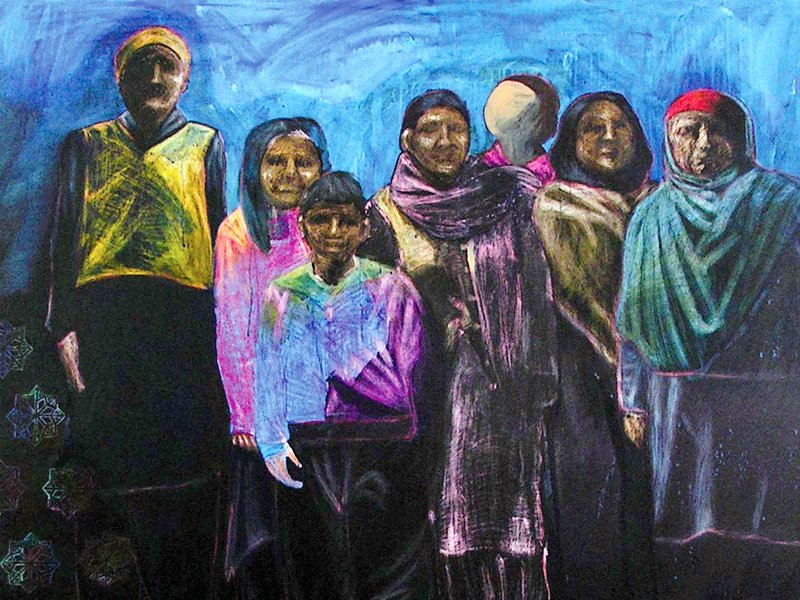 ---
LAHORE: 'But the most beautiful thing about my burrow is the stillness' is an art exhibition inspired by The Burrow, a poem by Franz Kafka. The exhibit will be unveiled on Monday at the Taseer Art Gallery where recent works by Naira Mushtaq, Sarah Hashmi, Zara Asghar and Sarah Mumtaz will be displayed.

An excerpt from The Burrow

The most beautiful thing about my burrow is the stillness of course, that is deceptive. At any moment it may be shattered and then all will be over for the time being. Have you ever wondered why the most deafening sound is that of silence, that split second moment before the boat tips, The ticking of clock, the shuffle of restless feet, the incessant drip drop of the tap that leaks, the need to turn the pillow over to the cooler side, the endless waiting period that in reality lasts for mere seconds and then the setting changes morphing into your nightmare or delight? The series are in their essence self-portraits; conversations are of self-deliberation in silence. The fragmented qualities of the images mimics the constructive and illusionary processes that our minds use while remembering a specific moment. The images weave together both truth and illusions through distortions and fragmentations to create a sense of an uncanny, inimitable memory. Establishing a universal familiarity in each image.

Sarah Hashmi
Hashmi's pieces are priced between
Rs30,000 and Rs60,000

Artist Sarah Hashmi's series is titled That which has no existence enters where there is no crevice. The paintings were made using oil, oil pastels and acrylics on canvas. Her work is a translated verse from Lao Tzu's book Tao Te Ching, and it basically means that God, hope and faith exist everywhere. "In my work I am working on crowds or groups of people who are apparently together, but aloof and distant from each other," says Hashmi. Through her work, she has tried to depict each individual in the crowd as a separate, troubled soul, but has also given a hint of faith and hope through the use of patterns. "Patterns in my work portray repetition like how we repeat Namaz, like making the same dua every day, like saying Bismillah before every meal repeatedly,  to ensure and instill the presence of God, and therefore hope for a better tomorrow," she says.

Sarah Mumtaz


Mumtaz's pieces are priced between
Rs15,000 and Rs19,000

Artist Sarah Mumtaz, whose works are titled Birth, Bee Queen, She Was Always Waiting, It Was Her Forte and Joint Family, have been created using used dry point and ball point on paper. Her work is about a plea to deconstruct the conventional mindset of beauty in our society. Mumtaz had taken six months off, her works come after quite some time, thus containing new elements. "Now it is all about 'Metamorphosis', it's like you wake up one day and you are turned into a bird or an insect," she said. "Or one is born into something totally new, and it will take something for her/him to figure out what it is."

Naira Mushtaq


Mushtaq's pieces are priced at
Rs15,000 each

Artist Naira Mushtaq's 12 art pieces have been made using gel transfer, paint and collage on paper. They are, in a way, self-portraits. She has worked with a number of photographs which have been accumulated via friends; Facebook stalking and even deconstructing family photographs. All of these have been used to create this sense of ephemeral association which isn't about nostalgia, but rather this moment of being there at that time. "The irony is that the particular photograph you are creating this association with isn't even yours," says Mushtaq.

Zara Asghar


Asghar's art pieces are priced
Rs15,000 and Rs18,000

Artist Zara Asghar's pieces titled I & II (diptych) and III & IV (diptych) have been made using charcoal on paper, and are the absence of the figural form. The imagery evolves into the landscape of fabric where the mysterious, wavering form is distorted and the image appears as if frozen in time. Asghar says, "There lies the co-existence of feelings of comfort and discomfort, where there is an aura of warmth yet the binding, animal-like texture is coarse, almost fierce."

Published in The Express Tribune, February 9th, 2014.

Like Life & Style on Facebook, follow @ETLifeandStyle on Twitter for the latest in fashion, gossip and entertainment.
COMMENTS
Comments are moderated and generally will be posted if they are on-topic and not abusive.
For more information, please see our Comments FAQ