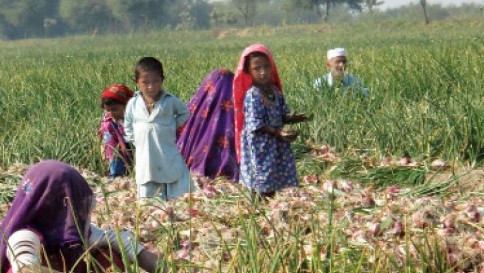 ---
KARACHI: N is a brigadier who had precious little to do except for playing golf with his old gang after retiring a few years ago.

As the depression started to creep in he cast around for something to keep himself busy. A friend recommended farming but N didn't have the money or the knowhow to really get down and dirty. Then he chanced upon BioPower, a biofertiliser developed by the National Institute of Biotechnology and Engineering, and the idea of using a pioneering piece of science appealed to him so much, he got one of their scientists to help him and some landowning friends get started.

"We went to different places in Sindh. [We went to the] Sindh Abadgar Board, told them and then went to districts like Ghotki, Shikarpur, Sakrand and Matiari," said N while talking to The Express Tribune. "Even though it was [somewhat into the] wheat season and we were late, we used this product with the seeds. The results have been fantastic."

BioPower is an inoculant for seeds. The institute found that in legumes there was a 30 to 40 per cent increase in yield and 70 to 90 per cent of nitrogen was prevented from emanating. The institute is working on creating similar strains for other crops like sugarcane, maize, cotton. Syed Nadeem Shah is a small landowner in Matiari who also used BioPower and is expecting to harvest his wheat crop in 15 days.

"Usually when the temperature falls below 10 degrees the germination of the seed is affected," he told The Express Tribune, adding that then they had to sow more seeds to make up for the loss. "But with BioPower more than the usual amount of germination took place." He explained that one of the reasons why he preferred BioPower was that it got to the seed quicker while DAP fertiliser worked only at the point where the roots formed.

"DAP takes six months to act and the lifespan of wheat is just 3.5 to 4.5 months," he said. In terms of cost as well, BioPower is just Rs100 per bag while urea is Rs400 per bag. And when there is a shortage of urea, as one farmer put it, "You won't even get one bag for Rs1,200 from the black market."

As BioPower helps the plant grow longer roots, the water requirement lowers for the crop and there is the additional help of being more resistant to virus attacks. In district Shikarpur, N used BioPower on six acres of barren land where production was four maunds of wheat. "This time, we expect over 50 maunds from the same land," he said. "In Matiari and Sakrand, the results are over 30 per cent." Urea cost per bag Rs800 to Rs1100 and DAP is Rs3200 per bag.

"For one acre of sugarcane you had to use one bag of DAP and 14 bags of urea," said Syed Nadeem Shah. "Cut this by half if you are using BioPower." The WWF-Pakistan and Agriculture Department in Ghotki has been working with farmers in Village Attur Khan Lolai to teach them how to use BioPower as well. So, if you had a non-toxic, non-polluting, bio-fertiliser why don't more people use it, especially at a time when urea is so short?

The National Institute of Genetic and Biotechnology Engineering sold 100,000 bags to a group that said they wanted to transfer the technology. The institute refused and later discovered through discreet inquiries that the bags were all stored away in a warehouse. The fact is that urea producers would not be happy to see an organic product, that is cheaper, helps produce a better yield and is in good supply, make the market.

The NIGBE's Dr Farrukh Saleem helped introduce the farmers to the product. When asked why, even though it was introduced in 1997, had the product not taken off, she replied that she was sure it would replace urea by 50 per cent. N and Syed Nadeem Shah said that it simply hadn't been marketed at all. They were hopeful that as they used it on their lands and more farmers heard about it, more and more people would try it out, especially the farmers with waterlogged land.

Agriculture

How BioPower works

BioPower is an inoculant for seeds (something that helps seeds grow or reproduce). You wet it and sprinkle it on the seeds so that a little sticks on each one. It can be used for grains and fodder legumes and cereal crops, like rice and wheat. The bacteria work with the seed, thereby reducing the need for the chemical urea fertiliser and DAP, the phosphorous fertiliser. Not only does it mean less chemical nitrogen fertiliser is being used in land, but the crop yield actually increases and there is a healthy impact on the environment.
COMMENTS
Comments are moderated and generally will be posted if they are on-topic and not abusive.
For more information, please see our Comments FAQ