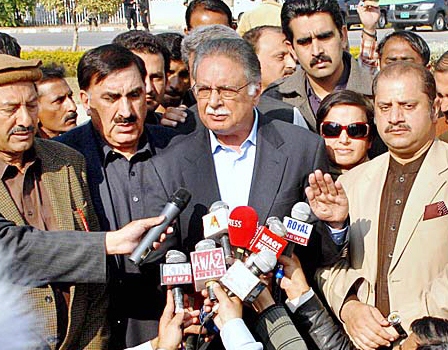 ---
LAHORE:



Federal Information Minister Pervaiz Rashid on Saturday said former president Pervez Musharraf has reached a 'dead end' with regards to proceedings of the treason case against him.




"No matter what strategy he adopts, Musharraf will have to appear before the [special] court," the minister told reporters at an event held at the Lahore University of Management Sciences (LUMS).

Rashid said the former president had painted himself into a corner by checking into the Armed Forces Institute of Cardiology (AFIC). "If Musharraf remains at AFIC, he will have to undergo surgery… If he leaves, he will have to face the court."




He said the former military ruler had no one but himself to blame for his predicament.

"The noose only tightens with every step Musharraf takes [to evade treason proceedings]… It would be wiser for him to surrender and face the legal proceedings against him," he said. Rashid added the former president was facing the consequences of ousting an elected civilian government in 1999.

The minister ruled out the possibility of the government allowing Musharraf to leave the country or sending the former president into exile.

"The time when the law was openly flaunted in the country has passed… everything is now taking place strictly in accordance with the law."

Govt's writ to be established at all costs

The information minister said the writ of the government would be restored in all parts of the country at all costs.

"The government will exercise all options to end unrest in the country," he said. "Prime Minister Nawaz Sharif is determined to ensure the rule of law on every inch of the land." In response to a question about the newly promulgated Protection of Pakistan Ordinance, Rashid said "legislation to this effect is the constitutional prerogative of the government."

The minister also said the government viewed promoting art and culture as necessary for healthy development in society. "Pakistan is on the road to becoming a social state from a security state since we have acknowledged and learnt from our past mistakes."

Published in The Express Tribune, January 26th, 2014.
COMMENTS (1)
Comments are moderated and generally will be posted if they are on-topic and not abusive.
For more information, please see our Comments FAQ