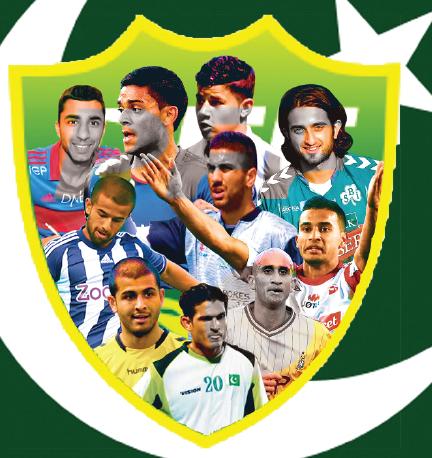 ---
Despite being a small fish in the world of football, Pakistan has a vibrant diaspora of footballers playing across Europe and Asia. While some have starred for the Pakistan national team already, others remain in the wings for a call-up in the future.

Adil Nabi

(West Bromwich Albion, English Premier League)




1. Pakistan has been searching for Premier League class at the international level and Adil Nabi could be just what the Pak Shaheens need. Adil graduated from the Hawthorns Academy and was on the Premier League bench last season but an injury during pre-season training has kept him out of action so far.

The attacker is expected to return in March and although he holds high ambitions of playing for England, extremely stiff competition may be a hurdle. A longer international career with Pakistan is a likelier possibility.

Ghayas Zahid

(Vålerenga, Tippeligaen Norway)




2. Ghayas is also of Pakistani origin and is currently involved with the first team as he looks to cement his place at Ullevaal Stadion. Besides being on professional terms with Vålerenga, Ghayas has also played for the Norway U-19s. 

Etzaz Hussain

(Molde FK, Tippeligaen Norway)




3. Under Ole Gunnar Solskjaer, Etzaz has become a regular with Molde and has scored some fantastic goals for the Norwegian title contenders as well. Having become the first Pakistani-origin player to have played in the UEFA Europa League, Etzaz has ambitions of making it to a major football club in Europe.

After having played for the Manchester United Academy previously and Ole Gunnar Solskjaer as his mentor, one can only wonder if Etzaz would be coming to England once again.

Zesh Rehman

(Pahang FA, Malaysian Super League)




4. Arguably the most high-profile player to play for Pakistan, Zesh made headlines as he made his debut in the 2005 SAFF Championship at Fulham. Although club commitments have prevented him from having a real impact on the international stage, the center-back returned to action in 2013 and starred in the SAFF Championship and later captained Pakistan during the Philippines Peace Cup in October, 2013. 

Yousuf Butt

(Boldklubberne Glostrup Albertslund BGA, Denmark series)




5. Pakistan's prayers were answered in 2011 when Yousuf Butt made his debut in the qualifying round for the 2012 Olympics against Malaysia. The talented shot-stopper had been on the radar of the Pakistan Football Federation  before but due to technical issues, he was unable to join the Asian Games squad for China in 2010.

Nonetheless, since then Yousuf has established himself as one of the best goalkeepers in South Asia and is known as 'The Wall' by fans and 'man-of-the-match' by officials. 

Mohammad Ali

(BK Avarta, Danish 2nd Division)




6. The former FC Copenhagen striker has already been capped by Pakistan after making his debut in a friendly match against Singapore. Deemed as a superb find by the coaches, Ali nailed his place as a first-choice after impressing fans with his dribbling abilities during the Asian Football Confederation (AFC) Challenge Cup qualifiers in March, 2013.

Due to an injury, Ali missed the 2013 South Asian Football Federation (SAFF) Championship in Nepal but returned to feature in the Philippines Peace Cup in October where his skills earned Pakistan a credible win over the Chinese Taipei national football team. 

Hassan Bashir

(Fremad Amagar, Danish 2nd Division)




7. Fondly known to fans as 'the Sniper' or 'Hit man', Hassan has been Pakistan's main goal threat since his debut and has already scored three goals in 12 appearances. And when the former FC Nordsjælland player is not bagging goals, his match-winning tactics have come in handy for the Pak Shaheens. 

Sami Malik

(FC Energie Cottbus, 2nd Bundesliga)




8. Sami won the U-16 Bundesliga with Hertha Berlin and later joined Eintracht Braunschweig before jumping ship to FC Energie Cottbus. Nonetheless, the attacker is highly rated by the Pakistani scouts in Germany and he could be fast-tracked to the Under-22 Pakistan team next year if the coaches decide to call him up for the AFC Under 22 Qualifiers in June, 2014. 

Ali Iqbal

(Vålerenga, Tippeligaen Norway)




9. Having recently turned professional with the Norwegian giants, Ali Iqbal is a potential star for the future and could be seen in Pakistani colours. The talented youngster came through the ranks at Vålerenga Academy, where a number of fellow Pakistanis have also come through. 

Nabil Aslam

(AC Horsens, Danish 1st Division)




10. Nabil has already expressed interest in representing Pakistan at the international level and only missed out on the SAFF Championship due to incomplete required documents. Nonetheless, the defender brings heaps of experience to the pitch and having played in the UEFA Europa League with Horsens, his potential center-back pairing with Zesh Rehman is one which fans anticipate eagerly. 

As these players make waves internationally, Pakistanis both home and abroad are proud of their hard work and dedication to the sport. Here is to hoping we can nurture similar talent at home as well and continue leaving a green mark on the field. 

Shahrukh Sohail is the chief editor of FootballPakistan.com, Pakistan's ambassador to the UNODC Global Youth Initiative and an aspiring entrepreneur. He tweets @ShahrukhSohail7

Published in The Express Tribune, Sunday Magazine, January 26th, 2014.