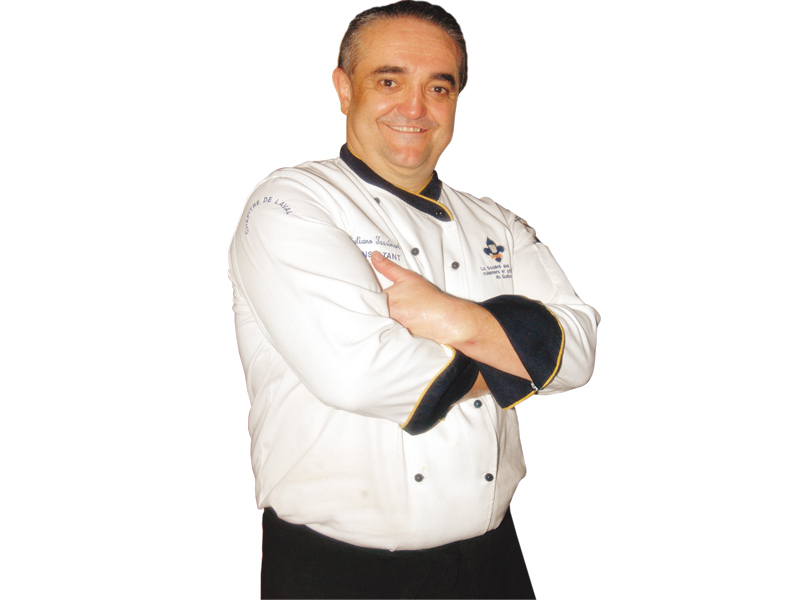 ---
Food connoisseurs in Lahore will always debate what came first: the GoGo Restaurant club sandwich or the beef burger from Mini Market. But decades after our taste buds were first tentatively introduced to MSG-enhanced Chinese food, the argument has now gone beyond the basics of deciding what's best when it comes to eating out.
Sesame Seed crusted fish.

The fight about the best food available still rages on, but the hungry warriors don't just question the authenticity and taste of Muhammadai nihari or phajjey ke paye, or who made the infamous 'broast' first. The people of Lahore now debate who serves the best sushi and sashimi, where to procure the best udon, whether the rocket leaves in the steak salad at The Deli are in perfect ratio to the meat and whether the red colour in a red velvet cake should come from beetroots or from a bottle, and so on and so forth. We're more aware about world food than world affairs, and many are hoping for our taste buds to lead us to peace and knowledge.


Caprese Salad and Paperdelle.

Chef Ahmed Cheema, the owner and head showman of Andaaz restaurant, agrees. Located behind the Badshahi Mosque, Andaaz is the go-to place for lovers of unique food who also try to impress foreign guests by taking them to the rooftop restaurant. "People go to restaurants to eat their fancy," says Ahmed. "They want magic on their plate and we give it to them." Ahmed's restaurant has become synonymous with innovation where special menus are created around seasonal produce, special occasions, and holidays.


Hot and cold mezzeh platter.

This year, Ahmed is literally chasing after his idols by creating one-off menus based on the recipes of world famous chefs and authors. "It's exciting and a bit risky as well. More than 30% of our customers don't agree with our menu choices and never come back. But we focus on the 70% who do."

The special menu that the chef created for Christmas can still be seen on the restaurant's website. While many restaurants just suffice with putting up a few dated decorations at Christmas time, Ahmed goes all out to celebrate the holiday with panache. The menu from last year includes Pepper Water, Prawn Jalfrazie, Fish Croquettes, Mint Cottage Cheese Barbecued, Whole Pot Roast Chicken, Railway Lamb Curry, Brinjal Vindaloo, Broccolli Fogarth, Daal Curry, Yellow Coconut Rice and the perfect Christmas cake finished off with ginger wine. The chef's love for re-creating historic South Asian recipes hints at the menu's inspiration coming from pre-Partition Christmas traditions in the subcontinent. "Christmas is always a special time so we revive a few old favourites from the vault. People love that we do this each year with a new twist."


Fresh vegetable platter

Stretching beyond borders, the hospitality industry now attracts revenue in billions of rupees each year, sustaining a network of farmers, bakers, butchers, meat suppliers, fishmongers and food importers due to high demands. These, in turn, nurture international partnerships and collaborations that ensure adventurous food enthusiasts and chefs get what they want to create these global delicacies. One of the people doing just that is Sibtain Shafi, a local food importer who has also started dealing with local producers to supply to restaurants in the area.


Lamb Ouzi with Rice

"The demand for ingredients such as kale, rocket, fresh mushrooms, avocados, artichokes, asparagus, calamari, seaweed, lobsters, kiwi fruit and star fruit has grown in the past decade or so, matching the media boom. The dish antenna brought us Khana Khazana on Zee TV, which showed the similarity of cuisine between India and Pakistan. But then there was also Yan Can Cook, which showed us what our cuisine could be. Now shows like Masterchef Australia have made chefs out of us all!" says Shafi.




Sibtain's recent foray into dealing with local farmers and fruit growers comes as a commitment to the environment. He says, "the longer a food item has to travel, the larger the impact on the environment. Growing locally to produce global style meals is an interesting concept that is catching up now." A stylish reminder of this very fact was 7Up Chef's Bonanza — a local event that travelled to Lahore, Karachi and Islamabad, where the sponsor flew in international chefs to prepare and serve scrumptious dishes from Italian, Far East Asian, and Lebanese cuisines at famous local restaurants. Most of the ingredients used were local from fish to poultry to herbs and vegetables. The chefs, while interacting with local patrons, encouraged them to try new dishes and shun the contrite alternatives.


Breaded and pounded chicken breast Milanese style

"Fast food chains may catch our attention but it is good, healthy, hearty meals that capture our hearts," insists Chef Giuliano, an executive chef in charge of 45 chefs involved in fine dining at the La Scuola di Serra restaurant in Italy. He was flown in by 7Up Chef's Bonanza team to prepare meals in Lahore and Islamabad. "The transfer of cuisines is what is making world more exciting today," he adds. "Just like Pakistan has welcomed Italian and many other world cuisines, the world is ready to embrace Pakistani and Mughal cuisines as well." Chef Fazil from Malaysia at the same event agreed, adding that everyone comes together at a table to eat; what that table contains can lead to friendship, trust and a more thoughtful world view.


Shish Tawook

Hira Anwar, a sociological scholar at the University of the Punjab, adds that it was spices that brought the East India Company to the sub-continent, and it was the chocolate and potatoes from 'The New World' that made European nations so adamant about colonising the Americas. Throughout history we find instances of cultural exchanges softened by adoption of food trends. Even the opening of Baloch and Peshawari restaurants in Punjab and Sindh city centers feels like a diplomatic step.


Tempura Prawn

These tentative forays into promoting cultural and traditional values of different regions and countries in Pakistan by enterprising food enthusiasts are of interest to researchers like Hira, who concludes with a smile, "our plates are now more well-traveled and more tolerant than we are.


Selection of cold mezzeh

If only a bagel could teach us not to be anti-Semitic and a thaali could make us forget our wars!"

Nuzhat Saadia Siddiqi is a Lahore-based writer and book hoarder. She tweets @guldaar 

Published in The Express Tribune, Sunday Magazine, January 26th, 2014.