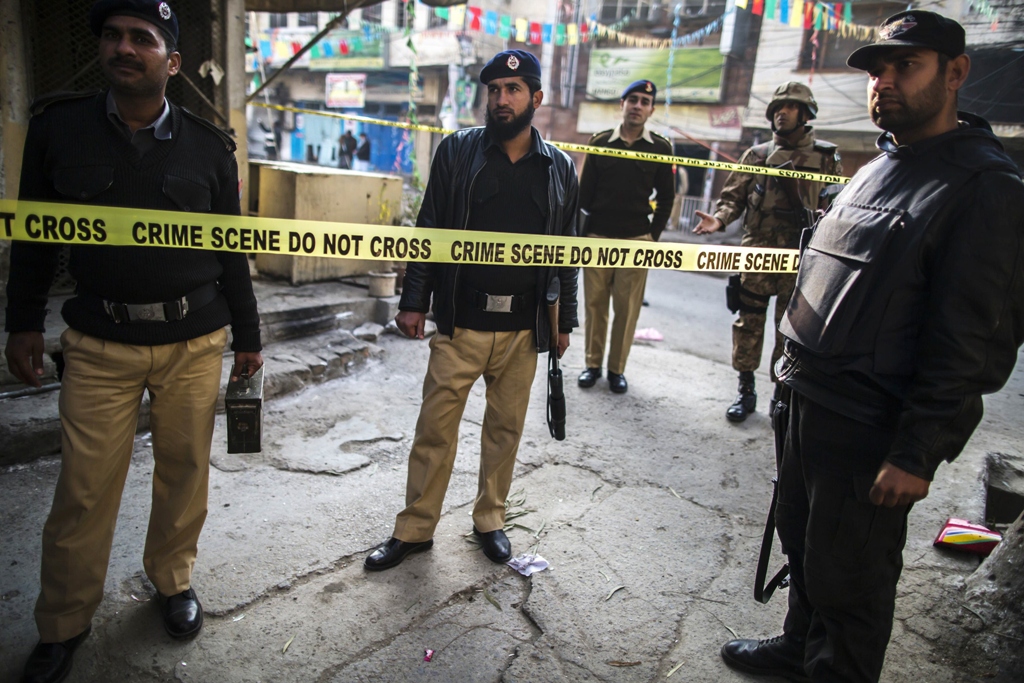 ---
RAWALPINDI: A suicide bomb blast near RA Bazaar in Rawalpindi killed 13 people including six army personnel and injured at least 15 others, Express News reported on Monday.

The Tehreek-e-Taliban Pakistan (TTP) claimed responsibility for the attack that targeted a joint check post of the police and the Pakistan Army.

"We will continue attacks on the government and its armed forces as the government has neither announced ceasefire nor peace talks with us," said TTP spokesperson Shahidullah Shahid.

Police also arrested an injured Afghan national during a search operation in the area. Two hand grenades were found near him at the blast scene and police suspect he was the second attacker. The injured is out of danger.

Punjab Law Minister Rana Sanaullah said that a targeted operation will be conducted against those who are targeting security forces, adding that more than one group was involved in such attacks.

According to Radio Pakistan, Superintendent Police Potohar Town said security of the city has been beefed up.

The injured were taken to the Combined Military Hospital for medical assistance. Eight of them are reportedly in critical condition.

The blast took place in front of the National Logistics Cell building near the General Headquarters of the Pakistan military and the RA police station.

The market, a short walk from the army headquarters in Rawalpindi is in one of the most secure areas of the city, said police chief Akhtar Hayat Lalika.

Two college students wearing blue uniforms were killed, said a Reuters photographer on the scene. Their bodies lay near wreckage of a bicycle and pools of blood. Rescue workers struggled to help the wounded. Windows were shattered several hundred metres away.

According to SSP Operations, the suicide bomber was between 18 and 20 years of age. Eye witnesses said that the attacker was on a motorcycle. There are unconfirmed reports of a second suicide bomber.

According to initial reports, at least 2.5 kilogrammes of explosives were used in the attack. Two kg of iron and ball bearings were also used in the blast.

Security forces have cordoned off the area and further investigation is underway.

In light of today's blast in Rawalpindi and the attack on security forces in Bannu cantonment on Sunday, Prime Minister Nawaz Sharif and Chief of the Army Staff (COAS) General Raheel Sharif spoke on the phone to discuss the security situation.

On January 19, at least 20 security personnel were killed and 30 others injured — some of them critically — when a bomb ripped through a van in the Bannu cantonment area.